Girls basketball, bowling, flag football teams start holiday break on high note with wins
December 23, 2015 - 2:48 pm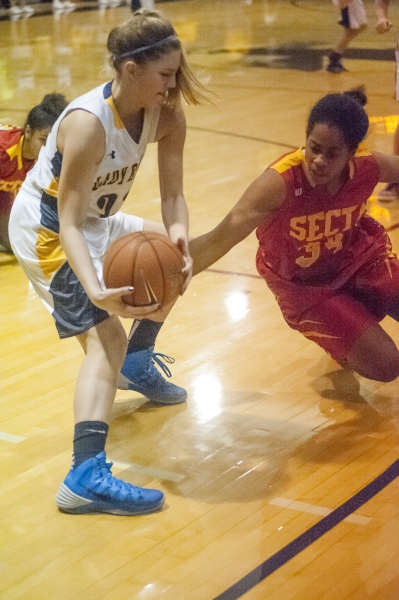 The Lady Eagles basketball program advance to the .500 mark, picking up its third consecutive league victory over Sunrise Mountain Dec. 17 52-34 to reach 5-5 on the season.
Using an all-around effort against the Miners, senior guard Megan Morton led the way for the Lady Eagles, scoring a game-high 23 points to go with eight rebounds and five assists.
"(It) was a tremendous effort by Megan against the Miners," head coach Paul Dosch said. "With her in the lineup the offense runs smoothly, with her able to contribute in a variety of way and making everyone else's job easier."
Lending Morton a helping hand was the fabulous play of freshman guard Hannah Estes, who could very well end up being the Lady Eagles' next star once Morton's storied prep career with Boulder City concludes. Chipping in 11 points on the night, Estes has scored in double figures four times this season, including three of her last four outings, while averaging 7.6 points per game.
"Hannah is really starting to become a big time contributor for us," Dosch said. "She gives us another scorer capable of making tough shots down the stretch."
Junior forward Julia Worrall and senior guard Rylee Dosch also had nice outings for the Lady Eagles, providing eight and four points apiece for Boulder City, which used a 21-3 first-quarter run to take down the Miners.
"We're getting a lot of leadership from both those girls," Dosch said. "Once we hit the heart of our league schedule that type of attitude and effort will be key for us."
Capping off the night for the Lady Eagles were junior Alea Lehr, freshman Setia Cox and senior Lauren Mullins, who finished the night with three, two and one point, respectively.
Finalizing the first half of their regular season schedule, the Lady Eagles will travel to California over Christmas break to participate in the Nighthawk Classic.
"It's a tournament filled with a handful of larger schools that will push us to be better," Dosch said. "We're going to learn about our team more over the break and hopefully put together some good basketball as we head into the heart of our league schedule."
Bowling
Claiming victories over Chaparral for the second time this season, both Boulder City bowling programs entered the holiday break on high notes.
"(I'm) very proud of the way both team handled themselves," Boulder City head coach Rodney Ball said. "Playing right before a long layoff is always tough because the focus level may not be there at times. That certainly wasn't the case with our kids. Both team came in hungry, wanting to get a win and wanting to end the first half of our season on a high note."
For the boys, senior Teagan Smale is the team's unquestioned leader and perhaps the state's top bowler, but on Dec. 17 against the Cowboys at Sam's Town junior Ed Rassuchine was certainly the Eagles' star.
"Ed has been on fire lately and has been a key piece of this year's club," Ball said. "The past few weeks has really been exciting to watch him progress and it will be nice to see him hopefully keep this pace. If he can, we'll be tough to beat."
Opening the day with a team-best score of 250 in the first match, Rassuchine bowled a 645, leading all bowlers.
Following Rassuchine was the Eagles' usually suspect Smale, who finished the day with a total score of 601 points and a high score of 213. Forming a solid one-two punch with Rassuchine throughout the past two weeks, the Eagles look like the team to beat as of now in Division I-A.
"With both of those guys leading the way for us, we're going to be a tough out come tournament time," Ball added. "It's always nice when you can have a dominant tandem to rely on once the game enters the biggest stage. We're confident in both of them to knock down pins when we need it most."
Adding onto the boys' winning efforts, who took all three sets from Chaparral, was junior Samu Jancuk with an overall score of 497 and senior Dylan Amico, who finished the day with a score of 453.
"Both guys are in a different place right now," Ball added. "Samu has been very reliable for us this season, while Dylan, at the moment, has hit the rough patch of his season. (I'm) very confident however in Dylan's ability to bounce back. Right now he's posting solid scores, but we're used to him posting great scores in our biggest matches."
For the girls, the Lady Eagles picked up a dominant victory, outscoring the Cowboys 1,633-1,191.
Junior Abigail Harling led Boulder City with an overall score of 499, including a game-high score of 202 that was nowhere matched by any other bowler on the day.
"Abigail did a great job of picking herself up against the Cowboys," Ball said. "She looked flat coming out of the gate, a bit distracted, but in the flow of the game she turned on the switch like all great players do. We were able to ride her efforts to another solid victory."
Adding nice contributions as well for the Lady Eagles were sophomore Bailey Bennett-Jordan, junior Alexis Cable and senior Emily Owens.
Bennett-Jordan finished second with an overall score of 396, including a 150-point match in the third set, while Cable finished shortly behind with a 389. Owens struggled at first against Chaparral, rolling a 95 in her first set, but kept her composure moving forward, rolling a 144 in her final set to conclude the day with an overall score of 349.
"The girls have really turned it on as of late," Ball said. "Assistant coach Garth Schulz has done a great job, turning this group into not only one capable of winning games, but one that believes going into each match that they're going to win. All the credit for their success goes to his efforts to prepare them each day."
Taking time off the next two weeks for holiday break, both Eagles programs will resume their seasons Jan. 4 against Sunrise Mountain at Sam's Town.
For the boys, Smale won't be available for the Eagles outing against the Miners, taking time off from the team to try out for Team USA youth program during the early part of January. In his absence is expected to be freshman Sam Holt, who has made quite a name for himself on the junior varsity level.
"We're obviously going to miss Teagan, but for someone who's meant so much to this program the past four years, we wish him all the luck during his tryout," Ball concluded. "Teagan is a special player, one that could never be replaced. With that said, we're going to do our best to come together as a group and continue to win in his absence."
Flag Football
Posting another shutout Dec. 17 over Sunrise Mountain, the Lady Eagles' flag football program rolled to another sound victory this season, routing the Miners 41-0 in the process.
After rarely being held scoreless in the first half, the Lady Eagles, behind the arm talent of senior quarterback Jeanne Carmell, scored 35 unanswered points in the second quarter to take control of the ball game.
Completing 20-of-27 passes against the Miners for 251 passing yards and five touchdowns, Carmell found senior receiver Tarah Cox on six different occasions for a game-high 81 yards and three touchdowns.
A newcomer this season for the Lady Eagles, Cox's play on both sides of the ball has been a contribution to this year's team.
"Tarah is motivated, competitive and extremely coachable," Boulder City head coach Chris Morelli said. "She is a dynamic blocker, pass catcher and is a great safety. She has stepped in right away and has done a remarkable job for us this season."
Along with Cox's three scores, junior Kenadee Bailey caught Carmell's other two touchdown throws, hauling in five passes against the Miners for 49 yards, while senior Oshanna Remy caught three balls for 42 yards.
Balanced on offense on the day, senior running back Paige Buettner also contributed heavily, gaining 60 yards on the ground off of six carries, while Carmell added 37 yards on three attempts.
The Lady Eagles' pesky defense created another turnover plague for their opponent, forcing a pair of interceptions, one by Remy that was returned for a touchdown and another by junior Aimee Finn.
The Lady Eagles have garnered 18 interceptions and have recorded at least one in each of their seven games so far this season.
Leading the girls in tackles was Bailey with eight, while Remy and senior Evelin Robinson tallied four apiece. Lending a helping hand as well, were Carmell, Finn, Buettner and senior Emma Jeppsen, who all garnered three tackles each.
Taking a two-week hiatus, the Lady Eagles will resume their season Jan. 6 at home against Desert Pines.
Contact Robert Vendettoli at BCRsports@gmail.com.