Future Rebel: Masterson agrees to play softball for UNLV
November 18, 2015 - 3:26 pm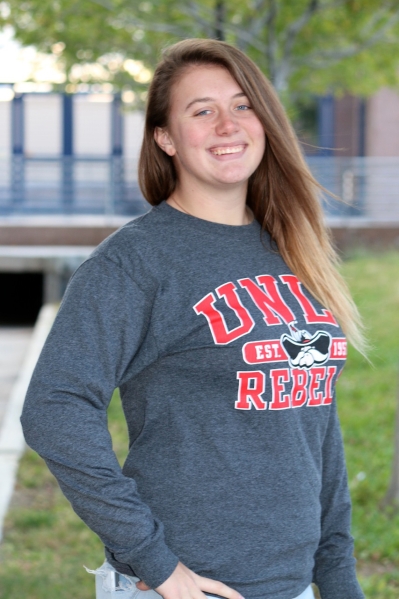 There's something to be said about a player that generates a swirling buzz from Division I athletic departments in such a small, regularly overlooked talent pool.
When raw talent supersedes the drawback that is small-town anonymity, however, it undoubtedly gets recognized.
Charlene "Charlie" Masterson, Boulder City High School's star softball player, took the next step in her athletic career on Nov. 11 when she signed her National Letter of Intent to play for the University of Nevada, Las Vegas.
The Lady Eagles' pitcher, who's entering her senior season, will begin her collegiate career under the tutelage of former UCLA standout and current UNLV head coach Lisa Dodd.
"I wanted to be close to home, so we started emailing her at first," Masterson said of her recruitment. "The major school I looked at other than UNLV was San Diego Christian, but I work hitting with (Dodd) and I go in for drop-ins sometimes."
Masterson's recruitment escalated after her breakout junior season in 2015, when she dominated both on the mound and from the plate.
The right-handed hurler, whose fastball tops out at 62 miles per hour, finished her junior campaign with a 0.99 ERA, striking out 215 batters in only 149 innings pitched.
She also led the team in opposing batting average (.139) and fielding percentage (.972). Masterson completed the year 18-7 (.714 winning percentage) while tossing two complete games.
That's not all.
From the plate, Masterson led the team in every statistical category as well, hitting .515 with 53 RBIs and all four of the team's home runs. She also had a 1.353 OPS, a statistic combining on-base percentage with slugging percentage.
"It's great for her to stay local," BCHS head coach Angelica Moorhead said. "This shows our kids that, you know what, if you have a dream, go get it."
UNLV is known for scheduling tough opponents under Dodd, who consistently lines up the nation's best teams to test her Rebels will.
This upcoming season, UNLV faces four teams that finished ranked in USA Today's top-25 coaches poll, and two more that were receiving votes.
"We couldn't be more excited that Charlie Masterson chose to stay close to home and become part of the Rebel family," said Dodd. "She is an incredibly talented pitcher, and what's even more exciting is her potential as a hitter. We are excited to see her excel in her hometown and in front of her friends and family."
Masterson's recruitment wasn't typical of an athlete going to play Division I sports, however.
The senior signed her letter of intent prior to informing her teammates or coaches about the decision rather than have a signing day celebration most high school students prefer today. "I'm not a very public person," she said.
"I'm glad (UNLV) is sticking to talent here locally," Masterson's mom, Char, said. "I'm excited for Charlie. I still don't believe it. When she leaves for college, then I'll believe it."
Moorhead said Masterson can play anywhere, which is evident from her mind-boggling 2015 stats at Boulder City High School.
When asked what position she wanted to play at UNLV, Masterson paused, then said, "I really like pitching, but I'll play anywhere (Dodd) puts me."
Coach Moorhead stressed one thing's for certain: Wherever Masterson lands when those nine players are called upon, she'll be ready.
"She's intense in the circle and she's intense in the box," Moorhead said. "I know when I throw live sometimes, I get nervous. I get nervous on third base when she's up to bat. She's got a desire. Whatever they ask her to do, she'll do it. I know she will. She just loves the game that much."
Contact reporter Randy Faehnrich at rfaehnrich@bouldercityreview.com or at 702-586-9401. Follow him on Twitter @RandyFaehnrich.