Future bright for ball programs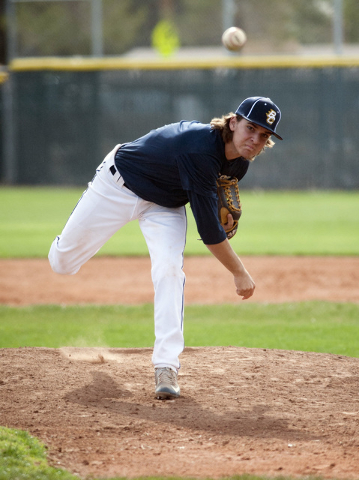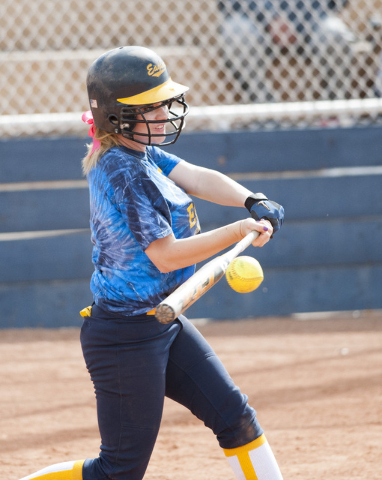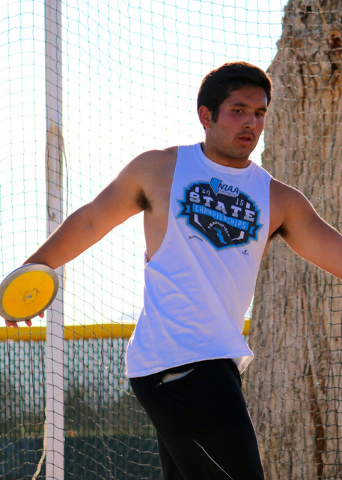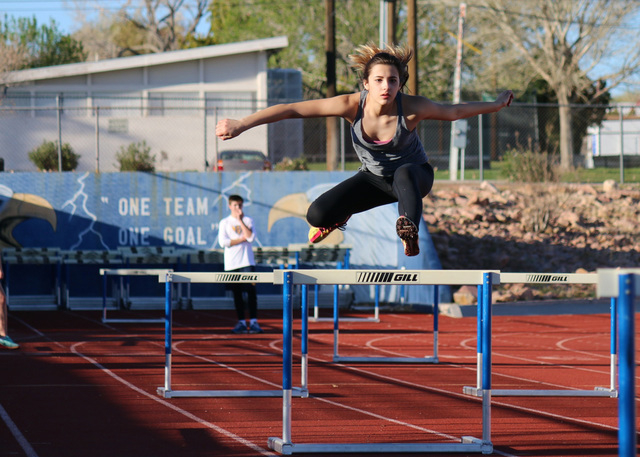 The outlook for the upcoming season for Boulder City High's baseball and softball programs looks bright, following positive results from this past weekend's scrimmages against Division I opponents.
Taking out perennial Sunrise Region power Rancho, the Eagles overall had a great showing against the Rams, in which many of head coach Bobby Reese's key contributors stepped up against the larger school.
"We played well against Rancho in our scrimmage this past weekend," Reese said. "There's a lot of things we need to clean up, but it's a long season and we have plenty of time. The kids need to stay focused on improving every day. If we do that, we'll have a chance to accomplish our goals in May."
Looking dominant on both sides of the ball, senior Peyton Koopman was the big fish out at Whelan Field, pitching two shutout innings for the Eagles, along with a double and a single at the plate.
Expected to contribute heavily this season for what will hopefully be his third state tournament appearance with the team, having made the trip in 2015 and 2013, Koopman is a career .359 hitter with 74 runs batted in, 14 doubles, eight triples and six home runs, while compiling a 13-2 record on the mound with a 4.32 earned run average and 64 strikeouts.
Junior Aaron Kehoe also impressed with an RBI single, while senior Nolan Desantis batted 1-for-3 on the day.
"We play all of our nonleague games against top teams in our division: Faith Lutheran, Spring Valley, Sierra Vista or higher Division I opponents," Reese added. "In order to be successful in May, we know that's the level of play we need to be at. Playing lower-level teams may help our record at the end of the year, but will not prepare us or push us. We know playoff wins are more important than regular season wins."
The sentiment surrounding the softball program under head coach Angelica Moorhead couldn't be any different, with the Lady Eagles inviting Division I programs Coronado, Desert Oasis, Green Valley and Liberty out to their home field this past Saturday for nearly eight hours of games.
"It's important that we invite big schools like Green Valley, Desert Oasis, Foothill, Liberty, and Coronado to see where we stand with them," Moorhead said. "The coaches felt that we did some good things and there were things we need to continue to work on and improve in. I think all the kids are just ready to play and start the season."
Despite no scores being taken on the day, Moorhead said the experienced gain throughout Saturday's four games was undeniable.
"Our scrimmages went well on Saturday," Moorhead said. "No statistics or scores were taken, we just really wanted to see what we have as a team and where we could put players when we're dealing with some injuries and other issues."
Star senior pitcher Charlie Masterson couldn't have agreed more with her third-year coach, saying it was fun to scrimmage the larger schools and show them that playing Boulder City, despite its size, is never an easy task.
Masterson, also a three-year star for the program, will be looking for her second state tournament bid this season in Reno as well, after making her way to Northern Nevada with the Lady Eagles in 2014. A career .569 hitter with 142 RBIs, 35 doubles, 14 home runs and 10 triples, Masterson, along with the pursuit of a state championship, is also chasing history with multiple state batting records in her reach this season.
Masterson has compiled a 42-15 record on the mound for the Lady Eagles with a 1.34 ERA and 434 strikeouts.
The Eagles will start their season today against Division I state tournament qualifier Arbor View in their first matchup of the heavily filled Division I Bengal Varsity Tournament, while the Lady Eagles traveled to Needles, Calif., earlier today to start their season off in the Colorado River Invitational.
Track and field
Spring sports are starting to get underway, with varsity track and field coach Joshua Fisher optimistic about the upcoming season.
"Both programs are going to be really young this season," Fisher said. "We're going to rely on our senior leaders to get our younger kids ready for the season and hopefully develop our kids as we progress, aiming for a chance at the postseason."
For the boys, returning senior Sam Gomez is the backbone of the team, coming back to the Eagles as the defending Division I-A state champion in the discus. Poised to repeat again this season, Fisher said Gomez should also compete heavily in the shot put event.
"Sam is just a terrific athlete; he just has that build that you look for," Fisher said. "One of the better kids we've ever had in our program, he'll be at the collegiate level next year for sure."
Following Gomez for the Eagles is bit of a wild card, but Fisher praised the quick development of his young core.
"We have a lot of young guys this year with a lot of potential … I feel like the core of our team moving forward is going to be really strong," Fisher added. "I know the future looks bright for the program; we'll see what these kids can contribute right away with."
Seniors Devin Reese and Nicholas Pfeiffer are also a pair of state hopefuls Fisher is counting on this season. Reese is expected to guide both 4×100 meter and 4×200 meter relay teams, while Pfeiffer should be consistent in the 400-meter dash.
On the girls side, the Lady Eagles are also young, but Fisher is confident his senior trio of Paige Buettner, Bayden Huxford and Lauren Mullins can not only carry this team on the field, but provide knowledge and experience off of it to the program's up-and-coming players.
"We're going to need all three of them to have big years this year," Fisher said. "It won't be enough for them to just do it on the field though, I need them to be role models for our younger kids. I'm confident they can manage both tasks."
Expected to qualify for state this season in the 100-meter and 200-meter dash, Buettner returns after a solid junior campaign, while Huxford will try to keep pace as a complement.
Returning to the Lady Eagles as a pole vaulter, Huxford also looks to make strides through the air, capitalizing on last season's experience.
Fisher is also hopeful that Mullins can compete for a state berth in the 100-meter and 300-meter hurdles, along with sophomore Sierra Selinger in the 1600-meter and 3200-meter distant run.
Both programs will start their seasons Saturday in the Heitkotter Invitational at Faith Lutheran, which is a cross-division event between a handful of Division I and Division I-A programs.
Contact Robert Vendettoli at BCRsports@gmail.com.