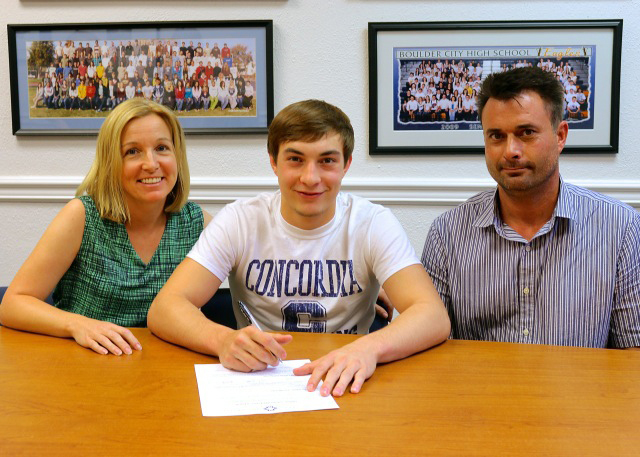 Collin Fox started wrestling in the seventh grade. He immediately fell in love. Now, Fox is graduating from Boulder City High School, looking ahead to a bright future wrestling at Concordia University in Nebraska.
Fox signed his letter of intent to attend Concordia on May 4, after debating offers from multiple universities.
"I chose Concordia because it felt like the perfect fit for me," Fox said. "I felt the environment they had was what I needed to succeed in the next level of wrestling. Concordia had the most support from the school along with the coaches from Concordia, Nebraska."
Fox said he felt like he was terrible at wrestling when he first started. He was talked into wrestling by his friends Patrick Garvin and Nelson VanDiest. After feeling like he had no future with wrestling, his friends insisted he try another year.
Fox said he progressed tremendously during his eighth-grade year, and decided to try out for the high school team. He made varsity as a freshman.
"I remember when he started as a freshman, he was just very raw, and then you could see the growth," wrestling coach Jim Cox said. "When you start accomplishing things and doing more and more, the confidence grows and when the confidence grows you're not afraid and go after people. And then when you're not afraid, you play some big tournaments."
Fox said his motivation on the mat has always been to go after his opponent, leave him hurting and regretting the experience.
During his high school career, Fox was a four-time state qualifier, placed second at state his junior year, and placed third at state his senior year.
"I've always pushed people to the brink to see how much they could take when I went after them and that's what made me so successful in wrestling," Fox said.
"What makes him great is his ability to not be afraid. He doesn't allow his fears to limit him," Cox said. "He works hard. He goes after people and it's important to be persistent every day."
Concordia first displayed interest in Fox after a tournament in Texas. Fox faced 15 opponents over two days and went 14-1. His only loss was to a kid from Missouri that ended 5-2.
That loss, Fox said, made him feel unaccomplished and hungry for the season ahead.
Heading to Nebraska, Fox said he hopes to continue to improve so he can be better prepared for national competitions.
"I hope to accomplish a dream as being an all-American by placing in the national tournament," Fox said. "I'm taking with me the experience and fight coach Cox and coach Ruth have taught me all throughout my career. They are the ones who have shaped me into the man I am today and I owe it all to them."
Cox has worked with Fox since the teen got into wrestling. He said he believes Fox will do great at Concordia.
As Fox prepares for the next chapter in his life, his parents said they could not be more proud of their son. His mother, Gretchen, knew nothing about the sport when he signed on, but now says she loves it and loves watching her son wrestle. His father, Matthew, wants his son to enjoy himself.
"I want Collin to enjoy the next chapter of his life and remember to be prepared, be cautious and be strong," his father said.
Coach Cox has some simple suggestions for Fox as he heads into the next level of wrestling at Concordia. He said Collin can do hard things, and that will help him progress into a stronger wrestler throughout his college career.
"Manage your time wisely, and also just keep improving every day," he said. "Because you're going to have those challenges that arise every day and just keep going forward. Keep on groovin' because the only way you can grow and become stronger is through being uncomfortable and having to go through hard things and do hard things."
Aside from wrestling, Fox will be pursuing a degree in criminal justice.
Contact Rochelle Richards at BCRsports@gmail.com.