Former BC High School cheerleader takes over as head coach
August 22, 2013 - 1:05 am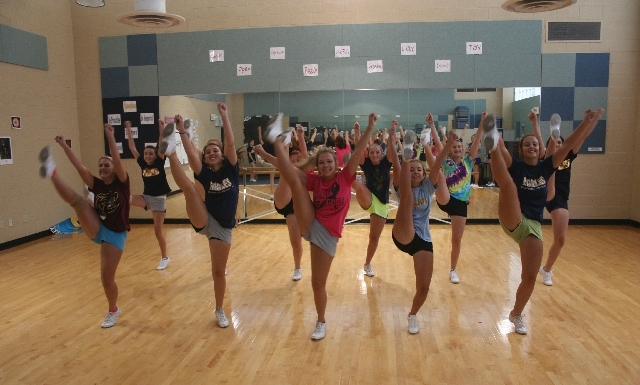 Former cheerleader Vivian Sanders will take over the coaching position for Boulder City High School's cheerleading squad.
Sanders was a cheerleader for three years at Garrett Junior High School and for four years at Boulder City High School.
"In high school I always thought it would be fun to coach," Sanders said. "It was always one of those 'in the future' jobs that if it ever came along I would totally do it."
Sanders was also an officer of the high school's student council for four years. When she wasn't at high school events, she volunteered regularly in the long-term health care at the Boulder City Hospital.
After graduating high school in 2007, Sanders attended University of Nevada, Reno. She graduated in December with a degree in elementary education.
The coaching position became available after Shannan Wrightsman, former cheerleading coach, resigned in the spring.
"Shannan Wrightsman was the coach for a long time," Sanders said. "I had done my internship for my degree at Martha P. King, and Shannan's daughter was in my class. So when they moved I realized the position was open . I contacted Barbara Agostini, the assistant cheer coach, and asked her what the process was.
"It kind of just fell into my lap," she said.
Senior varsity captain Aspyn Fisher is excited to have Sanders as a coach because of her experience in Eagle cheerleading.
"I think she will do well since she was a cheerleader at our high school," Fisher said. "She is very involved and communicates with us. She wants our input on things and how we want the season to go. She knows what it's like to be in our shoes, so she will be able to be more understanding."
Not only will Sanders be the high school's cheer coach, but she received a fourth-grade teaching opportunity at Treem Elementary School in Henderson for the 2013- 14 school year.
"The best thing about being a coach is it's kind of lenient," Sanders said. "I get to schedule the practices and work them out with the girls. School will get done and I will come straight back to Boulder. It's really close. I'll just have a really long day."
Sanders looks forward to starting the cheer leading season, which began Monday. The varsity squad's first performance will be at the high school's Welcome Back Assembly on Aug. 30.
Members of the traveling varsity squad are Fisher, Coral Leon, Emma Herr, Kailynn Mantia, McKenna Johnson, Jena Lopez, Taylor Smith, Tristyn Clark, Alyssa Blake, Kellie Corona and Summer Wachtel.
The junior varsity squad consists of Ashtyn Nothwang, Bridgette Ewell, Cierra Wachtel, Hannah Doane, Hannah Hanson and Jordyn Trobiani.
Although the teams will not be competing in any cheerleading competitions this season, they have big plans for community service.
"We've been really proactive in breast cancer awareness," Sanders said. "We bought a lot of pink gear to wear for this year. We will be selling pink breast cancer awareness merchandise for the crowd at football games and basketball games. Barbara is really big on community volunteer work. And any fundraising chance we can get we will be there."
As well as raising breast cancer awareness, the Eagle cheerleaders will be collecting can pop-tops during football and basketball season for the Ronald McDonald House.
As the new coach, Sanders hopes to polish their stunting skills (previously defined as building pyramids), as well as bring them together as a team.
"I think this group of girls is really talented," Sanders said. "They pick up things really quickly. I think it's about refining those skills, bringing them together and pushing up some really awesome stunts."
Fisher is thankful they will be able to travel this year.
"Stunting and going to away games are my favorite things about cheer," Fisher said.
"My main goal is to have the girls come together as a team," Sanders said. "One of the best things I thought about being on a squad is the close sisterhood."
Sanders is eager to start working with her squads and is optimistic about the challenges the season may hold.
"I think this year being my first year as a coach everything is going to be a challenge. But I really look forward to it. I think it's going to be a lot of fun," she said.
The Eagle cheerleaders will be hosting a car wash Sept. 7 at the high school from 8 to 11 a.m. to raise funds for future cheerleading events.