Flag football's coach, players honored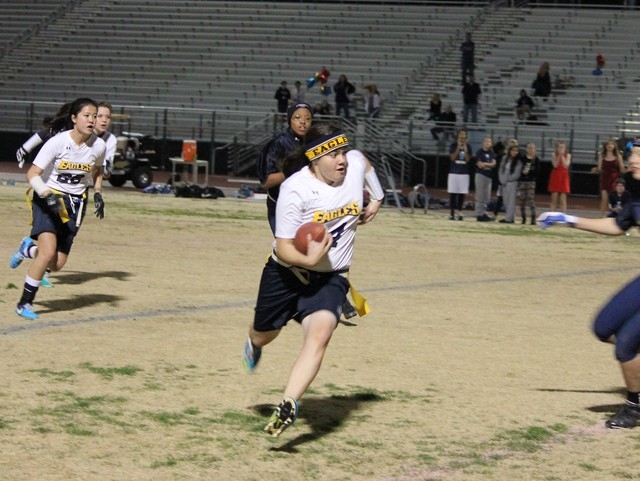 Boulder City girls flag football coach Chris Morelli has been selected as the Region Coach of the Year and will coach the Sunrise All-Stars in the Southern Nevada Flag Football Coaches Association's all-star game Friday.
Four of Morelli's players — Jane Nevarez, Kinsey Smyth, Logan Kanaley and Jeanne Carmell — have been chosen to play in the annual Sunrise/Sunset All-Star Classic at 6:30 p.m. at Foothill High.
Morelli guided the Lady Eagles to the Southeast League championship and an unbeaten 18-0 league record.
The Lady Eagles were the surprise team of the season in Clark County as they reeled off 20 consecutive victories, but the improbable season ended two victories short of its championship goal in an 18-13 loss to Green Valley in the Sunrise Region championship in February.
"These were only four of the great players I had this season at Boulder City who gave a great effort to achieve what they did," Morelli said. "I am so proud of all of the them, and especially proud to coach these four again in the all-star game."
Carmell was one of the county's top passers and rushers. Smyth set a mark with 24 interceptions in 21 games that will stand for a while as the record in Boulder City and Clark County. She also excelled as a wide receiver and ball carrier.
Standout linebacker Logan Kanaley led the defense along with Smyth and Carmell. On offense, Carmell's top targets all season were Smyth and Nevarez.
Boulder City, which was only 8-10 in its first season and did not make the playoffs, ended the 2014 campaign with a 20-1 record.
Green Valley advanced to the Clark County Championship, where the Gators lost to Cimarron-Memorial.
Flag football was added as a varsity sport in 2013 as an attempt by the school district to comply with Title IX regulations concerning gender equity for women in sports.
School officials never counted on its immense popularity.
Girls stopped playing other sports and cheerleading to join flag football. Thirty-four teams from Clark County played the sport in 2013, and it became so popular that almost all of the schools added a junior varsity program in 2014.
There was only one countywide division and Boulder City was one of the smallest schools playing the sport. But the Lady Eagles caught everyone's attention in closing in on the county championship.
The Lady Eagles' 20 consecutive victories tied the most ever in the county with Green Valley (2013). Their winning percentage in winning 20 of 21 also ties Green Valley's record from 2013.
"We had a great season and this is an honor to play in an all-star game with all of the best players in the entire region," Smyth said. "We are going to enjoy the game and have fun, but we also want to win and show the larger schools that we can play at the highest level."