Flag football team remains undefeated
December 19, 2013 - 5:19 am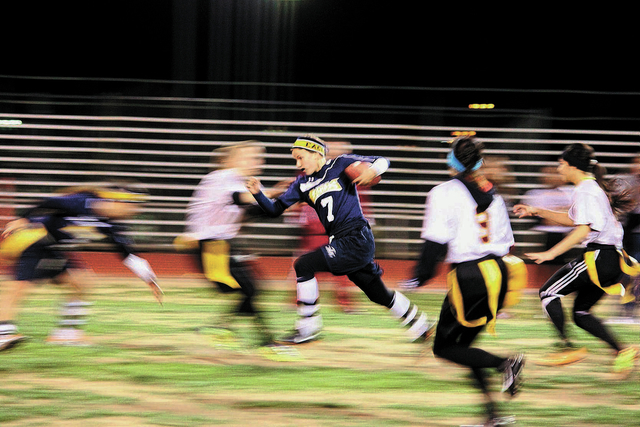 The Boulder City flag football team, one of the few unbeaten teams in the county, is earning respect among opponents countywide but the girls are still fighting for respect at home.
"It's not in a bad way, but the guys at school, especially the football players are kidding us that this isn't a real sport," junior Kinsey Smyth said. "They like to joke with us and make fun, but then they admit we are doing a good job. They just want to have fun with us."
And these girls just wanna have fun.
Through the season's first two weeks the Lady Eagles were having plenty of fun, compiling a 5-0 record to sit in first place in the nine-team Southeast League. There were only four teams of 34 playing flag football in Southern Nevada that had not lost as of Tuesday.
Smyth has been one of the reasons. A safety, she had four interceptions on defense and junior quarterback Jeanne Carmell threw two touchdown passes and ran for another score on offense as the Lady Eagles defeated Eldorado 19-12 on Dec. 10.
Carmell also hit Smyth on a 20-yard scoring pass and then threw a 5-yard scoring pass to Mackenzie Pluta. Smyth also ran for a 15-yard touchdown.
Against Del Sol on Dec. 12, Smyth added another two interceptions as Boulder City won at home 12-6. Smyth also caught a 20-yard touchdown from Carmell, who completed 8 of 9 passes for 125 yards and two scores. Carmell also connected with Jane Nevarez on a 15-yard score. Junior linebacker Logan Kanaley had nine tackles and one interception.
"The girls are working hard and want to prove that they are a good team," coach Chris Morelli said. "This a young group like I said before, but a very talented young group. More and more people are coming out to watch them each time they play."
This is the second year for the sport in Clark County schools.
"We do have a very good team and we will make the playoffs and when we do, I know our biggest fans will be the boys," Smyth said. "It is exciting to get off to such a good start because there are so many people working so hard out there for us. It is a team effort."
The Eagles ran into one of the better teams in the county on Monday, playing on the road at Coronado. Coronado led the county in November with more than 110 girls trying out to play flag football.
On Monday, Carmell threw two touchdown passes and ran for another score as the visiting Lady Eagles, now 5-­0, defeated Coronado, 19­-6.
Carmell had a 5-­yard touchdown run and threw 10­-yard scoring passes to Smyth and Pluta. She also had a good game defensively, making one sack, one interception and six tackles. Smyth had six catches for 72 yards and intercepted a pass, her eighth interception in five games.
The Lady Eagles also had a game scheduled Wednesday at home against Basic.
"Coronado and Basic are two larger schools and real challenges for us when we play them," Morelli said. "We will work hard during the break and make a run for the playoffs in January. This is a great group of athletes, so anything is possible."
Boulder City will play on the road Friday at Chaparral in its final game before the holiday break. The Lady Eagles return to the field Jan. 6 at home against Tech.