Faith Lutheran upsets Lady Eagles volleyball team
November 11, 2015 - 5:22 pm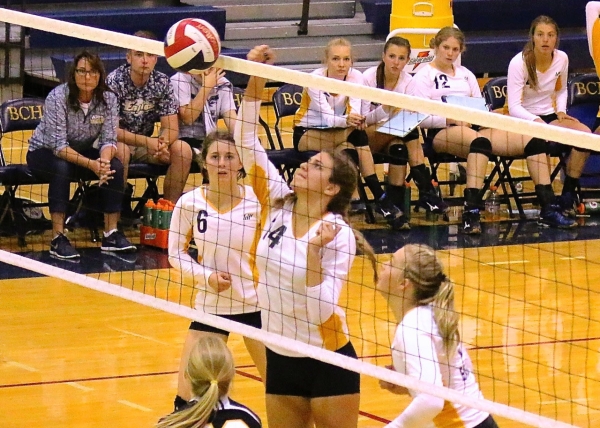 The Lady Eagles' volleyball season ended Nov. 5 following a 3-0 loss to Sunset League top seed Faith Lutheran in the second round of the Division I-A state playoffs.
"We've said all year that Faith Lutheran was going to be one of our toughest opponents," coach Cherise Hinman said. "In years past we've had a tendency to struggle against the Crusaders, but overall I'm pleased with Thursday's performance."
Losing in straight sets 12-25, 20-25, 18-25, the Lady Eagles ended their season with a 25-11 overall record, while finishing 11-3 in conference place as the Division I-A's second seed in the Sunrise League.
"Even though the season didn't end the way we would have liked, I couldn't be more proud of my teammates," senior libero Bayden Huxford said. "We worked hard and we played hard, my team made my senior year the best one possible."
Despite ending their season against a regular state juggernaut, the Lady Eagles played well most of the night, headlined by a 34-assist outing from senior setter Tarah Cox. Sophomore outside hitter Maggie Roe also got involved heavily for the Lady Eagles, supplying 14 kills and three blocked shots, while senior outside hitter Jayden Wood added 13 kills and Huxford added 13 digs.
"Although we weren't able to come away with a victory, I'm proud of the way the girls handled themselves against Faith Lutheran," Hinman said. "Make no mistake about it, that's a talented ball club we just faced off against and our girls gave them their best. (I) believe Thursday's result was the best we've every done against the Crusaders, so that an encouraging thought heading into the off-season."
While the Nov. 5 upbeat loss is certainly encouraging for the Boulder City program, which has become a juggernaut itself in the Sunrise conference this past decade, uncertainly looms around the program with the departure of six starters set to graduate in June and eight seniors overall on the team.
"We were a very senior-filled team this season," Hinman said. "That was our strength, the leadership and experience of a group that's played together since they were in their youth. It's going to be tough to replace each one of them individually, but I'm both hopeful and confident that some of our younger girls on both varsity and junior varsity will help lessen the load and we can reload quickly."
Departing from this year's program will be their four senior captains: Wood, Huxford, Cox and middle blocker Velzani Moncayo, who all took turns individually this fall guiding the Lady Eagles to victory.
Wood concluded her senior season with career highs in kills (296), aces (55) and blocked shots (16) for the Lady Eagles, while Cox finished with career highs in assists (614), aces (100), kills (77) and blocked shots (10), while finishing with 101 digs. Establishing herself as one of the better libero's in the Division I-A ranks this fall, Huxford garnered 483 digs and 61 aces, both career highs, while adding 30 kills offensively for Boulder City, while Moncayo finished with a career high 40 blocked shots, along with 36 kills, eight digs and three aces.
"This group of senior captains is going to be really tough to replace not only on the court but off of it as well," Hinman added. "Obviously it's easy to look at their personal (records) and determine that they were all great players, but they were even better teammates. They all showed leadership qualities that rallied the team and made us a family. We were a close group this season, one of my favorites."
Joining the Lady Eagles' four captains as graduating seniors will be starting middle blocker Valentina Rolleri, who in her lone season with the team as a foreign exchange student from Italy tallied a team-leading 68 blocked shots, 121 kills 35 aces and 53 digs, and starting opposite hitter Emma Jeppsen, who garnered 67 digs, 60 kills and 15 blocks. Senior defensive specialist reserves Hunter Spragno (43 digs and 10 aces) and Justine Ward (nine digs) will also graduate this June.
"Top to bottom this team was loaded," Hinman said. "It's going to be a challenge to duplicate not only the success level that they all reached throughout their time with the program but their talent on the court as well."
Looking to soften the blow next season will be current sophomore Roe (307 kills, 239 digs, 88 aces, 35 blocks), who is just one of five girls to make the Boulder City varsity team as a freshman under Hinman during her 20-year coaching tenure with the program.
"She's quite a talent," Hinman said. "One of the more physically gifted girls I've coached during my time and it will be exciting to see her grow. She going to have to handle the responsibility of not only being our best player but our leader next season. I'm confident she can handle it."
Joining Roe for what is expected to be a successful season, will be junior setter Alea Lehr (334 assists, 73 aces, 73 digs, nine kills) and junior middle blocker Julia Worral (19 blocks, 17 kills).
"We have a history of being one of the conference's top teams every year and we expect the trend to continue next fall," Hinman concluded. "I'm proud of everything this year's group accomplished and I know we'll follow this up with another great effort next season."
Contact Robert Vendettoli at BCRsports@gmail.com.