Errors plague Lady Eagles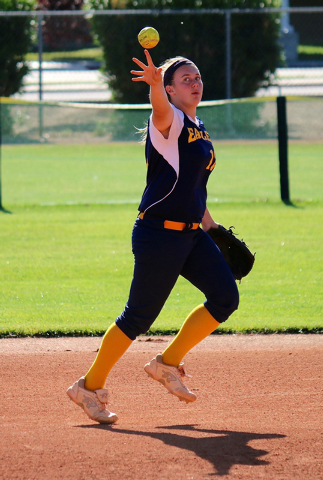 A late game rally pushed the Wildcats to a 6-5 victory against the Lady Eagles softball team Friday night.
Despite a solid pitching effort by junior Charlie Masterson, Boulder City just couldn't hold off Las Vegas High.
"We have to protect our pitcher, and help her," head coach Angelica Moorhead said. "She's working her butt off, and we have to have defense for her. And that's what hurt us, were errors. Errors always come back and beat us, and dead bats. Every once in a while when we have a string of hits and then all of sudden we can't hit, or we're hitting right to them. We just need to fine tune, work on errors and take things more serious."
Boulder City recorded four errors Friday night.
In the circle, Masterson threw 116 pitches for 10 strikeouts. Senior Jessica Embro and Masterson brought in three RBIs and two RBIs, respectively. Masterson also made it home twice.
For a majority of the night, the Lady Eagles lead Las Vegas High, until the Wildcats brought in three runs in the last inning that Boulder City just couldn't recover from.
"It's frustrating at the end, but we did it to ourselves," senior Alyssa Ybarra said. "It wasn't necessarily that Vegas beat us, but we kind of beat ourselves. We made errors that were crucial at the end. It's all right though. We'll learn for it, and hopefully we'll get it to zero next time."
Monday, the Lady Eagles faced Desert Pines, easily winning 16-1. Boulder City remained undefeated in league play against the Jaguars, who haven't won a game.
After pitching all five innings, Jordan Moorhead was given the win. She had nine strikeouts.
Wednesday they played Sunrise Mountain, but results were too late for this edition.
Friday and Saturday games conclude a busy week for the team. First up is Del Sol, then they have a long trip to Pahrump for a 10 a.m. Saturday game.
Contact Rochelle Richards at BCRsports@gmail.com.