Errors plague Boulder City baseball team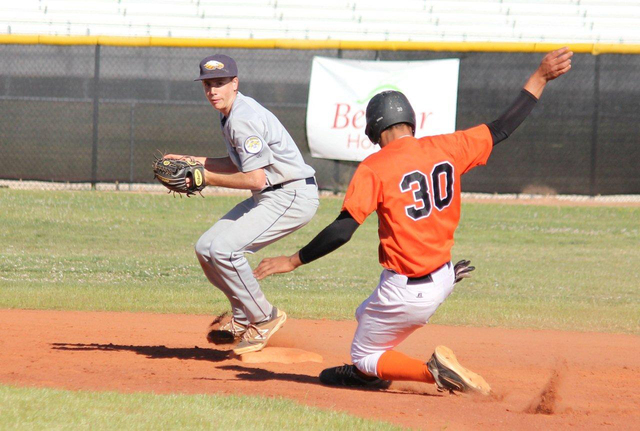 The Boulder City baseball team lost its first-place matchup with Chaparral 4-2 Monday and now finds itself with a tougher path through the upcoming playoffs.
"They (Chaparral) have played everyone on their schedule that can beat them, so we aren't really looking at a chance to recapture first place," Boulder City head coach Bobby Reese said. "I don't see them falling down, but we still have a chance for second place in our league and making the Southern Region playoffs. Let's just say we made the road a lot tougher for ourselves than if we had beaten Chaparral."
With the win, Chaparral improved to 17-7 overall and 8-1 in the Sunrise League. Boulder City fell to 14-6-2 overall and 6-2 in the league.
"Errors," Reese said. "We made five errors and allowed two unearned runs. Meanwhile, Chaparral played a perfect defense game. I have told our players that until they eliminate all the mistakes, they cannot beat the good teams in our league and region."
Preston Van Diest was 2-for-2 and scored twice for the Eagles.
Boulder City took a 1-0 lead in the second inning and relied on right-handed pitcher Nick Giunta. Despite a good effort on the mound by Giunta, the Eagles allowed one run in each the third and fourth innings and two in the fifth to trail 4-1. The Eagles scored their final run on an RBI triple by Zach Murphy in their final at-bat.
The Eagles won the regular season championship last season and were state runner-up to Faith Lutheran.
"There is still time to improve in the final two weeks of the season and make a run through the playoffs but it will take a great effort by everyone to limit mental mistakes and errors," Reese said. "We have to play error-free ball to beat teams like Faith Lutheran, Chaparral and Tech. I know these kids can do it if they make up their minds to do it. Like I said, we still have a little time to turn it around."
On Friday, Boulder City held off a late rally by Del Sol to win 10-8 at home. Austin Wishard was 3-for-4 with a double, a triple and three RBIs and Peyton Koopman was 3-for-4 with two runs and two RBIs.
Colton Bosnos and Van Diest each added two hits and two runs for Boulder City, which won despite walking 14 Del Sol batters. The Eagles rallied from a 4-1 deficit to lead 10-4, but yielded four runs in the top of the seventh inning before closing out the victory.
On April 24, the Eagles lost 7-4 to Foothill in a nonleague game at Foothill.