Errors, illness challenge Eagles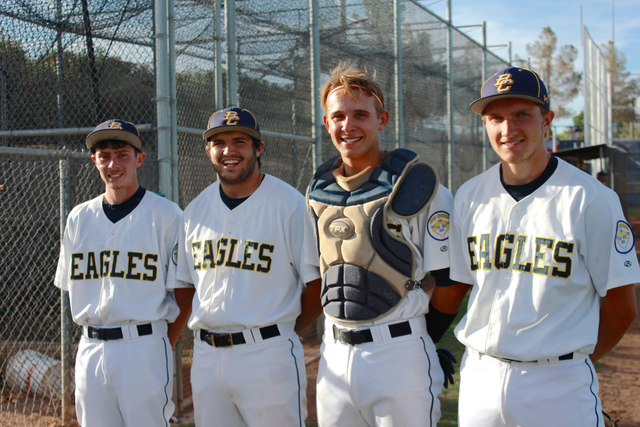 The Boulder City baseball team recognized its seniors April 29 night before its last game of the regular season against Moapa Valley.
Despite sickness and five errors, the Eagles managed the win over Moapa 11-1.
"Nice win, but obviously five errors — we play like that next week, we're going to get beat and we're going to get beat quick," head coach Bobby Reese said. "We got two guys who are sick and not even playing today. Hopefully, we can get at least one of them back, if not two of them. And if we don't, guys are going to have to step up a lot better than they did today."
Before the game, seniors Austin Shepard, Nick Giunta, Patrick Garvin and Seth Kermode were individually introduced and took the field with their families before the playing of the national anthem. They were each greeted by their coaches, and given a flower by Principal Amy Wagner before taking their positions on the field.
The Eagles started off the game with only one run in the first inning. Both teams were quiet in the second inning, before Boulder City erupted in the third inning, scoring four runs to stretch its lead to 5-0.
Both teams scored one run in the fourth inning, until the Eagles scored five runs and put the game away for good in the fifth.
Giunta, who has been sick all week, pitched a complete game, throwing 79 pitches, 50 for strikes. He said he knew the team would have almost a week break before the next game, so he could muster up the strength for one game, and give it his all.
"That was a really gutsy performance from him," Reese said. "He's been really under the weather the past three days. We were just going to start him because he's a senior, and we didn't know how long he was going to be able to go, but (I'm) really proud of him, and a nice night for him the way he sucked it up as bad as he's been feeling."
Garvin and Shepard went 2-for-3 at the plate and had a combined five RBIs. Mike Morelli, Zach Murphy and Kermode each had one RBI as well.
The Eagles went undefeated for league play throughout the season, 14-0 and 21-9 overall. But coach Reese said he won't be satisfied until the team reaches the state tournament.
"We've accomplished one of three goals," Reese said. "That's all we've done. So it's not real good. We get two out of three, and that's a good season. We haven't done anything that I didn't think we could do, and I didn't think that we would do and now the next two goals are the big ones: Can we get to the state tournament, and how well can we do there?"
Playoffs will be different for Boulder City. They will face harder opponents than in their league, and will get to see how they measure up as a team. Garvin said he thinks the Eagles come together as a team well, and he's anxious to see how they measure up to better teams and better pitching.
The biggest concern for Boulder City, is its health.
"If we can get healthy, I like my chances," Reese said.
On Tuesday, Boulder City won 10-0 over Pahrump in the first round of the playoffs.
The Eagles played like a team that was determined to be state champion. They made only one error during play, and made multiple double plays that fans are used to seeing from pros.
Koopman pitched a complete game throwing 56 pitches, 39 for strikes and five strikeouts. He also had two RBIs. Teammates Preston VanDiest, Shepard, Murphy and Wagner each had one RBI.
After Tuesday's win, the Eagles advanced to the quarterfinals and hosted Spring Valley on Wednesday afternoon.
The results for the match were received too late to be published in print.
Contact Rochelle Richards at BCRsports@gmail.com.