Entire golf team qualifies for state tourney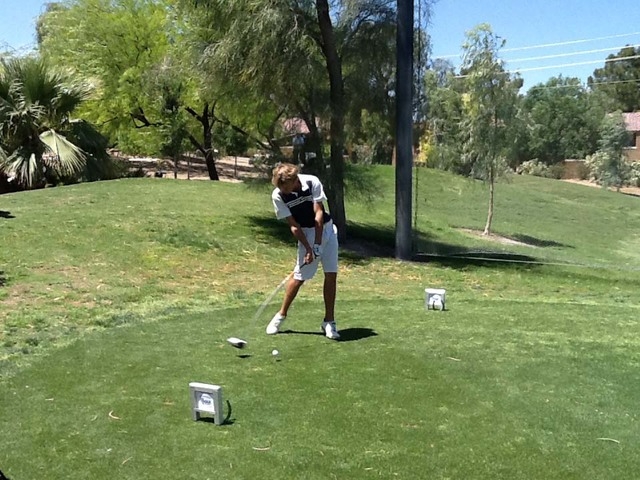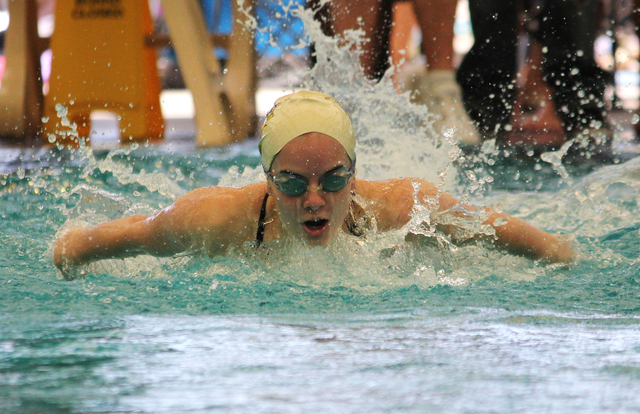 Boulder City junior Luke Logan fired a final-round 70 Tuesday to finish with a two-day total of 149 to capture the Division I-A Southern Region Boys Golf Championship.
It is Logan's third consecutive region championship. He shot a first-round 79 Monday at Primm Valley Resort's Lakes Course and won the event Tuesday at Wildhorse Golf Course.
As a team, the Eagles shot 826 to finish second to Faith Lutheran's winning score of 810, but the score was good enough to qualify the entire Eagles team for the state championship tournament.
The Division I-A state championship tournament is May 21 and 22 at Mountain Falls Golf Course in Pahrump.
"It was a great comeback on the second day for Luke to win the individual title," Boulder City golf coach Regina Quintero said. "He was down by four strokes after the first day, but he made up those strokes on the front nine, shooting an even-par 34. He did real well.
"We did not have great scores by any means, but the kids might have been a little tight the first day and then pressed a little too much on the second day to try to make up the nine strokes from Day One that they were trailing. In all, I am happy to see the entire team getting a chance to play in the state tournament."
Also, leading the Eagles were freshman Kyler Atkinson (80 and 84 for 164 total), junior Christian Hudleson (86-85-171), senior Kyle Effertz (80-83-163) and sophomore Hunter Ulibarri (86-93-179)
Senior Marcus Walker shot rounds of 88 and 93 for a total of 181 to place sixth among the Eagles. Walker's 39 on the back nine holes Tuesday forced a playoff. He finished tied after the 36 holes but won on a scorecard playoff.
"Kyle Effertz was worked hard during both rounds with his club selection and shot selection and he did a very good job," Quintero said. "Hopefully, we will be able to bring the scores down to where we have been this season. (Tuesday) was one of our highest 18-hole scores this season.
"Mountain Falls at Pahrump will be a good challenge and we would like to play better to make Faith Lutheran worry about us while making the state tournament more competitive. I feel that we still have a good shot at the state title if we relax and play our games. We need to work on hitting better shots and making the putts."
Boys, Girls Swimming teams
The Boulder City boys and girls swimming teams head into this weekend's Division I-A Southern Region Championships as the favorites to repeat and defend their titles from a year ago.
The Sunset/Sunrise preliminaries are today at the Buchanan Natatorium at the UNLV Aquatic Center. The diving finals are Friday, and the swimming finals are Saturday.
"This is what we have waited for all season," senior Cori Molisee said. "It is time for region and state and everyone is excited to get out there and defend our championships. Our goal is to repeat as the region and state champions in girls swimming, which no other Boulder City team has ever done."
The Divisions I-A state championships are May 24 at the Buchanan Natatorium.
The boys' team will be swimming for a fourth consecutive state championship and eighth overall. The girls are defending their state title.
The top boys swimmers include Jared Smith, Sam Sauerbrei, Joe Gebhart, Adam Peterson, Evan Klouse, Nick Lara and Nick Walker.
The top Lady Eagles swimmers include Alex Hubel, Montana Lloyd, Mandy Gebhart, Becca Lelles, Erin Warshefski, Abby Sauerbrei, Sarah Estes, and Natalie and Rachael Grothe.
"The kids have the experience," Boulder City swim coach Sara Carroll said. "They know what they need to do this weekend and next, and I expect them to do it very well."