Embro sets record in league opener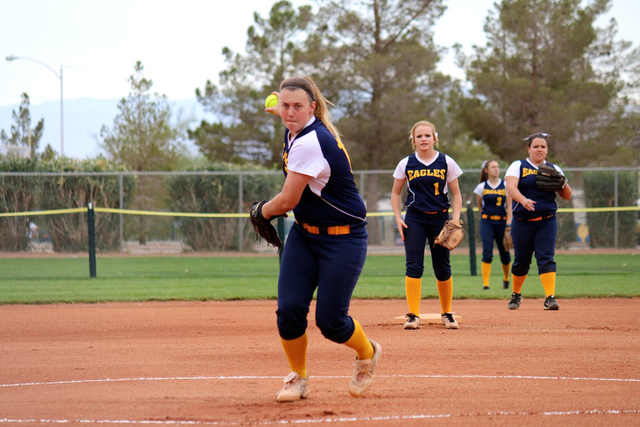 Right fielder Jessica Embro set a school record with four triples in one game as the Boulder City softball team opened its Sunrise League schedule Monday with a convincing 20-1 victory on the road against Desert Pines.
The Lady Eagles had 24 hits and the Jaguars made 10 errors. The Lady Eagles scored 12 runs in the first inning and followed that with three runs in each the second and third innings and two runs in the fourth inning for a 20-0 lead.
Against the Jaguars, pitcher Charlie Masterson pitched a two-hitter. She also had two doubles and one triple to lead the Lady Eagles. Kylee Hamel and Alyssa Ybarra each had a double.
Boulder City, which improved to 7-2 overall and 1-0 in the league, will play a league game Friday at Del Sol. They play at home at 3:30 p.m. Tuesday against Virgin Valley.
The Lady Eagles are the defending Sunrise League champions, having posted a 12-0 record last season.
"We had a busy week and we played some good ball, but we still need to continue to work on committing fewer errors and tightening up our game," Boulder City coach Angelica Moorhead said.
The Lady Eagles started the week beating Sierra Vista 2-0 at home on March 11 before leaving the following morning to play in Colorado River Invitational in Needles, Calif. They played six games in three days, going 4-2 and finishing in third place.
"The 2½ day tournament in Needles was a good way to look at what we need to work on, but it was also a good bonding trip for our team," Moorhead said.
Boulder City began Thursday with a a 2-0 victory against the host school Needles before losing 2-0 to Yuma, Ariz.
On Friday morning, the Lady Eagles pounded Chino Valley (Calif.) 16-1 and Mountain Christian (Calif.) 11-1. They ended the tournament Saturday by playing two Southern Region opponents they met in the playoffs last season, beating Pahrump Valley 7-1 and losing 8-0 to Faith Lutheran.
The win by Faith Lutheran snapped a two-loss streak to the Lady Eagles, which beat the Crusaders 5-4 to open this season and 16-11 last May in a Southern Region elimination game that advanced Boulder City to the state tournament.
Masterson is leading the Lady Eagles in the nine games this season with a .455 batting average, while Ybarra is batting .417, followed by Bryanna Lopez (.263) and Embro (.222).
"All of our players have been contributing in our games," Moorhead said. "I am looking forward to more players increasing their averages and doing some great things at the plate and in the field.
"We play three games a week and we are using all types of combinations to see what some of our best options are as a team. We are fairly young with only four seniors, five juniors and four freshman. But they all have the same goal, to return to the state tournament."