Eagles wrestlers confident heading into regionals
February 10, 2016 - 3:35 pm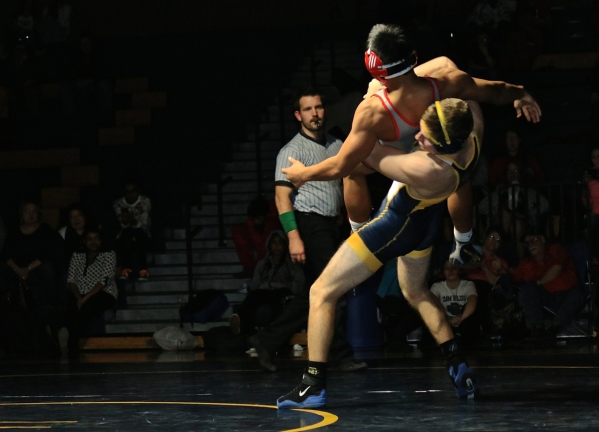 Resiliency: A quality in objects to hold or recover their shape, or in people to stay intact. This is a kind of strength. If you bend a fork and it bends right back — that's resiliency. A car that is in an accident only has a few scratches has resiliency: It holds up and keeps its shape.
Resiliency is the word spread around the Boulder City High School wrestling program this week, heading into the the Division I-A regionals this weekend, where the Eagles expect to not only compete well individually but in the team bracket as well.
"This week is all about being resilient, facing adversity and overcoming it," assistant coach Allen Haines said. "It's not enough to go into regionals confident in your abilities as a wrestler; you have to work for it here, like you've never worked for it before. We're going to find out a lot about our guys this weekend when it comes to how resilient they are and how they answer the challenge of squaring off against the state's best."
Prepping themselves accordingly for the year's toughest matchup to date, head coach Jim Cox did the boys a solid this past week, pinning the Eagles up against a pair of Division I programs in an attempt to gain extra experience heading into the final week of the season.
"I think it's great that we were able to schedule a few tough out-of-conference matches," Haines said. "I feel like it sets the tone for our program and shows that even though we're one of the smallest school in Nevada, that we're not afraid to take on anyone. These are the type of matches that prepare you to go onto great things. Stepping out of your comfort zone and battling the task in front of you. I'm proud of how our guys responded."
Taking on third-seeded Northwest division opponent Liberty on Feb. 3 in the first of a two-match Division I slate, the Eagles score a huge victory for their program on the shoulders of senior Kyle Gossard.
Wrestling in the 285-pound slot, Gossard was the deciding factor in the Eagles' win over the Patriots, scoring a last-match victory for Boulder City.
"It was an incredible feeling to put the team on my back and finish strong with a victory," Gossard said. "I went in with a cool mindset that I just have to wrestle my game and I came out with a hard-fought victory for our team."
Also picking up victories against the Patriots were sophomore Garrett Leavitt in the 106-pound weight class, junior Jimmy Brown in the 126-pound weight class, junior Devin Fox in the 195-pound weight class and junior Dillon Viera in the 152-pound weight class.
"We have a lot of guys that have been stepping it up this past week," Cox said. "They've put in the work all season long. I'm happy its continuing to pay off for them."
Coming off a strong victory over the Patriots, the Eagles were in a similar position against Durango on Feb. 4, heading into Gossard's final match of the night.
Unable to get his feet under him, Gossard dropped the match and the day for the Eagles in what he called a learning experience moving forward.
"(I) got outwrestled in that match," Gossard said. "Looking back on it, I know what I needed to do to come out with a victory, and I'll leave that in my mindset moving forward to pick up more."
Grabbing victories against the Trailblazers were Leavitt, sophomore 113-pound wrestler D.J. Reese, Brown, 138-pound senior wrestler Tyler-James Rushworth, 160-pound junior wrestler Bryan Foster and Fox.
"Top to bottom this is one of the deepest Boulder City teams I've been around," Haines said. "They've put in the time and dedication to be champions and almost everyone on our team has a legitimate shot at becoming one. It will be interesting to see how we perform in regionals this weekend."
Contact Robert Vendettoli at BCRsports@gmail.com.
^
Upcoming Games
Friday-Saturday, regional competition, Spring Valley High School