Eagles win despite absences, limited practice
April 22, 2015 - 12:28 pm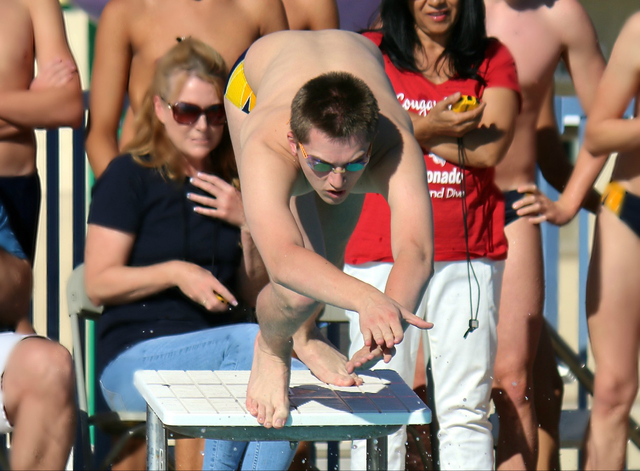 Despite being plagued with absences, the Boulder City boys and girls swim teams won their dual meet over Virgin Valley on Saturday at the Henderson Multigenerational Pool. The girls won 200-77; the boys won 133-126.
Head coach Sara Carroll said the boys team was down eight swimmers because of conflicts with music, church and youth leadership events.
The Eagles didn't perform quite as well as at some previous meets but still won, helping them prepare for regionals and state. Carroll said they also were at a disadvantage because the pool was down earlier in the week for heater issues, so practices were not optimal for meet preparation.
"I was disappointed with some of the times, but a few kids dropped a lot of time — Tyson Morris, Abby Harling, Jillian Porter, Jared Mooney, and really good swims from Alex Hubel, Abby Sauerbrei, Montana Lloyd and Mandy Gebhart," Carroll said. "Sam (Sauerbrei) had a nice 100 breast(stroke).
"That venue is not conducive to great times so hopefully at Heritage (Park Aquatic Complex) and Muni(cipal Pool in Las Vegas) for next two weeks it should be better."
In the 200-yard medley relay, the girls A team took first place with a time of 2:01.30. There were four Boulder City teams, compared with one Virgin Valley team. The Eagles took first, second, fourth and fifth. Virgin Valley's team finished with a time of 2:23.72.
The boys 200-yard medley was a similar situation. Boulder City raced two teams to one for Virgin Valley. Virgin Valley placed first with a time of 2:01.13, compared with the Eagles' 2:15.40
Hubel finished first in the girls 200-yard freestyle with a time of 1:55.18. Boulder City took the top four spots in that race, with Virgin Valley's fastest time being 3:03.72. Braden Klouse took the top spot for the boys swimming 1:59.87.
Virgin Valley entered no swimmers in the 200-yard individual medley, so Boulder City took first and second in both categories. Gebhart and Jessica Purdy swam 2:17.17 and 2:29.97, respectively for the girls, while Sam Sauerbrei swam 2:04.53 and Cade Braden recorded 2:29.97.
In the boys 50-yard freestyle, Virgin Valley took the top four spots, with a fastest time of 25.01. Boulder City's fastest time was 29.91.
The boys team was missing quite a few of its swimmers, and it showed in the team's times. Carroll said that this year was the first year the boys team has had a loss since the 2000-01 season. It was a loss to Faith Lutheran earlier in the season, caused by absences from the boys team.
"I wish everyone was here today so we could have a fair race and friendly competition, but it was still good," Klouse said. "Some of our other swimmers had some really good competition today, so that was good, and they swam really well."
Before the meet started, Carroll said her teams were down 23 points because Virgin Valley has a lot of divers, while Boulder City has none. But the girls were able to bounce back in categories where they raced unopposed, such as the 100-yard butterfly. Purdy took first place with a time of 1:03.90.
Klouse, who celebrated his 16th birthday during the meet, placed first in the boys 100-yard freestyle with a time of 54.81. Klouse said he didn't want to get up early on his birthday, but he knew he and his team had to swim.
The girls took the top three places in the 500-yard freestyle with Abby Sauerbrei's fastest time of 5:22.31. Lloyd took first in the 100-yard backstroke with 58.84.
In the boys 100-yard backstroke, the Eagles placed first, second, third and fourth, with Lars Palmer swimming 1:06.11.
Boulder City scored the tops spots in the girls 400-yard relay with team A recording a time almost twice as fast as Virgin Valley's. The Eagles recorded a time of 3:42.44 compared with Virgin Valley's 6:04.50.
Up next, Boulder City will prepare for the Last Chance meet before regionals.
"I am still strategizing for some swimmers for regionals," Carroll said. "I think we will have a full squad at prelims but it may be harder to make finals and state this year.
"We will be fine in girls this year, but guys will have a huge struggle to repeat as regional and or state champs," Caroll added. "We cannot afford absences or mistakes."
Contact Rochelle Richards at BCRsports@gmail.com.