Eagles up to challenge season will provide
August 26, 2015 - 2:36 pm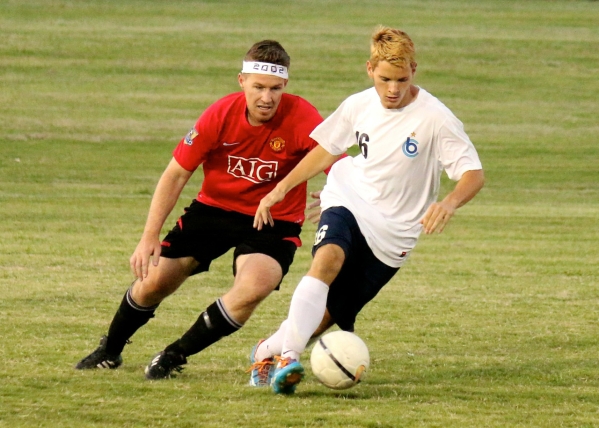 The Boulder City High boys soccer team held what head coach Chad Smith hopes is an annual scrimmage against the school's alumni on Aug. 19.
The 90-minute game saw a crowd turn out to watch the Eagles put on a higher-than-expected performance against the best alums from seasons past.
The point of the scrimmage, which is the first in recent memory, was to get the fans of BCHS excited about the young Eagles' upcoming soccer season. Playing against the veteran alumni players also was what Smith hopes to be his teams' toughest challenge this season.
"It wouldn't be beneficial to my team if I didn't get skilled alumni out here to play," Smith said. "I wouldn't ask for anything less for the alumni to come here and put the challenge on. Last year, we won one game. The game has to grow from within them."
It's been a rough tenure for the Boulder City varsity soccer team, which has always had a team but not enough players to actually compete. This year's team has 14 players, which Smith says is because that's "as many jersey's as I have."
The junior varsity face the same struggles, having only 11 players — just enough to produce a full game with no subs — on its current roster.
Smith, who is in his first year as head coach after being an assistant under Duncan Stark on the BCHS girls varsity staff, grew up in Boulder City and played soccer for the Eagles during his time in high school. Rebuilding the program is something he is intent on doing.
"Duncan has his own way of coaching, which allowed me to back off, be mellow and watch the game from his perspective," Smith said. "It's basically being a student of the game. My challenge is now to work with older boys, develop them and give them a reason to come back here and play."
Smith said that the nucleus is there for his team to be successful. Three of the players play club soccer, while he said there are others who have a natural talent to play the game. The rest of the team, Smith said, has the drive to win and learn.
There are quite a few unknowns about the Eagles heading into this upcoming season, but one thing's for certain: Retaining talent and winning consistently will be tough to accomplish for the underfunded soccer team.
While basketball and football remain king for most high school athletic departments, Smith is optimistic that the Eagles will be able to make do with what they have.
"The thing for me is, as the coach now, is that I grew up here," he said. "It's more the love of the game. The whole point of rebuilding a soccer team was to allow the boys to start owning their game and me showing them where to make positive changes.
"If I can't do that for them, then I'm doing something wrong as a coach."
The Eagles had a scrimmage Tuesday against Faith Lutheran. The team's first game will be at 3 p.m. Sept. 4 at Adelson.
Contact Randy Faehnrich at BCRsports@gmail.com.