Eagles to bring many strong contenders to mat
November 25, 2015 - 2:36 pm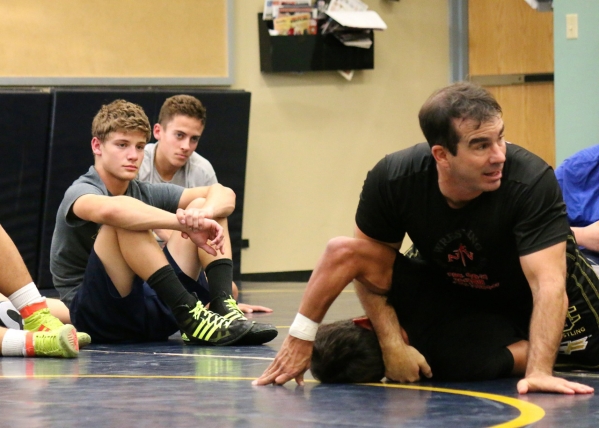 After finishing 10th at the Division I-A state meet last season with 38 points, the Boulder City wrestling program is looking for a better showing this time around behind a strong returning class.
Establishing themselves as one of the better Southern Nevada programs last season with a third-place finish at the Division I-A Southern Region meet behind perennial powers Pahrump Valley and Virgin Valley, the Eagles are now focused on claiming the top spot and hoisting a championship banner as well as the individual titles that eluded multiple Eagles last winter.
"This is honestly the most disciplined, hard-working group of kids that have come through these doors in a while," Boulder City assistant coach Allen Hines said. "The way these groups of kids come together every day and feed off of each other's intensity and energy is really refreshing and nice to see out of a younger group."
Starting at the 120-weight class, sophomores Zach Dennington and D.J. Reese are expected to lead a strong charge for at least one Eagle to gain a state berth.
"I expect to do great this year," Dennington said. "After getting a taste of regionals last year, the goal is to definitely make a state appearance this year. I've been working all off-season for this, participating in a grueling weight and cardio program, so I'm hopeful all my hard work will pay off. I'm really starting to take it more seriously this year after gaining experience as a freshman, so I'm ready to do whatever I got to do, to make it to the top."
Reese also added his excitement for the upcoming year and stated that he could see both Eagles' wrestlers wrestling for the top prize come February.
"After having a decent showing last year at regionals, I feel I'm more prepared now to compete for a state spot," he said.
Last season, Dennington, as a 113-pound wrestler, loss to Jacob Baird of Virgin Valley in the preliminary round at the Division I-A Southern Region meet, while Reese will move up two weight classes this year after defeating Ken Julian of Clark in the 106-pounds preliminary, before losing to Chase Mikesell of Cheyenne in the quarterfinals.
In the 113-weight class, junior Brady Branscum is expected to be among the top tier challengers for the state crown after making a state tournament appearance last winter. Following a third-place victory over Trenton May of Faith Lutheran at regionals, Branscum was eliminated in the state quarterfinals by Cole Campbell of Spring Creek.
Fluctuating between the 126- and 132-weight class currently are junior Jimmy Brown and sophomore J.P. Valenzuela, who both had success last season for the Eagles.
Brown, as a 120-pound wrestler, earned a preliminary victory over Oscar Gonzalez of Cheyenne at regionals last year, before falling to Edris Omar of Sierra Vista in the quarterfinals, while Valenzuela lost in the preliminary round to Nick Nelson of Pahrump Valley.
Senior Michael Morelli is also a name to watch for at the 132 slot, with most expecting him to break out as a legitimate state contender after having to shut his season down earlier last winter with a skin infection.
"If Michael can regain the steam he came out with last season, then he could very well be our best individual wrestler," Hines said. "He has such a great work ethic and is always going above and beyond to be the best in the gym daily. I expect great things out of him."
At the 138 slot, senior Tyler-James Rushworth is expected to make another state tournament appearance after falling in the semifinals to Owen Lawrie of Faith Lutheran, after a third-place finish at regionals, while junior Noah Bobadilla could be a wildcard at that slot with his current weight sitting around 135.
At the 160 slot, junior Bryan Foster returns after a solid showing at regionals last season, defeating Juan Lara of Sunrise Mountain in the preliminary round before falling to Izaiah Jones of Mojave in the quarterfinals. Junior Dillon Viera also has caught the eyes of the coaching staff throughout their preseason program and is expected to make an impact.
Rounding out the Eagles' core this year should be the 180-pound tandem of junior Devin Fox and sophomore Adam Clary, while senior Kyle Gossard, who currently sits at 250 pounds, also should be a key figure this winter.
"Overall there's so much talent at this point, that it's kinda challenging to name who's going to be our best group come February," Hines concluded. "We have a lot of guys that will challenge for spots and step up at certain points for us, so the overall depth of this year's group is nice."
Contact Robert Vendettoli at BCRsports@gmail.com.