Eagles take top place in league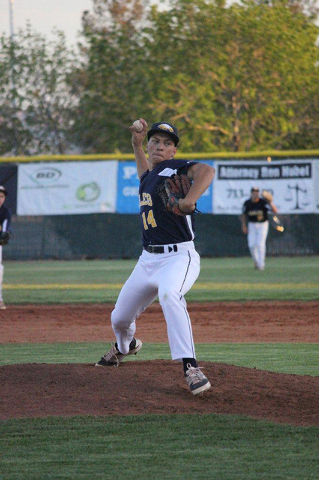 The Boulder City baseball team moved into first place in the Sunrise League with a 6-0 victory Tuesday over visiting Chaparral. It extended the Eagles' winning streak to four games.
Boulder City, winner of six of seven games, is 7-2-2 overall and 2-0 in the league. Chaparral is 5-6 overall and dropped to second place with a 2-1 league record.
Peyton Koopman and Nick Giunta combined to pitch a seven-inning one-hitter for the Eagles. Koopman allowed only one hit and had four strikeouts in throwing five solid innings. Giunta had two no-hit innings in relief.
The Eagles, who had nine hits, scored once in their first at bat, but broke the game open with two runs in the third inning and three runs in the fourth inning.
Koopman was 2-for-3 at the plate, including a triple, and scored two runs and had one RBI. Preston Van Diest was 2-for-3 with three RBIs and one run scored, Mario Castanon was 2-for-4 with two runs scored, and Colton Bosnos was 2-for-4 with a triple.
But head coach Bobby Reese is cautious about his team's early success.
"It's a long season, and we beat Chaparral to move up in the standings; it wasn't the league championship," said Reese, who guided the Eagles to the state championship game last season. "I am happy we won, but not satisfied with the way we played.
"We made too many errors and didn't play the way we are capable of playing. I hope the players don't take this early success and think it means too much. We have a long way to go this season and we have a lot of room to improve, a lot. If we are going to make the playoffs and do something meaningful when we get there, it will require a lot of hard work to reach another level of play."
Boulder City will play today and Friday on the road before returning home for a game with longtime rival Moapa Valley, currently in third place in the league.
The Eagles can extend their lead in the league with a road victory at 3:30 p.m. today against league foe Desert Pines. On Friday, the Eagles travel to play at Bonanza in a nonleague game.
On Monday, Moapa Valley will visit at 3:30 p.m. in a rivalry, must-win league game for both.
The past Friday Boulder City defeated visiting Eldorado 5-1. Castanon threw six shutout innings to lead the Eagles over the Sundevils. Castanon allowed three hits, walked one and struck out 10. Austin Wishard was 2-for-3 with a double and two RBIs, and Koopman went 2-for-4 with a double and two RBIs.
Against Las Vegas on March 26, the Eagles won 8-4 on the road. Will Knudsen went 3-for-5 with a double and three RBIs, and the Eagles scored four runs in the top of the sixth inning to pull away. Wishard was 2-for-3 with two RBIs, and Austin Shepard had two hits for Boulder City.
"We have been on a small streak, and several players have played well," Reese said. "Koop (Koopman) has been doing it both on the mound and with his hitting. We have three games in four days coming up and we need to play more consistent. We need to play better overall."