Eagles' summer baseball leaves Legion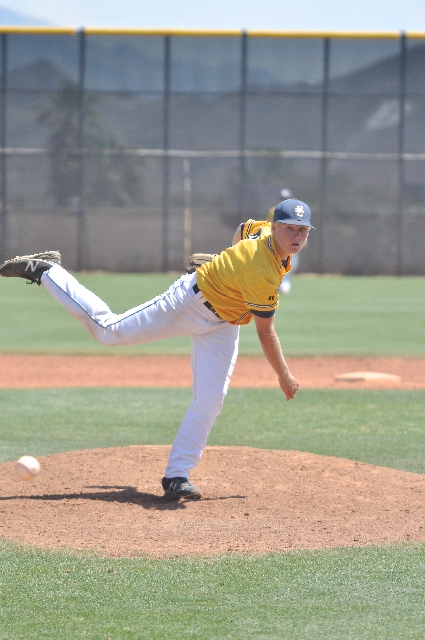 Boulder City's high school baseball program has dropped its longtime American Legion summer-league affiliation in favor of joining the newly formed Connie Mack League.
The Eagles will have two teams: the 18-and-under coached by varsity assistant Chris Morelli and the 16-and-under coached by varsity coach Bobby Reese. Play began for both teams this past weekend at home against Shadow Ridge. The state tournaments are scheduled for mid-July.
"We helped create the Connie Mack League because a lot of schools were tired of the American Legion," Reese said. "Part of our reasoning was that with Legion, we only had time for games.
"We would play five games in a row and never have time in between to practice. That meant we would continue to make the same mistakes and not show the improvement we would like to see."
The new league will also allow the players to enjoy part of their summer outside of baseball.
"In the new league we can keep our contact with the kids — total days we play and practice — to four to five a week, thus giving them some days off to have a summer and be kids," Reese said. "Kids need time to be kids, too."
Joining Boulder City in the new Connie Mack League are Foothill, Las Vegas, Bonanza, Eldorado, Arbor View, Shadow Ridge and Utah's Dixie, Snow Canyon and Desert Hills.
The new league also let coaches build their own schedules rather than play a mandated schedule, which American Legion requires.
"With the new league we are able to build our own schedule and play games when we want to play them," Reese said. "This helps us schedule around the other summer sports' schedules that we ask our kids to play."
But the new league will mean a tougher schedule against better competition, Reese said.
In the past, Boulder City's varsity always played in American Legion's Silver Division, which consisted of 50 percent varsity teams and 50 percent junior-varsity teams.
In the new Connie Mack League this summer, the varsity (18-and-under) will play all 18 of its games against larger schools, and varsity teams preparing for next spring.
The 18-and-under players and their current grade are: Juniors Colton Bosnos, Mario Castanon and Tayler Wold; with sophomores Nick Giunta, Cody Bosnos, Bradley Henderson, Austin Shepard, Will Knudsen, Patrick Garvin, Seth Kermode and Danny Rudd; and freshmen Peyton Koopman, Austin Wishard and Zach Murphy.
The 16-and-under team, which includes two sixth-graders, four seventh-graders, five eighth-graders and two freshmen, will be playing 22 games this summer against larger schools and junior-varsity teams. Five of those games will be against 14-and-under teams from the larger schools, which will be full of seventh- and eighth-graders.
The 16-and-under Eagles are: Freshmen Quentin Turner and Mike Morelli; with eighth-graders Aaron Kehoe, Preston Van Diest, Jacob Hubel, Collin Shepard and Kodey Rahr; and seventh-graders Teddy Lobkowicz, D.J. Reese, Gabe Kermode, Anthony Pacifico and Nolan Herr. Shaun Jones and Darin Bailey are sixth-graders.
"The summer program gives us a great opportunity to start filling in some holes left by all our graduating seniors," Reese said. "It also gives the younger kids an opportunity to start playing at a much higher skill-level."
The Eagles were state runner-up in May, but will lose 10 seniors including 1-A Southern Region MVP Tanner Howell. Seven of the seniors were regular starters.
"We are asking some of our kids who will not be in high school for one or two more years to play against current JV teams," Reese said. "We are looking for a lot of them to step up and continue the standard of Boulder City baseball that has been in place for many years."