Eagles seniors hope to snag championship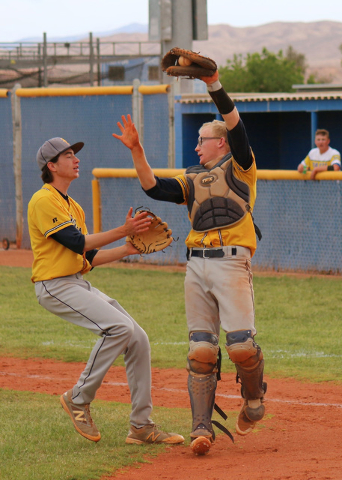 Following an 0-2 performance in last season's state baseball tournament, the Eagles are hopeful for a more competitive run this season, behind their star senior core.
Preaching throughout the season, Boulder City High School head coach Bobby Reese has stated he doesn't want to just make it back to the tournament, he wants to win it. Following a regular season gauntlet that included several Division I opponents, it seems like the Eagles have responded well to their early season tests, capitalizing late to begin the postseason.
In search of their first state championship since 2006, Boulder City got off to a great start Tuesday, showing off its power with a 13-1 rout against Clark.
Jumping on the Chargers early, the Eagles wasted no time during their postseason opener, hanging five runs on the Chargers in the first inning, before posting another five in the fourth inning for a run-rule victory.
Explosive as ever on offense, senior Peyton Koopman and junior Kodey Rahr led the way for the Eagles offensively, pairing for three runs batted in apiece. Koopman, hopeful to earn his first state championship ring and make his third state tournament appearance,finished the day 2-for-4.
"The team played great yesterday," Koopman said Wednesday morning. "Everyone was focused and dialed in, so we were able to complete our plan of getting out of there in five innings. I think our chances are good this postseason. As long as we play as good as I know we can, then I think we'll have a great chance to advance to the state tournament."
In order to make a third state tournament appearance in four seasons, the Eagles need their all-around contributions to continue from their key contributors.
Senior Nolan DeSantis was at his best Tuesday, finishing the game 2-for-4 with a pair of RBIs and a home run, while senior Austin Wishard finished the day as one of the main table setters for the Eagles' power hitters with a 3-for-4 performance at the plate, scoring three times.
Effective on the mound for the Eagles as well, Koopman started the day with a two-inning shutout during which he struck out three batters and allowed no hits, before junior Steve Mull picked up the victory with a two-inning performance of his own.
Hungry for a state banner this season, the Eagles are in the driver seat this May. With a roster laden with senior depth both in the rotation and at the plate, a third trip to the state tournament in four seasons doesn't seem far fetched for this unit.
Results of their Wednesday afternoon game against Spring Valley will be in next week's issue.
Contact Robert Vendettoli at BCRsports@gmail.com.
Upcoming games
■ Today, at home, 1 or 7 p.m. (based on results of Wednesday's game)
■ Friday at 4 p.m. or Saturday at noon, at home, (based on results of today's game)