Eagles overcome rough start to top Dragons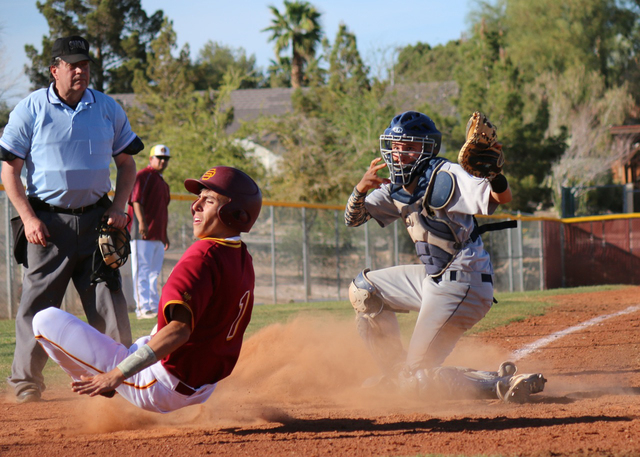 The Boulder City Eagles are now on a six-game winning streak, as the Boulder City Eagles defeated Virgin Valley 12-1 Tuesday afternoon and used a late-game rally to fuel a 17-4 victory over Del Sol on Friday.
Against Virgin Valley, Peyton Koopman had two hits including a home run, scored three runs and had three runs batted in. Pitchers Zach Murphy and Jake Hubel threw a combined 72 pitches, 49 for strikes (67 percent).
In the Del Sol game, both teams scored early. Boulder City pulled in two runs in the top of the first, including a home run from pitcher Koopman. The Dragons brought in four.
"It started off a little rough … it started off with a couple errors," Koopman said. "First inning I was going way too quick and I just needed to slow down, be more fluid and just throw strikes. After the first inning I just had to wipe it off and go out there with a whole new mindset: just to throw strikes."
The game remained quiet until Boulder City erupted for a six-run sixth-inning rally to gain an 8-4 lead over Del Sol.
But the Eagles were just getting started. They put up nine more runs in the seventh to put the game away and claim their fifth consecutive win, putting their record at 7-3 for the season.
"The way it worked out is better for us, because we showed the character that we are going to need," head coach Bobby Reese said. "Things weren't going our way but we didn't give up. We just kept fighting, having good at bats, and kept trying to adjust at the plate."
At bat, utility player Preston VanDiest, who is second in the division with a .529 batting average, led Boulder City with three hits, three runs, and three RBIs. Nolan Desantis had two hits and three runs and Austin Wishard had two hits, with one run and three RBIs.
Koopman threw 99 pitches to the Dragons, 66 for strikes (67 percent).
With high postseason aspirations, Boulder City, which is 4-0 in league play, is focusing on one game at a time.
"It feels good," Koopman said. "We're starting off stronger than last year."
Boulder City has won seven of its last eight games, including Wednesday's home game against Sunrise Mountain. It was another five-inning game for the Eagles, who won 10-0 with a no-hitter. VanDiest pitched the first four innings; Hubel finished in relief.
Up next for Boulder City is a road game against Southwest Career and Technical Academy at 2:30 p.m. today.
The Eagles face Eldorado on Friday before heading to Anaheim, Calif., for the Anaheim Tournament on March 28-31.
Contact Rochelle Richards at BCRsports@gmail.com.