Eagles' mistakes too many to overcome
September 5, 2013 - 5:00 am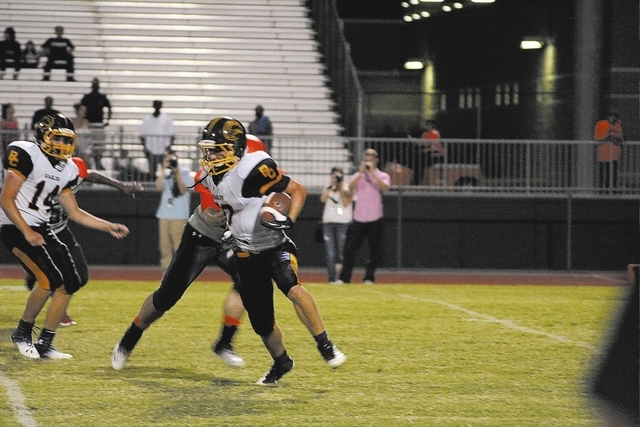 It was opening night, and Boulder City head football coach Alex Kazel knew there were going to be good moments and bad moments.
Unfortunately for the Eagles (0-1), there were many bad moments, leading to a 40-12 loss Aug. 30 at Mojave.
"You expect a few mistakes in the opening game, but I think we had more than we should have made," Kazel said. "Mojave was not 28 points better than us. But we failed to make the plays and keep it close."
Boulder City was outgained in total yardage 380-195 and committed 10 penalties for 75 yards.
Things started well as the Eagles scored on their opening possession. The drive was capped by senior running back Xavier Steel's 63-yard touchdown.
After a 7-yard gain to the left on the opening carry, Steel cut to the middle on his second attempt. He reached about seven yards when he was tackled by a Mojave defender who had gone low to try to take out Steel's legs.
But Steel, who finished with 113 yards on eight carries, landed on Fletcher. He stood up and regained his form, running another 56 yards for the touchdown and a 6-0 lead.
Mistakes, however, would cost the Eagles.
On its first defensive play, Boulder City allowed a 50-yard run that would set up a 2-yard touchdown run as Mojave took a 7-6 lead.
But the hardest play to deal with was a 99-yard touchdown later in the first quarter by the Rattlers.
An Eagles defender had a Mojave runner 5 yards deep in the end zone for a safety and what would have been an 8-7 Eagles' lead. Instead, the runner slipped out of the tackle and broke free from another would-be tackler in the end zone. He then eluded three more tacklers as he struggled to reach the 10-yard line, where he got loose and ran untouched the final 90 yards.
The defense was not done surrendering big plays.
The Eagles also allowed a 23-yard touchdown pass on a fourth-and-11 play, a 34-yard touchdown run, and had an offensive series where three consecutive holding penalties killed a promising drive.
"We had too many missed tackles as a defense," senior defensive lineman Jackson Dunagan said. "We just didn't wrap up and hang on and make the stops or the game would have been closer. But we will work hard this week in practice and be ready for Western."
Sam Woodbury added 41 yards rushing, including an 8-yard touchdown run during the fourth quarter that made it 34-12.
One of the highlights for the Eagles was the punting by Brooks Roe.
But Roe was injured when a Mojave rusher landed on his right leg after a punt. Roe is expected to play against Western.
With Roe sidelined, Mojave's final score came on a blocked punt that was returned 13 yards for a touchdown with 24 seconds to play.
The game outlined what the Eagles would need to improve heading into Saturday's 7 p.m. game at Western.
The Warriors might be just the oppenent the Eagles need to regroup. Western, which won only one game last season — and that was by forfeit — surrendered 428 yards in a 61-0 opening night loss to Desert Pines. They only dress 20 players.
Then again, Boulder City had 24 players in uniform for its opener gainst Mojave.
"We can not take them (Western) lightly because we lost our first game and we made a lot of mistakes," senior Thomas Prach said. "We have plenty to work on ourselves."
Boulder City fans will get their first look at the Eagles at home on a Thursday night game, Sept. 12 against Pahrump Valley.
Pedro F. Fonteboa can be reached at fonteboavegas@yahoo.com