Eagles lose to Rancho, 33-6
September 16, 2015 - 1:59 pm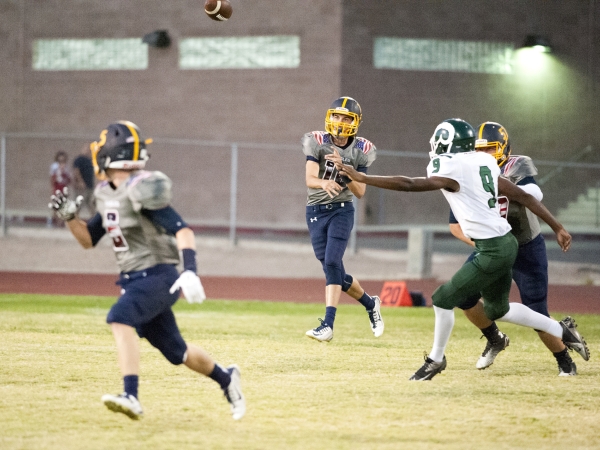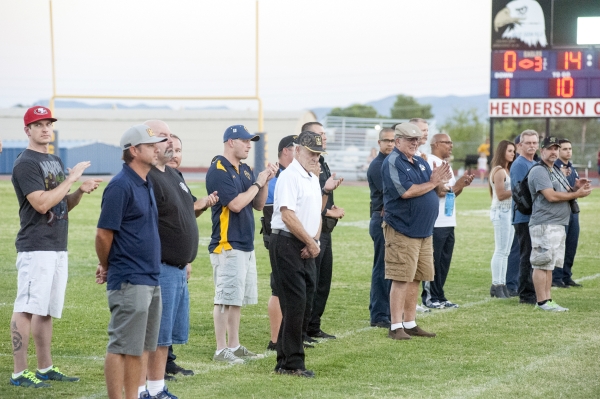 On a day of remembrance last Friday, Boulder City High School tried to quickly forget its 33-6 loss to Rancho that night.
The Eagles looked out of sync in all aspects of the game, with mental mistakes coming on offense and missed tackles on defense.
Rancho took the lead in the first quarter on a 64-yard run by running back Robert Howard on the team's first drive. After a three-and-out by Boulder City, Howard carried the ball 32 yards for his second touchdown of the game.
The Eagles' offense looked shaky from the start and overwhelmed for much of the game, with quarterback Austin Wishard completing only three passes.
Of the three completions, one was a 47-yard touchdown strike to Zac Murphy. The extra point was missed, but Boulder City seemed to have the momentum heading into the half, trailing only 13-6.
"We've got to make better reads and our heads have to be up," said coach Chris Morelli. "We need to make our reads better. There's no reason we shouldn't run this ball up and down the field."
The third quarter is where the game got out of hand for Boulder City, as Rancho scored 20 unanswered points, including a 40-yard interception return for a touchdown.
As bad as Eagles offense was, the defense didn't do the team any favors, missing open field tackles and not containing the outside on Rancho's two big touchdown runs.
The win for the Rams was its second straight this season, which is noteworthy for one reason: Rancho had lost 30 straight games entering the season.
To make matters sting a bit more, former Boulder City head coach Alex Kazel is now a part of the Rams' coaching staff.
"We're not filing holes," Morelli said of his defense. "We're just running sideline to sideline hoping someone trips over their own feet and that's not how you play football."
A visually upset Morelli never lost faith in his quarterback, even though it was not the senior's best night.
Wishard says he isn't lacking confidence, but needs to readjust his mentality heading into games moving forward.
"He gives me the drive to work harder," Wishard said of Morelli. "Our first league game (against Del Sol this Friday), we have to go out 110 percent."
Wishard came off the field briefly after a second-quarter sack circling his right shoulder, but he continued on in the game.
Senior defensive tackle Dawson Livingston also had an ice pack on his knee toward the game's end, but Morelli insists both injuries were minor and the players will be ready to open up conference play at home Friday.
Following a night when Boulder City High commemorated the victims, first responders and military affected by the Sept. 11, 2001 tragedy, the Eagles will need to have short-term memory when it comes to their play on the field and turn their attention to Del Sol.
"This team can do 100 times better," Morelli said. "I've been around this group a long time and we just went out here and just lost control of ourselves mentally."
Contact Randy Faehnrich at BCRsports@gmail.com.