Eagles learning from mistakes before league play
September 17, 2014 - 12:38 pm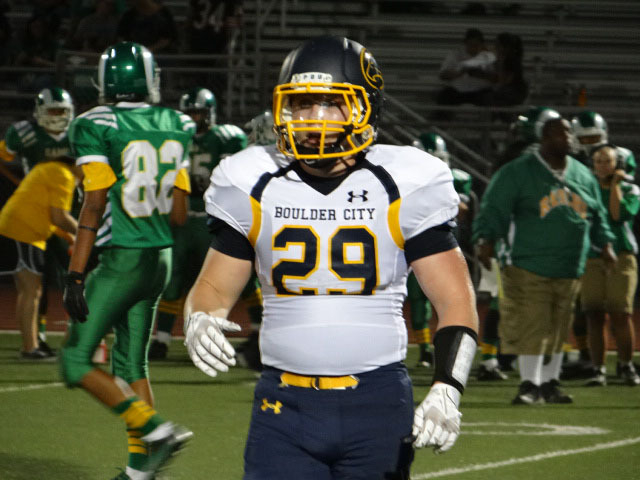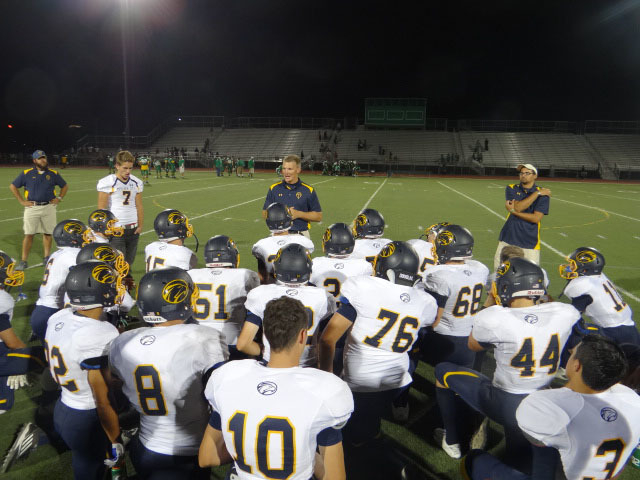 Three games into the football season, Boulder City coach Alex Kazel wants his team to start over.
"The first three games were for learning and improving. Mistakes in those games didn't keep us from reaching our goal of making the playoffs," Kazel said to his team after its 32-13 victory Friday at Rancho. "But a 3-0 record or 0-3 doesn't matter. The ones that count start Friday night. We have to refocus and start our season over and play like we mean it. They all matter now."
Kazel was referring to the Eagles' Sunrise League opener at 7 p.m. Friday at unbeaten Del Sol High.
Boulder City is 2-1 overall but 0-0 in the league, while Del Sol is 3-0 overall and in first place with a 1-0 record after its 28-13 win last Saturday at Virgin Valley.
A year ago, Del Sol was playing in Division I. Considered among the weakest athletic programs in its division, they were moved down to I-A as part of the NIAA's two-year rubric that measures schools' athletic programs.
This season Del Sol is playing much better than last season's 1-8, with victories against Valley, Western and Virgin Valley.
The Eagles have done well against the larger schools that have come into its division since the NIAA first made the changes for the 2011-2012 school year. The Eagles have made the playoffs in both years and are aiming for a third straight appearance.
"The goal now is to win them all, or at least play hard and give it our best efforts," senior linebacker Jacob Jurgschat said. "We made a lot of mistakes in the first three games and won two of them, and we let Clark escape when we should have won. We are capable. But we have to limit all the mistakes and big plays that we have allowed."
The Eagles ended their nonleague schedule Friday at Rancho with a victory. The game was never close or in doubt, but it was sloppy. Coach Kazel and other assistants pointed out that they weren't happy with the team's effort.
"We could have played much better," said senior safety Justin Rockenfeller, who provided a special teams touchdown when he wrestled a ball away from a Rancho lineman in the end zone. Rockenfeller ran down the ball that was blocked at the 10-yard line by linebacker Brooks Roe. Roe blocked two Rancho punts to set up two touchdowns.
"Brooks was just blowing through the line and blocking kicks like no one was there," Rockenfeller said. "He was dominating people. We had some good moments on offense and defense, but overall we should have played much better against Rancho. We let them make plays on us that we can't allow in our league games and still win.
"It's a very competitive league and just one loss where we could have won could be enough to keep us out of the playoffs. Everyone is working hard to see that we eliminate mistakes and get the job done."
The Eagles had 203 yards in penalties, made four turnovers and gave away 67 additional yards that they had gained but were nullified by penalties.
Senior Trenton Carmell was 5-for-7 passing for 135 yards. He passed for two touchdowns and ran for another.
The Eagles dominated early with two scoring drives in the first quarter behind Carmell, who threw the game's first score of 37 yards to Austin Wishard five minutes into the game. Carmell later connected with Roe for a 46-yard pass play to the Rams' 1-yard line. On the next play, Carmell ran it in for a 16-8 lead with 1:34 to play in the opening quarter.
Roe, who last week had an 80-yard run in a victory against Pahrump Valley, broke free for a 56-yard touchdown run against Rancho, but a holding call nullified the play. Roe finished with 63 rushing yards on seven attempts. Logan Branscum gained 87 yards on nine rushes and Dillon Viera had 12 yards on two carries.
On defense, Austin Shepard made a game-high 12 tackles, followed by Jurgschat (nine), Rockenfeller (eight) and Carmell (seven). Jack Rozycki and Nelson Van Diest each had four tackles.