Eagles improve, but come up short
September 23, 2015 - 3:00 pm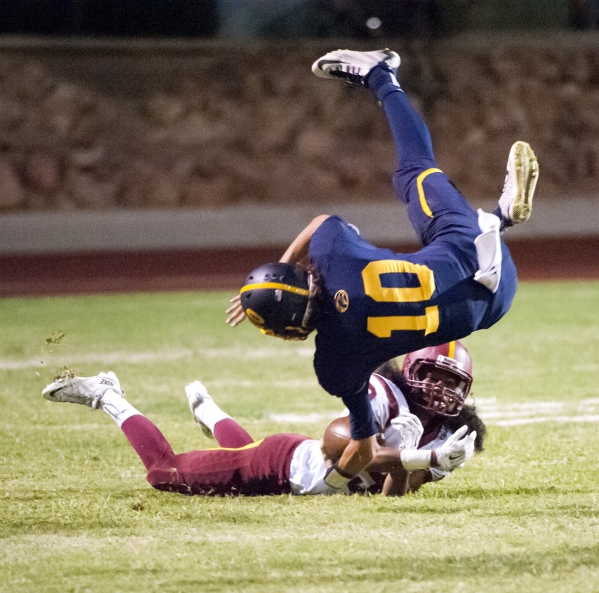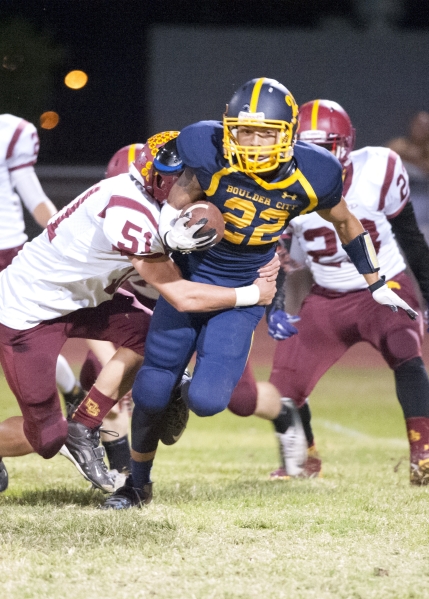 Boulder City's come-from-behind bid fell just short as the Eagles (1-3) fell to Del Sol (1-3) 26-19 last Friday night.
The scoring opened up in the first quarter when Dragons' senior quarterback Bo Beagle threw a strike over the middle on fourth and 15 for a touchdown.
After an ensuing three-and-out by BCHS, Del Sol running back Taariq Flowers decided to take the game over.
Flowers' stellar night began with the Dragons' second drive, when he broke off a 56-yard touchdown run to increase the team's lead to 14-0.
"Arm tackling is something we've got to fix," said head coach Chris Morelli. "We have got to fix our arm tackling. We have 145- to 150-pound linebackers, and that's what we have to deal with."
Flowers would go on to score two more touchdowns in the game, on runs of 15 and 56 yards, respectively.
On the other side of the ball, senior quarterback Austin Wishard and the offense looked better than its futile attempt the week prior.
After only attempting three passes against Rancho, Wishard dropped back 35 times against the Dragons.
The Eagles got on the scoreboard in the second quarter, after Wishard completed back-to-back passes to Logan Branscum over the middle, setting up Boulder City at the 1-yard line.
Wishard then took it in himself and cut the lead to 14-7.
The Eagles would score one more touchdown — a fade route from Wishard to Zac Murphy — and Justin Fox would tack on two field goals, but it wasn't enough as Flowers and Del Sol would hang on for the team's first win of the season.
Dropped passes were the theme of the night for Boulder City, as the Eagles weren't able to convert multiple first downs and red zone opportunities because of the malady.
"I told the guys to keep their heads up, catch the next one and stay in it," Wishard said. "Our defense and offense played a lot better than last week. Mistakes are key, and we just need to cut down our mistakes and we'll be good."
Boulder City will have to not only cut down the mistakes, but play a perfect game when the Eagles line up this Friday against Desert Pines, a top-five program in Nevada.
The Jaguars are undefeated on the season (4-0), including a 50-14 walloping of Arbor View — another top-five program in Nevada that competes at the Division I level as opposed to the I-A level Desert Pines and Boulder City play in.
The Jaguars will be without two of its best players in Anthony Smith and Sam Poutasi, who both have athletic scholarship offers from numerous Pac-12 Conference schools, but will have quarterback Marckell Grayson and running back Isaiah Morris, two of the top players in the region.
Both players were named to a preseason all-city team while Morris was a state champion in track as a sophomore last season.
Kickoff is set for 7 p.m. Friday at Desert Pines.
Contact Randy Faehnrich at BCRsports@gmail.com.