Eagles' golfers show mettle against larger teams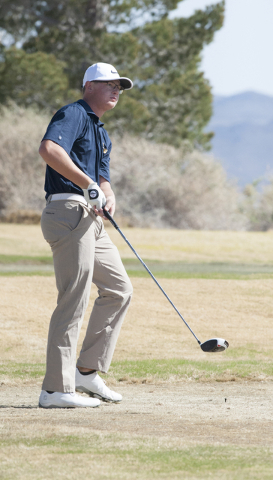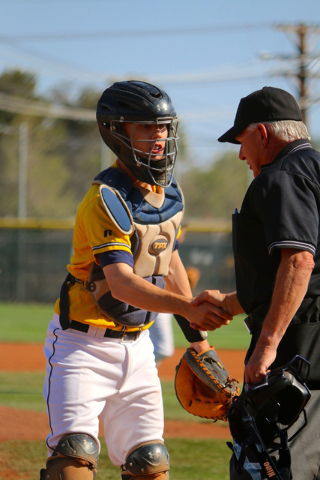 Following last week's Division I riddled Pahrump Valley Invitational at Mountain Falls, the Boulder City golf program continued its stacked preseason schedule with a match against Division I Green Valley.
Falling to the Gators 239-240 on March 16 at their home course Boulder Creek, the Eagles showed they could battle with larger programs despite having minor issues to tweak. Having already faced larger opponents, Boulder City head coach Regina Quintero hopes that experience will translate into postseason success.
"It was good to get the guys some tournament experience last week," Quintero said. "That will always benefit them. At the same time we can easily see that we have alot of work to do so that we can compete in the postseason."
Falling to the Gators by one stroke, the Eagles were led by junior star Kyler Atkinson, who led all golfers on the day with a score of 35 on the par 36 front nine.
Log jammed with three Gators in between, sophomore Jackson Wright rounded out the top five with a fifth-place finish, shooting a 46.
"It's good to see our players improving their games," Quintero added. "They need to be able to help Kyler out and turn in some decent numbers for the team."
Resuming their season following a spring break hiatus this week, the Eagles will travel to Wildhorse on Tuesday for a Sunrise conference match.
Baseball
The Eagles baseball tleam opened open league play this past week against Desert Pines, routing the Jaguars 11-1.
On the mound for Boulder City was senior Peyton Koopman, who was near dominant against the Jaguars, allowing only one run on seven hits, while striking out five batters.
Making an impact at the plate as well, Koopman batted two-for-four on the day with a run batted in against Desert Pines.
Having a great day at the plate, senior Austin Wishard led the Eagles with a three-four-four batting performance and a team-high three RBIs, while junior Kodey Rahr batted a perfect two-for-two with two RBIs and a double to form a solid one-two punch against the Jaguars.
Batting a perfect two-for-two as well, senior Nolan Desantis also knocked in a run for the Eagles while scoring three on the day as a base runner. Seniors Zach Murphy and Michael Morelli both batted one-for-two with an RBI apiece. Morelli also scored two runs on the day, while Murphy scored one.
Results for the Eagles' current Blazer Spring Bash schedule will appear in next week's issue, along with results from Monday's league contest against Sunrise Mountain.
Contact Robert Vendettoli at BCRsports@gmail.com.