Eagles' football coach resigns
February 4, 2015 - 1:35 pm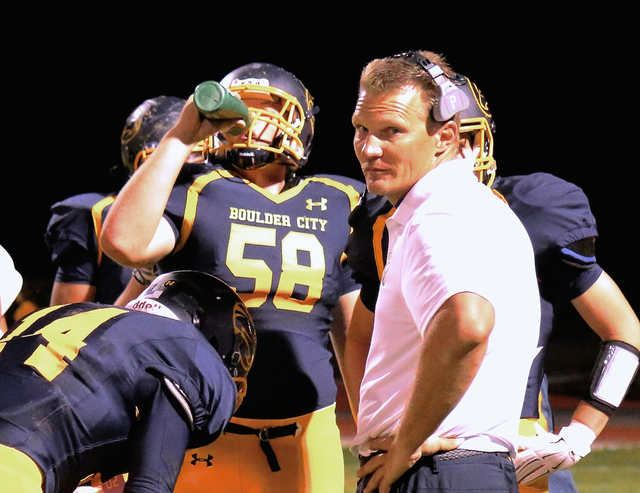 Boulder City High School varsity football coach Alex Kazel resigned this past week after seven years of leading the Eagles program.
On Tuesday, Kazel would not comment.
"Sorry, no quote," Kazel said in a text message. "I look forward to reading the article."
Kazel currently is a math teacher at the high school.
Under Kazel, the Eagles were 4-6 overall and 2-4 in the Sunrise League in the 2014 season. They finished in fourth place and reached the playoffs for a third consecutive season. They lost their opening round game to Faith Lutheran.
In 2013, the Eagles were 4-6 overall and 2-3 in the league, finished in third place and also lost to Faith Lutheran in the opening round.
"We are sorry to see coach Kazel go," Boulder City Principal Amy Wagner said. "I think he was a dedicated coach and worked hard on and off the field for his players. We will have a thorough search for a new football coach."
Wagner would not say how quickly a new coach would be named. Only seven men have coached the Eagles in 34 years, according to Bob Northridge, former Boulder City athletic director.
The position was officially opened Tuesday and a new head coach is being sought, current Athletic Director Regina Quintero said.
"It's now officially open and we will conduct a full search, including internal and external candidates," Quintero said. "Coach Kazel did a fine job as the coach and we know we will find someone that will continue to produce a successful program, taking into consideration the athletes, the parents, the community and the school."
Kazel was the head coach for seven seasons after replacing Jeff Knudson, who was coach for six seasons.
Kazel's teams made the playoffs the past three football seasons (2012 to 2014) after the Nevada Interscholastic Activities Association changed the state's alignments for the 2012-13 school year. Boulder City, along with longtime Class 3A rivals Moapa Valley and Virgin Valley, was grouped in Division I-A's Sunrise League with a group of larger schools considered to have the weakest overall athletic programs among Clark County's large schools.
But weaker overall athletic programs did not necessarily mean weaker football programs.
The new NIAA alignment provided more competition, more league games and allowed more teams to reach the playoffs.
The Eagles' best season was in 2012 when they were 9-2 overall and 4-1 in the league. They reached the second round of the playoffs, their best showing in more than a decade. They defeated Faith Lutheran in the opening round of the playoffs before losing a close game to a much larger and faster Cheyenne.
In Kazel's first four seasons, the Eagles competed in Class 3A with state power Moapa Valley, which reached the state final game in four straight years, and perennial playoff contender Virgin Valley. The Eagles reached the playoffs in 2008 and 2009.