Eagles' flag football team remains undefeated
December 26, 2013 - 5:21 am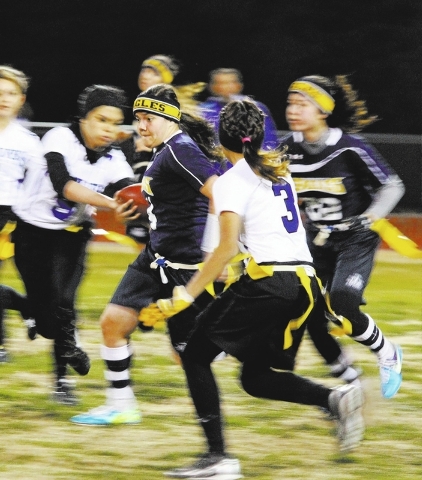 The Boulder City flag football team remains unbeaten and is one of only two teams in Clark County among 34 in the sport that has yet to lose a game.
They are 7-0 overall and 5-0 in the Southeast League. The only other unbeaten team is Arbor View at 7-0.
On Dec. 18 at home against Basic, Boulder City won 20-6 behind sophomore quarterback Jeanne Carmell, who tossed two touchdown passes to Jane Nevarez. Carmell completed 8 of 14 passes for 145 yards and rushed for 67 yards on seven carries for Boulder City.
Junior Kinsey Smyth had 55 yards rushing and one touchdown, 65 yards receiving and three interceptions for the Eagles. Smyth has 10 interceptions in seven games.
On Dec. 19, the Lady Eagles defeated the Chaparral Cowboys 27-6 as Carmell threw for 165 yards and three touchdown passes. Smyth had five catches for 50 yards and two touchdowns. Cameron Kanaley had four receptions, 85 yards and one touchdown.
"The team is working hard in practice and playing tough in the games. So far, they are meeting all the challenges," coach Chris Morelli said.
The Lady Eagles are off for the holiday break and return to action at home Jan. 6 against Southeast Career Technical Academy.
Wrestling
Team Boulder was the top finishing Sunrise League team in the Las Vegas Holiday Wrestling Classic Saturday at the Las Vegas Convention Center.
It was a very competitive two-day tournament with more than 75 teams from several states. The top 12 team finishers were from outside Nevada, with MacArthur (Okla.) winning the title with 307 points.
Boulder City, which is 9-1 in dual matches and in first place in the Sunrise League, placed 30th in the classic only behind Clark and Pahrump Valley among Nevada's Division 1-A teams. Both competitors are in the Sunset League and teams Team Boulder will face in the Southern Region tournament later in the season.
Team Boulder was 3-0 in sweeping its tri-dual Dec. 17 at Mojave.
Jimmy Brown (113 pounds) and Collin Fox (120) each pinned their opponents in less than 1 minute as the Eagles defeated Mojave 35-32 to improve to 9-1 in dual matches this season. Dustin Edlund (160) and Thomas Prach (170) also won by pin.
Prach (170) had a pin in 1:01 as the Eagles defeated Legacy 47-31. Brady Branscum (106), Patrick Garvin (145), Edlund and Jacob Jurgschat (195) also won by pins.
In a 48-33 triumph against Canyon Springs 33, Edlund pinned his opponent in 22 seconds to lead the Eagles. Fox and Tyler Rushworth (126) had pins in less than 1 minute, while Facio Gomez (138), Garvin, Jurgschat and Jack Rozycki (285) also won their matches by pin.