Eagles find team chemistry as they defeat Roadrunners
December 11, 2014 - 10:22 am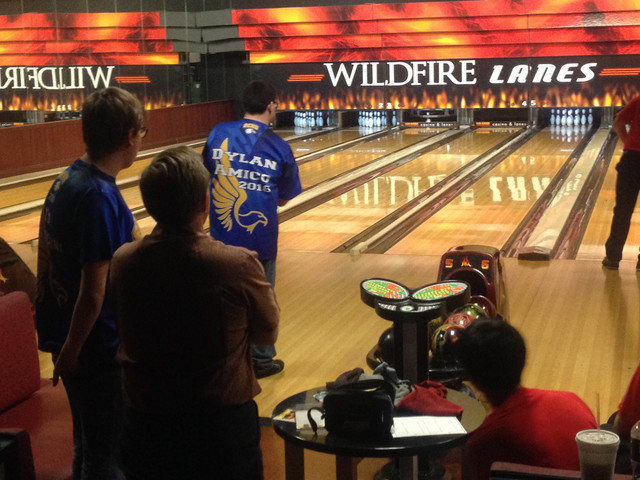 In its first match away from home, the Boulder City High School men's bowling team crushed the Southeastern Career Technical Academy Monday afternoon inside Wildfire Lanes in Henderson.
Led by senior Randall Berkheimer's 683 series, the Eagles averaged 206 as a team and defeated the Roadrunners by 523 total pins. Not to be outdone by a 207 average in their first game, the Eagles averaged 229 during their final game, beating the Roadrunners by 206 pins.
Only two missed splits separated Boulder City from a clean third game, and the 206 team average for the match trumped last year's high of 196 during the Eagles' championship postseason run.
After taking all nine points from Tech, the Eagles are now riding an 18-point winning streak and have an overall record of 20-7.
"It was amazing. We just kicked some butt out there," said junior Teagan Smale.
After struggling during the first week of the season where they finished with an 11-7 record, the Eagles began to find their groove after gaining more team chemistry, according to Smale. With sophomore Ed Rassuchine replacing Ed Feeney from last year's team, the Eagles had a difficult time finding their identity early in the season, Smale said.
"We were still kind of getting out of that early 'Eddie Feeney' phase, and we're still trying to get used to the team chemistry," he said. "But I think today was a really good showing of us really working as a team."
Smale's 662 series was second on the team to Berkheimer's 683, and Dylan Amico came in third with a 649. Berkheimer echoed Smale's views on team chemistry hindering the Eagles at first, but he's confident that Boulder City can put up high scores on a consistent basis.
"Today's the first day in a long time we've bowled as a team. We struggled the first week, but now we've got to get back into the swing of things," Berkheimer said. "From now on, I just think we're going to be phenomenal."
Rassuchine, who had a tough time finding his groove during the first two games, bowled a 198 in the final game to help the team shoot its highest game in recent memory. Despite his early struggles, Rassuchine credited his teammates' calm demeanor for helping him thrive at the end.
"We're really strong, and we help to hold each other up. We don't make each other feel bad about shooting low," he said. Eddie (Feeney) was a really big part of our team. He bowled really good so I'm filling big shoes. It's hard, but I feel like it's coming along."
Tech's women's team cooled off the Lady Eagles' hot start to the season by taking all nine points. Bailey Bennett-Jordan led the Boulder City women's team with a 406 series.
Boulder City High School took on Desert Pines Wednesday afternoon at Boulder Bowl, but did not finish in time for the Boulder City Review's deadline.
The Eagles return to Wildfire Lanes Monday when they face the Del Sol Dragons. All matches begin at 3 p.m.
Contact reporter Steven Slivka at sslivka@bouldercityreview.com or at 702-586-9401. Follow @StevenSlivka on Twitter.