Eagles end season with two tough losses at tourney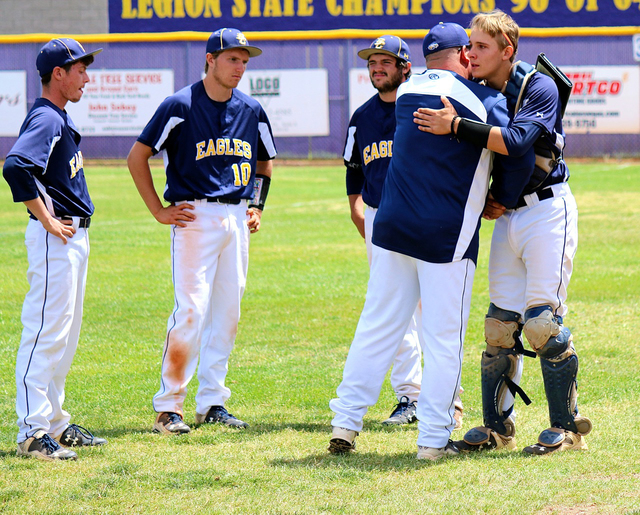 After a season of hard work and dedication, the Boulder City baseball team's season ended in heartbreak and devastation with a 7-6 loss to Elko on Friday during the 2015 Nevada Interscholastic Activities Association's Division I-A state tournament.
"We played very well," head coach Bobby Reese said. "Our guys did everything I could have asked of them. We just came up a little short."
The Eagles played Elko after a tough loss to Churchill County on May 14 in the first round of the state tournament.
Against Churchill County, Boulder City lost 8-2. Peyton Koopman, Nick Giunta and Jake Hubel pitched, throwing 113 pitches combined with five total strikeouts.
Preston VanDiest and Seth Kermode each had one RBI.
"(During the) first game, we had our chances," Reese said. "Again, we played very well and should be proud of ourselves. We had more hits than they did, and unfortunately left more guys on base than them as well. We just could not get any timely hits."
Austin Shepard said he believes the downfall of the first game is because the team was not prepared, and not being into it.
On May 14, things seemed to be optimistic. Heading into the seventh inning, the teams were tied 5-5. Boulder City scored in the top of the seventh to claim the lead over Elko 6-5 as the headed into the bottom of the inning.
Elko hit a single up the middle to put a runner on first. Following a fly out, Elko hit a walk-off home run to left field to end the game.
"As soon as it was hit, we knew it was over," Shepard said. "We battled all game, and it was just a coin flip and it just happened to land on their side. It could have gone either way. It's baseball. Things just happen."
Despite the heartbreak of not advancing to the state championship, Boulder City players are proud of how the season played out.
Shepard said this has been the hardest year to get into the state tournament in the school's history.
"I think we're all pretty happy with where we got," Shepard said. "I mean, now with this league it's hard to get to the state tournament and I think we're pretty proud with what we accomplished, especially a school with only 600 kids."
Steve Wagner pitched six innings against Elko, throwing 95 pitches, 59 for strikes. He also had two RBIs.
Nolan Desantis, Zach Murphy and VanDiest each had one RBI.
"The team is disappointed, but hopefully the team understands how well they did," Reese said. "They way I look at is is this, we were about three timely hits away from winning both those games. Just was not our day, and sometimes that happens.
"This was a great season," he said. "The new league is a very tough league for Boulder City athletics. We are the third-smallest school in our division, playing schools with two to three times our enrollment.
"So just making the state tournament in any of our sports is a huge accomplishment. I am very proud of my coaching staff and our players."
Contact Rochelle Richards at BCRsports@gmail.com.