Eagles come on strong against Desert Pines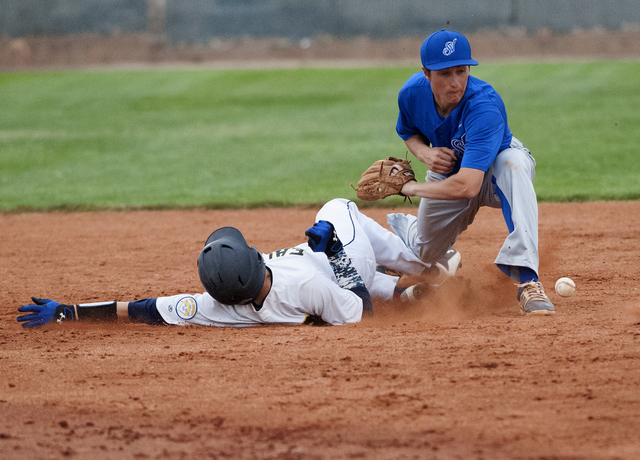 The Boulder City Eagles were up 6-0 heading into the top of the third before they doubled their lead, and put the game away for good.
In just five innings, Boulder City (5-3), claimed the win at Desert Pines 17-0 Monday afternoon, giving the Eagles a three game winning streak.
The Eagles wasted no time. They brought in two runners in the first inning, and never looked back. Boulder City finished with 18 hits, leaving only one runner on base. The Jaguars, however, managed only to get on base twice the entire game.
"Today was just about taking care of what we needed to do and getting the job done, and getting ready for the rest of our league … and that's what we did today," head coach Bobby Reese said.
On the mound for the Eagles was junior Steve Wagner, who pitched a solid four innings, with 36 strikes to only 10 balls and four strikeouts.
But it was his curveball that really seemed to do in the Jaguars.
"I work on (my curveball) a lot," Wagner said. "My pitching coach taught me how to throw for strikes. It takes a lot of work to get that pitch down, but once you do it's a good pitch. It's a good thing to throw at two strikes and it worked for me today."
All but one Eagle made contact with the ball, but junior infielder Nolan Desantis led the Eagles with four runs and four RBIs in five at bats.
Although it's still early in the season, the Eagles already have the playoffs in mind, and their play shows it.
"We expect to be a high seed in playoffs," Reese said. "We need to keep improving and work hard, and if we do that then we are going to be where we want to be at the end of May."
The Eagles have the mentality and the spirit of a winning team. They take each game day by day, and focus on what they can improve on, even with a win.
Boulder City wrapped up its three-game road trip by outscoring its opponents 44-13. At Spring Valley, The Eagles won 13-4 over the Grizzlies on March 12 before heading over to Foothill to claim their second win in a row 14-9 on Saturday.
Up next, the Eagles head back to Boulder City for a home game against Sunrise Mountain on Wednesday.
Boulder City feels confident about its upcoming game against Sunrise Mountain, before playing Del Sol on Friday.
"If we hit the ball, put up runs, play good defense, and make the fundamental plays, it'll be a good game," Wagner said.