Eagles claim division title
April 29, 2015 - 12:57 pm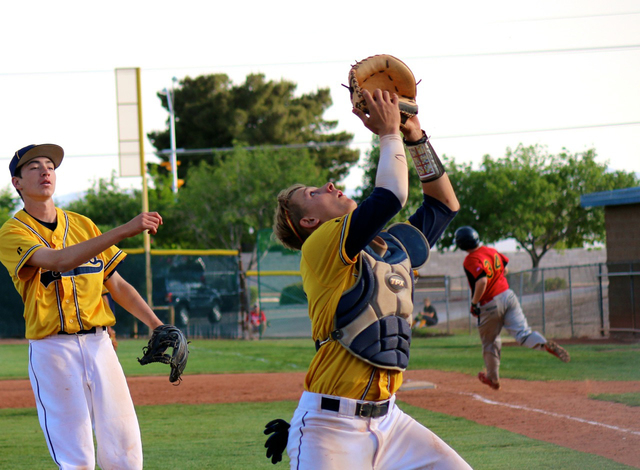 If there is one thing you can call the Boulder City baseball team, it's champions. After beating Southeast Career Technical Academy on April 22, 8-0, the Eagles claimed the Division I-A title for the season, remaining undefeated 12-0 for league play.
"It feels good," senior Austin Shepard said. "It's something that I have always wanted to do, especially my senior year, and we couldn't do it last year, couldn't execute, but this year we've seemed to get better with seven returning lettermen, so we were able to accomplish it."
Against Tech, Peyton Koopman pitched five innings, throwing 84 pitches, 48 for strikes. Steve Wagner finished out the game in relief.
Tech managed just three hits against the Eagles.
Shepard went 2-for-3 at the plate with three RBIs, while Koopman was 1-for-3, with two RBIs.
With its regular season ended, Boulder City is focusing on the playoffs, which start Tuesday.
"There are four quality teams on the other side, and there are four quality teams on our side, so when playoffs start it's going to be tough," head coach Bobby Reese said. "It's going to be close games, and everything small is really going to tell the difference in games."
For Boulder City to conquer the playoffs, Reese said the team needs to work on plate discipline and finishing games.
"Defensively I like where we are going," Reese said. "We're playing well, so we need to just hopefully keep playing well and get on a little hot streak and see what happens. Our goal is to get better at the little things that are either going to help us or cost us at divisionals, and there are a lot of little things that we need to work on."
Winning the league title guaranteed the Eagles the No. 1 seed heading into regionals.
It also means that Boulder City gets to host the first two rounds.
"Any small advantage is helpful, especially in the tight games that we think we're going to see," Reese said.
As a senior, Shepard has seen different sides of the team. He said the team didn't have the same camaraderie last year that players have this year, and it made a difference in their performances.
But this year, everyone's attitude changed from how far they could have gone last year, to what they can really do this year, he said.
"We saw last year the potential we had, and decided to run with it this year," Shepard said.
For Shepard, winning the state championship would be the crowning moment of his senior year, and he's confident his team will accomplish just that.
"I don't see us doing anything less," Shepard said. "I don't think we should. If we perform like we should, we should win."
On Friday, Boulder City hosted Bonanza. Despite the high from the win over Tech, the Eagles just couldn't pull through. They lost 10-4.
Preston VanDiest, Nick Giunta and Wager all pitched, throwing a combined 151 pitches, 82 for strikes.
Nolan DeSantis, VanDiest, Shepard and Wagner each drove in a run during the last few innings of play, but to no avail. Bonanza scored eight runs in the third inning alone, and Boulder City just could not recover.
But redemption came to the Eagles on Monday with a trip to Chaparral and a 6-0 win.
Koopman pitched five innings with five strikeouts before Murphy came in to finish the last two innings. He also had two RBIs.
Boulder City played its last regular season game Wednesday night against Moapa Valley. The results were too late to be published.
Contact Rochelle Richards at BCRsports@gmail.com.