Eagles cagers count on speed, transition play
December 5, 2013 - 5:41 am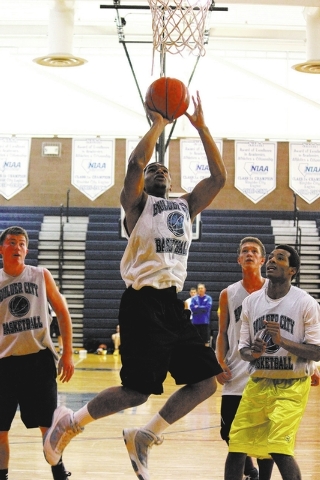 The Boulder City boys basketball team may not be as tall as most opponents this season, but the Eagles hope to make up for it with speed and transition play.
"We are going to be guard-oriented with an offense that reflects it," said John Balistere, who is entering his third season as the Eagles' head coach. "What we lack in size, we will make up with speed and running agility.
"It will be a challenge for us when it comes to our rebounding. In past seasons, we had the size underneath, but this season we will go with a smaller and quicker lineup."
The varsity returns four players from last season's 16-10 squad. The Eagles reached the second round of the Southern Region playoffs where they lost to eventual state champion Desert Pines. The Eagles were 19-10 in Balistere's first season and reached the state tournament.
The returners are forwards Jacory Dixon (6 feet 2 inches tall) and Xavier Steel (6 feet 2 inches) and guards Sam Woodbury (5 feet 11 inches) and Lane Worrall (6 feet).
Junior forward Brooks Roe, who is the team's tallest player at 6 feet 3 inches, and junior guard Tyler Newby (6 feet 1 inch) will bolster the lineup. Roe, who played tight end and defensive line for the football team, also is the team's strongest player and expected to be the Eagles' strongest rebounder under the basket.
"We lost a few real good players from last year's team and we have to change the way we play teams this season, but we are working hard and we should be fine," Dixon said. "We've got Brooks and Xavier and they are both good athletes and will hold their own against anyone."
Gone from last season are versatile multisport athletes Michael Kelso, Kaleb Bailey and DJ Koopman. While Kelso and Koopman provided muscle underneath, Bailey was All-State second team and averaged a Division 1-A best of 18.2 points per game.
"This season we will have to change our style to a more of a running game than in the past few years when we had the bodies under the boards to pull down rebounds," senior Woodbury said. "We hope to control the game's tempo and force teams to play at our pace.
"We have to play tough defense so that we can break out into transition and make the taller teams work harder to stay with us."
Several Eagles — Roe, Dixon and Worrall — were nursing injuries, but were expected to be fine for the opener. The Eagles begin the season today with two games in the Lake Mead Invitational.
The Eagles are scheduled to play West Wendover at 4 p.m. and a team from Australia at 7 p.m. On Friday, the Eagles will play Fernley at 5 p.m. and a second opponent later in the evening. The opponents and game times will be determined depending on results of first-day play.
The team is also scheduled to play Saturday.
Although many teams got off to an earlier start, the Eagles have had to wait for the Lake Mead Invitational. Because of the NIAA's realignment of divisions last season, many annual opponents have had to drop the Eagles from their schedule to play teams that they may meet in the playoffs.
"We did end up losing some contests this season," Boulder City Athletic Director Regina Quintero said. "We got dropped by Basic, Coronado, Canyon Springs, Lincoln County, Lowry and Clark for early season games. It just didn't seem to work out this season. We are hoping to get most of them back in the future."
Unfortunately for the Eagles, the team to beat in the state is defending state champion Desert Pines, which is one of six opponents in the Sunrise League that Boulder City will play a home-and-away series with this season.
"Desert Pines is clearly the top team in the league, and Virgin Valley returns quite a few good players," Balistere said.
Balistere's longtime assistant Paul Dosch has moved on to be the girls varsity coach. Jonas Hernandez returns for a seventh season as an assistant coach, while Jeremy St. Arnault is the freshman coach.
There was plenty of interest at the school in basketball as 56 athletes attended tryouts in November. Balistere and his coaches have kept a varsity roster of 13 players, a junior varsity roster of 15 and a freshman squad of 12.
"The kids are excited to play this season," Balistere said. "We have a good base of athletes to build from."