Eagles bowlers win state championship
February 6, 2014 - 4:44 am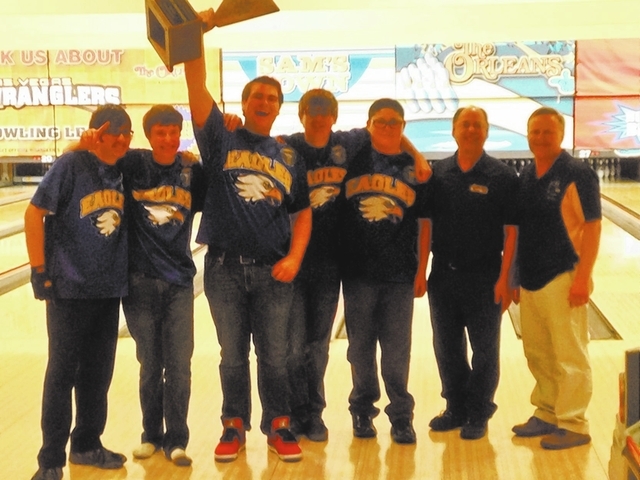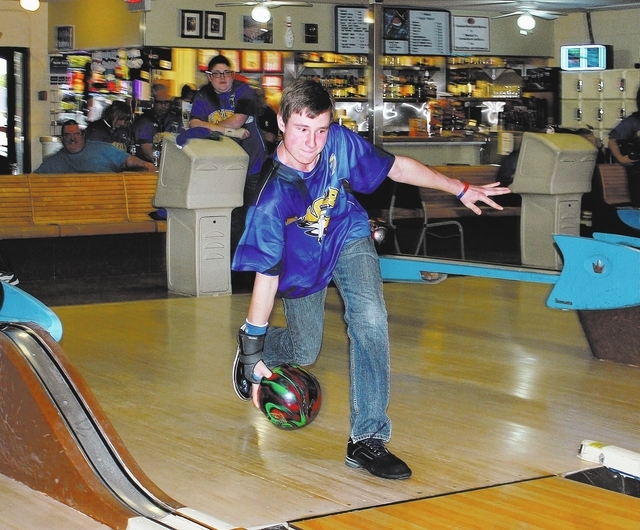 When the Division I-A State Bowling Tournament ended in February 2013, the Boulder City boys stood by and watched Tech celebrating and hoisting the championship trophy.
That's when several of the Eagles got together in a group and made plans for 2014. They did not want to feel the pain of second place again.
The Eagles entered the season ranked No. 1, with something to prove. After losing twice during the regular season, the Eagles entered the state bowling tournament Jan. 27 motivated to thrive.
The Eagles blasted through the quarterfinals against Mojave and then outplayed Clark in a semifinal. Then they bounced Cheyenne in the title game Jan. 30 at The Orleans to capture the state championship.
"Wow, this is a great feeling," senior Eddie Feeney said. "We had to watch Tech celebrate last season and it didn't feel good. We wanted to erase those bad memories with a championship run, and we did it.
"It is great to be state champions," he added. "It was great that not only did we win state, but to eliminate the team that beat us during the year."
Sophomore Teagan Smale had the high game of 235 and high series of 609 to lead the Eagles to a 7-2 crushing win over Cheyenne. Despite a total pin advantage of 2,312 to 2,207, the Eagles won seven of the nine points.
Junior Randall Berkheimer rolled a 227 game and a 588 series, while Feeney had a 221 game and a 566 of series. Sophomore Dylan Amico rolled a 197 game and had a 547 series.
So, while Boulder City hoisted the state title trophy and celebrated, a few of them stepped to the side and made plans for next year.
"Now that Boulder City is champion, we plan to keep it for a while," Feeney said. "They have a great team coming back next year and I can see them winning it again. I hope this is only the first one in a dynasty."
A repeat is planned.
"The championship was definitely one time where we performed as a complete team," Berkheimer said. "Even though we are losing Eddie Feeney to graduation, we are gaining Ed Rassuchine, who we know is always improving and will be a large asset to our team going forward."
Berkheimer said the bowlers were inspired by their supporters.
"We had a lot of support this week and it was exciting to win with our fans, including the faculty, supporting us. I would like to thank everyone who came out to watch us bowl this week, especially our family and friends. The faculty was great and so was (Principal Kent) Roberts. The support of our community and our school shows that they really care about us and helps us to perform the way that we did."
Smale and Berkheimer have traded the No. 1 spot much of the season, with both leading the team. Both were thrilled to win.
"We did it," Smale exclaimed. "I want to thank all of our supporters, because without them we would not be here. I have to give a shout-out to Dallas Leong whose coaching has helped me.
"Winning was one of the best nights of my life, period. I know somewhere right now my grandpa Smale is crying. To know they will hang a banner on the gym wall and that I was a part of history, will stay with me for the rest of my life."
Boulder City defeated Mojave 9-0 in the quarterfinal round Jan. 27. Their pin advantage was 2,166 to 1,754. They advanced to the semifinals to meet Clark, which they beat 6-3, with a pins lead of 2,127 to 2,089.
In the girls Division I-A State Bowling Tournament, the Lady Eagles were eliminated in the quarterfinal round Jan. 28 in an 8-1 loss to The Meadows. The Meadows tallied 1,600 pins to 1,513 for Boulder City.
Individual championships begin Monday
The Eagles' next step is individual honors at the first Nevada Interscholastic Activities Association state singles championship Monday through Wednesday at The Orleans.
The girls will bowl Monday and the boys will bowl Tuesday. Both finals are Wednesday. There will be a state champion and a state runner-up for boys and girls in both Division I and Division 1-A This will be the first time that individual state championships have been held by the association, the state's governing body for high school athletics and activities.