Eagles basketball team looks to future; each game offers lesson for younger players
January 20, 2016 - 3:55 pm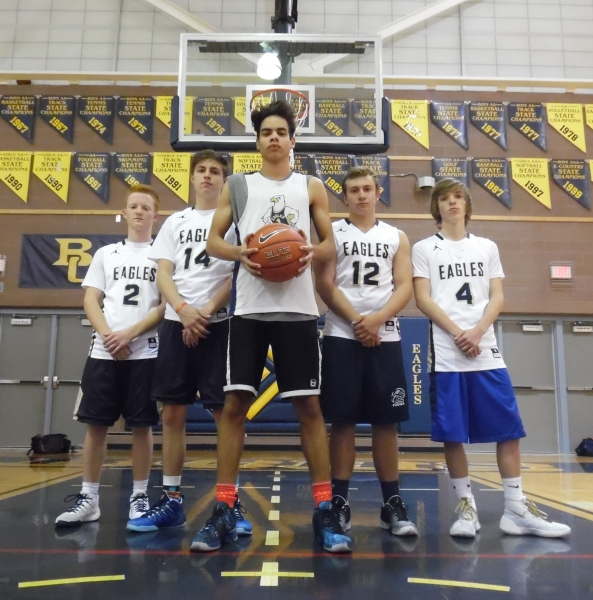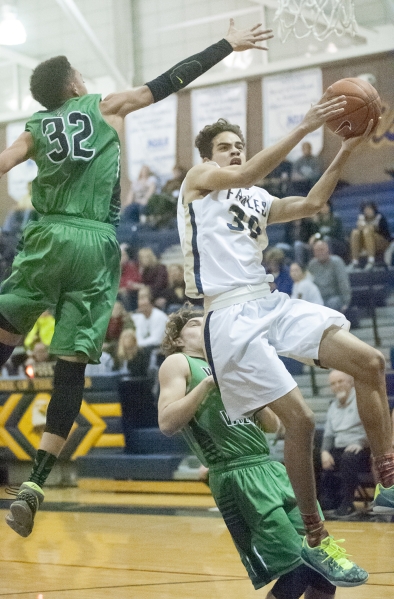 With 3:33 left to play in the second quarter on Friday night against Chapparal, the Boulder City Boys Head basketball coach John Balistere starts to call out for his son Carson's attention. After Chapparal fouls senior Austin Wishard, Balistere is prepared to take his son out of the game.
It is obvious, that even if Carson could not hear him through the roar of the crowd, 16 years of familiarity between father and son made reading his dad's body language enough. It was enough for him to understand that his dad was not happy with the way he was performing up to that point in the game.
Coach Balistere and Carson lock eyes for a second at the scorer's table.
"I want to play," says Carson to his dad, before he could even mention substituting him out of the game. Balistere looks at the scoreboard then back at his son, not as though he has defied him, but as if his request to stay in the game was a vow to play better.
On most teams, teammates would see that as favoritism, use it as an excuse as to why they are not getting more playing time. That wasn't the case for this team, a team that is as well-coached, and well-mannered as Balistere's Eagles.
Chemistry among teammates
Sophomore guards Tanner Montgomery and Billy Ferrence, who were just subbed into the game a minute earlier, give Carson a glance of confidence from the other end of the court before the ball is inbounded.
What opponents do not realize is that these three sophomores, and junior guard Mike Martinelli, have been teammates since elementary school. All those years of playing together have given them enough chemistry to give most anyone a run for his money.
After a couple of free throws made by Wishard and a turnover by Chapparal, Ferrence brings the ball up the court. He finds Carson isolated at the top of the key, swings him the ball, and watches the vow come to life.
Carson drives down the middle, makes contact with his defender and spins off of him for the herculean two points.
Although Boulder City ultimately ended up losing 69-43, there was much more to the game than the box score indicates.
"In my opinion, you take the hardest challenges in life, and you learn from them to become more successful," says Justus Green, a junior transfer from Cimarron-Memorial High School.
Green, who has been playing with the quartet of friends for only a year, has already been incorporated to their "family." He realizes how special this group of guys can be in the future, and how valuable of a learning experience this year has been.
Sense of trust
"The best part about playing with these guys is knowing that we can trust each other and knowing we can have fun. We're all on the same page. We know we have two or three years together and anything is possible," explains Green.
By all intents and purposes these players are best friends on and off the court — and it shows. Before a game they can be spotted listening to rap music to help them get zoned in, a mutual ritual they can all agree on.
Just because they are friends does not mean they let each other slide when someone makes a bad play though. They hold each other accountable to make sure they are getting the best out of one another every day.
"I don't give up any plays and make them work for everything," said Montgomery, who is looked at as the most competitive out of the five players. "Me and Billy play the same position so we like to push each other and see who's better."
Special access
Coach Balistere realizes they are the future, there is no denying that — seeds that he has watered over the years that look ready to sprout. In summers past he has taken Montgomery, Ferrence and Carson to Durham, N.C., to attend Coach Mike Krzyzewski's annual basketball camp that is held at Duke University.
"These guys, along with a lot of our junior varsity players, are a big part of what we're trying to do in the future," said Balistere, who works as an assistant coach at the summer camp.
"All the special access we get because of Coach B we can't get anywhere else," points out Ferrence.
On Thursday night the Eagles suffered their 14th loss of the season to Virgin Valley, falling 53-38. It was a game that the boys basketball team got to within five points of toward the end, but could not close out for the win.
"Our team played great defense and we were right there," coach Balistere said. "We took some big charges in the third quarter, with Carson taking two and Austin taking two. Our sophomores got us back into it."
With eight games left in the season every minute played counts as experience for these five players to lead the way for the next generation of basketball at Boulder City High School — a generation that will hopefully see a state championship in it's future.
"Being from a small town one of the things we try to focus on is playing together," explains Martinelli. "We want to focus on being there for each other always."
Contact reporter Juan Diego Pergentili at jpergentili@bouldercityreview.com or at 702-586-9401. Follow him on Twitter @jdpbcreview.
Upcoming Games
Today, vs Del Sol, 5 p.m., junior varsity; 6:30 p.m. varsity
Monday, vs Southeast Career and Technical Academy, 5 p.m., junior varsity; 6:30 p.m. varsity