Eagles' baseball team answers challenges; tough loss sandwiched between conference wins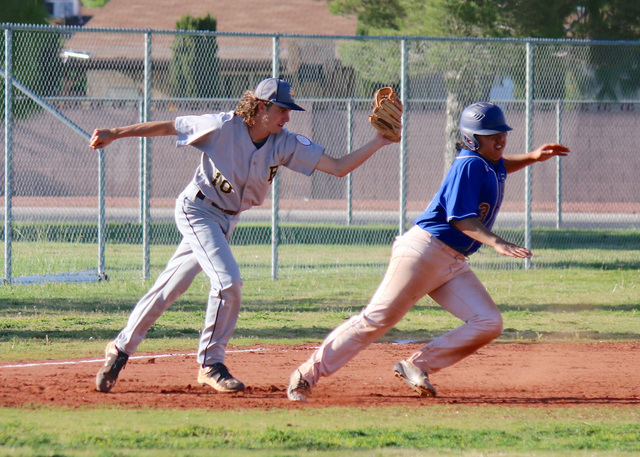 It wasn't quite the week the Boulder City High's baseball program was looking to have following a 13-2 loss to Division I opponent Palo Verde on Monday, but the Eagles were able to snag a pair of wins to stay atop the Division I-A Sunrise conference race.
"We had a minor setback this week against Palo Verde, but I think it was a good thing because I think we finally figured out what we need to do before regionals," senior Peyton Koopman said. "As long as we get those things done we will be a strong team and will be hard to beat."
Despite Boulder City's uncharacteristic loss logjammed in between their pair of conference victories, the Eagles overall looked poised throughout conference play, answering all challenges that were thrown their way.
"We had a tough win at Desert Pines," Boulder City head coach Bobby Reese said. "They surprised us and we did not play to our ability. We answered the challenge and escaped with a win, but sometimes a win like that can jump start a season. Like I told the kids this week, we have three weeks to be playing our best baseball so there is time. Question is, do we want the time? Do we want to put in the hard work that is needed? I think we do and we are ready for that challenge. Hopefully we can start peaking and be at the top of our game come playoffs."
On the mound for the Eagles' 9-2 victory over Desert Pines on April 13, senior Steve Wagner picked up his fourth victory of the season, tossing a complete game against the Jaguars in which he allowed only two runs on seven hits, while striking out three batters.
"I was feeling good to be out there," Wagner said. "It was good for me to go the distance and get some extra work in. It was a good win for us and even though we struggled early, we found a way to pull through it."
Starting off slow with only two runs throughout the first six innings, the Eagles' bats finally came alive late in the game, exploding for seven runs in the seventh inning to close out the game on a high note.
Senior Mike Morelli led the way for the Eagles with a three-for-three performance with a pair of runs batted in and a double, while freshman Teddy Lobkowicz made the most of his seldom opportunity to play, driving in a two-run double for the Eagles.
Closing out their week on a high note as well, the Eagles run-ruled Sunrise Mountain on Tuesday during their 18-3 victory, powered by senior Nolan DeSantis and junior Kodey Rahr.
Both Eagles would garner three RBIs against the Miners, with DeSantis batting a perfect three-for-three and Rahr batting two-for-three on the day with a pair of doubles.
Koopman also got into the action for the Eagles, hitting two-for-two with a pair of RBIs, while Boulder City got two RBIs as well from junior Jake Hubel, who went two-for-four, and Lobkowicz, who finished one-for-two.
With his first victory of the season, senior Austin Wishard earned the win against the Miners by throwing three scoreless innings in which he allowed just one hit, while striking out a batter.
Sitting with a 15-6 record overall and 9-0 record in conference play, the Eagles will resume action today, looking to increase their Division I-A Sunrise lead when they travel to league opponent Del Sol.
Contact Robert Vendettoli at BCRsports@gmail.com.
Upcoming games
■ Today, at Del Sol, 3:30 p.m. varsity; 3:30 p.m. at home, junior varsity
■ Monday, vs. Virgin Valley, 3:30 p.m., varsity; 3:30 at Virgin Valley, junior varsity
■ Wednesday, at Southeast Career Technical Academy, 3:30 p.m., varsity; 3:30 p.m. at home, junior varsity