Dixon leads track team to victory at invitational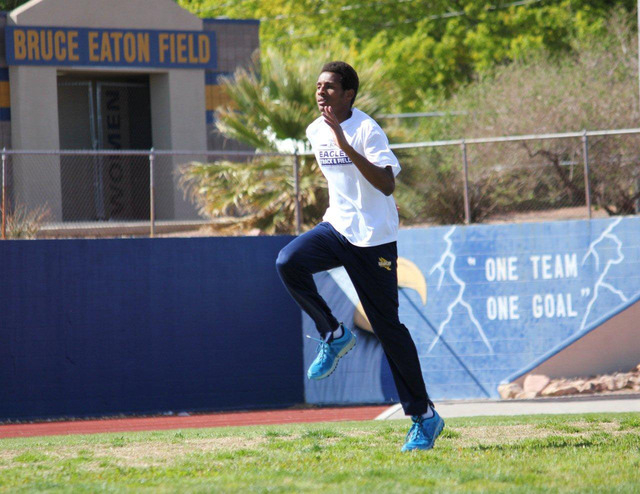 Jacorey Dixon won the 300 hurdles in 40.8 seconds and ran on the winning 800 and 1,600 relays to lead Boulder City to the team victory with 182½ points Friday in the Grant Bushman Invitational at Overton.
Virgin Valley, with 133 points, came in second in the meet, while Moapa Valley placed third with 98 points.
Dixon also was second in the 110 hurdles. Garrett Meyer won the 1,600 (4:59.49) for Boulder City, and Chandler Harkins captured the 3,200 for the Eagles (10:58.14).
Dixon won the 300 high hurdles in 40.80, edging teammate Brooks Roe (41.87) and then was second in the 110 low hurdles in 16.22, while Roe was third in 16.91.
Meyer and Harkins also ran on the winning 3,200 relay team. Meyer was third in the high jump (5-8). Boulder City's Samuel Gomez added a win in the discus (133-1) and teammate Jack Rozycki was third (122-0).
"We are looking strong considering we have only 24 boys on the team," coach Josh Fisher said. "We have strong distance runners, as well as hurdlers and sprinters. Our throwers are looking good and we are hoping to advance four into the post season."
In Overton, the Boulder City 4×800 meter relay team took first place with a time of 9:09.2 and won the 4×400 relay in 3:39.59. They ran 1:37.43 to win the 4×200 relay. They were second in the 4×100 relay (47.42).
"If we can pull it all together during the season and gain momentum, we can have a very special year through the region and state," said Yann Moncayo, a sprinter and long jumper who is one of three team captains, along with Maxwell Dodd and Dixon. "We have a lot of talent for being a small squad.
"The team is constantly improving even from the start of the season until now, but we all have to want it and want to make the sacrifices to work hard and get better day by day. They boys and the girls are working together in certain events and it will benefit us all," Moncayo said.
Troy Wilborn was third in the pole vault (9 feet, 6 inches), while Rozycki was third in the shot put (44-2) and Andrew Sands was second (44-4).
Tyler Campbell ran 2:20.99 and was second in the 800 meters.
In the girls' meet in Overton, Virgin Valley finished with 154 points, 26 ahead of second-place Boulder City's 128 points.
But the Lady Eagles managed some excellent performances.
Arianne Hess won the triple jump 30-6 and Whitney Barlow won the shot put with a throw of 31-10.5. Katlyn Daly was third with a throw of 29-5.
Boulder City won first place the 4×400 relay in a time of 4:27.35 and was second in the 4×800 relay.
Barlow was second in the 300 hurdles with 49.46, while Jana Williams was third in 50.70. Williams won the 110 hurdles in 18.11, while Emma Torgesen was third in the 1,600 meters (6:14.95).