Despite tough losses, Eagles' boys basketball team remains optimistic
January 13, 2016 - 2:58 pm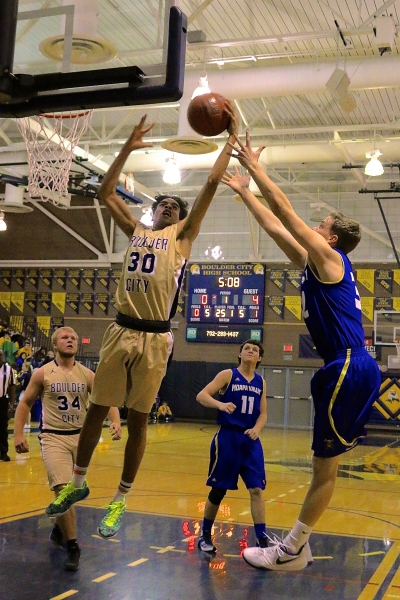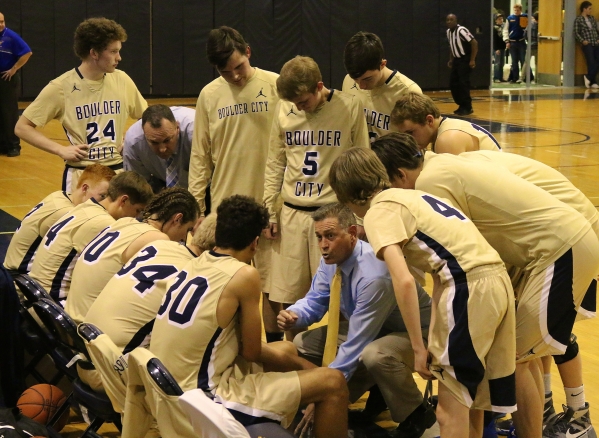 The tone at the Boulder City High School's boys basketball practice on Tuesday was calm, despite losing the past six games and falling to Desert Pines by 41 points on Jan 7.
As they huddle around head coach John Balistere after warm ups, there was one focal point that needed to be addressed: defense.
When Moapa Valley came to town last week, it seemed to be the most favorable opportunity for them to get their first league win. Instead the Eagles fell to last place in the Division I-A Southern Sunrise standings with their 44-41 loss and were left scrounging for answers on how to improve on both ends of the floor.
That disappointing game came a day before their 71-30 loss against the Jaguars.
Having to endure a losing season is a tough pill for any coach to swallow. For coach Balistere, the pill becomes even bigger when success has been found in prior years. Balistere has had winning seasons of 19-10 and 16-10 in the past. Yet for a seasoned coach like Balistere, the realization that plenty of positive can be found in a negative situation is evident.
"I think we are definitely starting to play together a little bit better. We've been watching some film the past few days; I think they realized the film doesn't lie. I'm interested to see how we respond in today's practice," said an optimistic Balistere.
One bright spot has been the tenacious play of sophomore point guard Tanner Montgomery. Whether starting or coming off the bench for the Eagles, Montgomery brings the same intensity on both offense and defense.
Even when trailing by over 30 points in the fourth quarter against Desert Pines, Montgomery would not show any sign of submission. He sprinted down full speed to the right elbow, waited for Billy Ferrence to find him on a spot up three pointer, and nailed it. Shortly after, he runs back on defense as if his mom told him dinner was ready, and begins to dial in on his next defensive assignment.
"I just don't think that my defense can be outplayed," said a confident Montgomery, who considers himself a leader on and off the court. "I honestly think we can win most of these next nine games we have left to play."
Seven of the next 10 games are at home for the Eagles. Although they lost their first two games at home, it was quite clear the Eagles play better in their nest.
Their two losses came by a combined eight points, not to mention a blocking foul that should have been called a charge at the end of the Jan. 6 Moapa Valley game, which ultimately cost Boulder City a chance to break a 41-41 tie and take the lead.
According to Balistere, composure and playing all four quarters with energy are keys to making this six-game home stand a successful one.
"We'll be a different team next time we play. I think you'll see a little more energy from our guys, a little more passion."
Contact reporter Juan Diego Pergentili at jpergentili@bouldercityreview.com or at 702-586-9401. Follow him on Twitter @jdpbcreview.
^
Upcoming games
Friday, vs Chaparral, 5 p.m., junior varsity; 6:30 p.m. varsity
Tuesday, vs Virgin Valley, 5 p.m., junior varsity; 6:30 p.m. varsity