Despite losses, soccer teams show promise
October 14, 2015 - 2:57 pm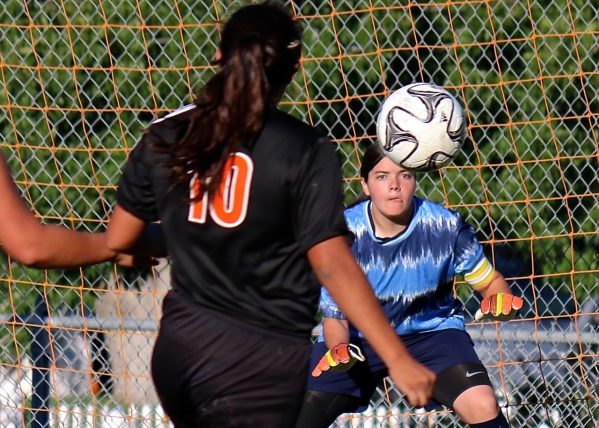 Despite not being able to garner any wins during the past week, Boulder City High's girls and boys soccer programs showed promise during their two-game slates.
The Lady Eagles (2-6-1 overall, 2-5-1 league) followed last week's 2-1 victory over Del Sol with a pair of inspiring performances. Despite losing to Virgin Valley on Oct. 7, the Lady Eagles gave the second-ranked Bulldogs all they could handle, holding them to a pair of goals in each half.
Putting points on the board this week against Chaparral, forward Jordyn Trobiani scored a second-half goal on an assist from midfielder Oshauna Remy to give the girls a 1-1 tie with the Cowboys. Trobiani, now has a pair of goals on the season, while Remy has assisted three passes and scored a goal of her own.
Currently sitting in sixth place in the Division I-A Sunrise standings, the Lady Eagles will travel to Southeast Career Technical Academy on Friday, followed by a favorable home matchup against Desert Pines on Wednesday.
For the boys, the Eagles (1-10 overall, 1-7 league) were unable to come away with a victory this past week, but did show a surprising effort against top-ranked Chaparral on Monday.
Following a 1-6 loss to Virgin Valley on the road, the Eagles put up a strong fight against the Cowboys. Traveling to Chaparral, the Eagles didn't let a 7-0 first half by the Cowboys defeat them, scoring three second-half goals to turn Monday's rout into a respectable outing.
Midfielders Monte Morris and Hunter Dale both scored unassisted goals Monday, along with forward Corey Bailey, while forward Caden Mendiola scored the Eagles' lone goal in the second half during last week's contest against Virgin Valley.
Despite sitting in seventh place in the Division I-A Sunrise standings, improvements are visible within the ball club. During their three-game stretch in October, the Eagles have scored five goals, where they only scored eight goals during their eight-game stretch during September. The Eagles still have seven games to play this month.
"The boys are happy to work within a system that emphasizes their qualities as players," coach Chad Smith said. "It's a system that will push their comfort levels, to allow them to grow as athletes."
Hoping their improvements translate into more victories, the Eagles will travel to fifth-ranked Southeast Career Technical Academy on Friday, followed by a tough home matchup against second-ranked Desert Pines on Wednesday.
Upcoming Games
Friday vs. Tech, 3 p.m.junior varsity, 4:30 p.m. varsity
Tuesday, at Desert Pines, 3 p.m. junior varsity, 4:30 p.m., varsity
Girls Golf
Heading into the Division I-A Southern Region Tournament at Mountain Falls Golf Course in Pahrump today, the Lady Eagles welcome the challenge feeling confident after posting yet another stellar match earlier this week.
Hosting Pahrump Valley on Tuesday at Boulder Creek Golf Club for an 18-hole practice match, the Lady Eagles were exceptional as always, pulling away from the Trojans with ease.
Sophomore Lani Potter looked poised for a state tournament run Tuesday afternoon during a round in which she closed out the back nine with four consecutive birdies to finish with a score of 31. Shooting a 71 for the day, Potter score one under par during the contest, a trend coach Andy Schaper is hopeful and confident will continue throughout postseason play.
"It is exciting to see Lani play so well the last couple of weeks leading up to the state tournament," he said. "Tuesday's round was good for her to experience some trouble on the front nine and success on the back nine to get to one under for the day. You never know what ups and downs you might have in a round, so it's important to keep grinding out pars until the birdies putts start falling. Lani is a great competitor and has all of the tools to compete for a state title. She knows what she has to do to win and she looks forward to the challenge. I believe that she can do it and it's going to be fun to watch."
Joining Potter in an all-around effort for the Lady Eagles were freshman Madisan Walker and junior Lauryn Norris, who were both at their best Tuesday. Walker posted a score of 102, which was her second-best individual score of the year, while Norris shot 103 for her season low.
Freshman Ryan Reese shot a 123 during the outing, while junior Holly Piper finished with a score of 131.
"With the girls playing some of their best golf right now, our focus is to play well at Mountain Falls this Thursday and come away with a Regional championship," Schaper added. "To do that, we will need to bring down our scores a little bit more to compete with Faith Lutheran and Clark at both the region and state tournament. I know all of the girls are up to the challenge and I look forward to our matches."
Tee time for the Lady Eagles today is set for 11 a.m.
Upcoming Meet
Sunrise League regionals, at Mountain Falls in Pahrump, Thursday, 9 a.m.
Tennis
Entering the round of 16 at the individual tennis regional championships today, both Eagles programs will be well represented after strong opening-round efforts.
"I am extremely proud of all their hard work and the tough play that was seen throughout the first round," coach Katy Nash said. "All of the kids have been working hard all season and it shows. It was exciting to have this many kids in the first round of individual regionals and we're proud to have multiple athletes advancing to the second round of play."
Advancing to the round of 16 this past Tuesday for the boys is the sophomore duo of Andre Pappas and Sam O'Berto. Pappas, who came into the event as a three seed, defeated Derek Stratton of Clark in straight sets 6-4, 6-1, while the eighth-seeded O'Berto defeated Akil West of Mojave 6-0, 6-0.
Sophomore Pedro Velarde also competed in singles competition Tuesday, pushing sixth-seeded Christian Wallace of Del Sol to a third final set, before failing to move on with 6-3, 2-6, 6-2 defeat.
In doubles competition for the boys, sophomore Adam Clary and freshman Leaf Kaboli were unable to get past the seventh-seeded Virgin Valley duo of Ryan Rushton and Isaac Talahytewa, losing in straight sets 6-2, 6-2, while seniors Aidan Schofield and Jordan Hill lost 6-0, 6-0 to the third-seeded Faith Lutheran duo of Brandon Brighi and Matt Shuirman.
For the girls, junior Natalia Fullmer and freshman Harley Fullmer are moving on to the round of 16 in singles competition, while the junior tandem of Kyra Yamamoto and McKenna Frazier will be joining them in doubles competition.
Natalia Fullmer, a seventh-seed, defeated defeated Southeast Career Technical Academy's Lourdes Santiago in straight sets Tuesday 6-1, 6-1, while her younger sister Harley Fullmer, a sixth seed in the tournament, battled her way back against Shawna Kesgamol from Spring Valley to win in a decisive third set 5-7, 6-0, 7-6. Yamamoto and Frazier also advanced after defeating the Southeast Career Technical Academy duo of Cheryl Condon and Janet Ruiz 6-1, 7-6.
Also making opening-round appearances for the girls were freshman singles competitor Natalie Bowman, who fell to top-seeded Andrada Stancia of Sierra Vista 6-0, 6-0, and the doubles team of freshman Kali Martin and Olivia Goodfellow, who fell to top-seeded Samantha Gondy and Shalini Shah from Meadows 6-0, 6-0.
The girls continue their postseason play at 4 p.m. today in the round of 16 at the Darling Tennis Center, while the boys will resume at 6 p.m.
Contact Robert Vendettoli at BCRsports@gmail.com.