Defensive plays help secure win for Eagles
January 14, 2015 - 2:31 pm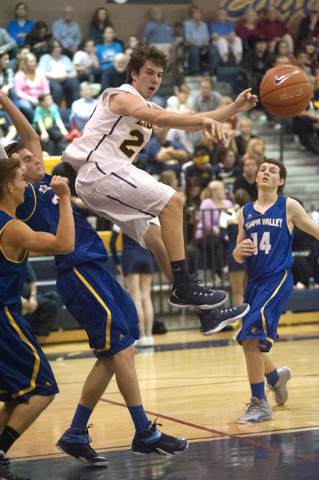 Boulder City boys basketball coach John Balistere would have been there if he could. But the flu that had him hospitalized for a few days, and his wife kept him from courtside.
It didn't matter. His team showed up.
Senior guard Tyler Newby scored 19 points, including six points in the final quarter. And the defense made several key stops in the final minute to preserve a 45-42 victory Friday against visiting Moapa Valley.
The Eagles held the Pirates to 17 second-half points and shut the door.
"The kids just came out hungry and ready to win. They deserve the credit for playing a great game and hustling on defense to close the door in the final minutes," said Boulder City assistant coach Jeremy St. Arnault, who directed the Eagles in Balistere's absence. "The kids and the other assistant coaches (Jonas Hernandez and Doug Koopman) deserve all the credit.
"John would have been here if he could have. In the end, I think it was his wife, Rebecca, that made him stay at home because John wouldn't miss a game no matter how bad he felt. We won it for him."
Balistere is expected back Friday night when the Eagles visit Chaparral, 8-7 overall and 3-1 in league play.
The Eagles improved to 7-8 and 2-3 in the Sunrise League and sit in sixth place but only one game out from the final playoff berth. The top four teams in the league advance to the Southern Region playoffs. The Pirates fell to 3-10 and 0-5.
Brooks Roe's defensive rebound with four seconds left in the game finally closed out the Pirates, who had five possessions in the game's final 64 seconds but were stopped by the Eagles defense each time.
"This was a great win," Roe said afterward, stilling pumping his fists as he received on-court congratulations from fans and posed for cellphone selfies. "There's nothing better than beating Moapa Valley on our home court on a Friday night. It a great start to the weekend."
Roe, Trenton Carmell, Peyton Koopman and Zach Murphy each made key defensive stops to stifle Moapa Valley.
"It was a hard-fought game down to the wire, but we were determined to win at home and keep our momentum to make the playoffs," Koopman said. "No matter from where they tried to score from in that final minute, one of us got in their face and made the stop."
Wrestling
Boulder City won 10 of 14 individual titles Friday to roll to the team championship at the Pahranagat Valley Panther Invitational in Alamo.
The Eagles finished with 269½ points, while Lincoln County was second with 138½ points. Moapa Valley was third at 102.
D.J. Reese (106 pounds), Brady Branscum (113), Collin Fox (126), Tyler Rushworth (138), Bryan Foster (160), Alex Pappageorge (170), Nelson Van Diest (182), Jacob Jurgschat (195), Dustin Edlund (220) and Jack Rocyzki (285) all won titles for Boulder City. The Eagles also had six second-place finishers.
"It was a great effort by everyone in the tournament," coach Jim Cox said. "We have a lot of hard workers out here preparing to be at their best in the postseason.
"This week, DJ Reese and Nelson Van Diest were our wrestlers of the week and led the team with their efforts."
In the Dixie Desert Storm Invitational Dec. 20, the Eagles finished in third place among 32 teams.
Fox and Jurgschat placed second, and Garvin and Rushworth were third. Reese, Sam Doane and Edlund placed fifth.
In a 70-12 dual meet win Jan. 7 against Moapa Valley, Jimmy Brown (120), Fox, Dillon Viera (145), Foster, Edlund, Pappageorge and Van Diest each won by pin. Reese, Branscum, Rushworth, Jurgschat and Rocyzki won their matches.