Dayton spikes Lady Eagles' hopes for win
November 21, 2013 - 5:45 am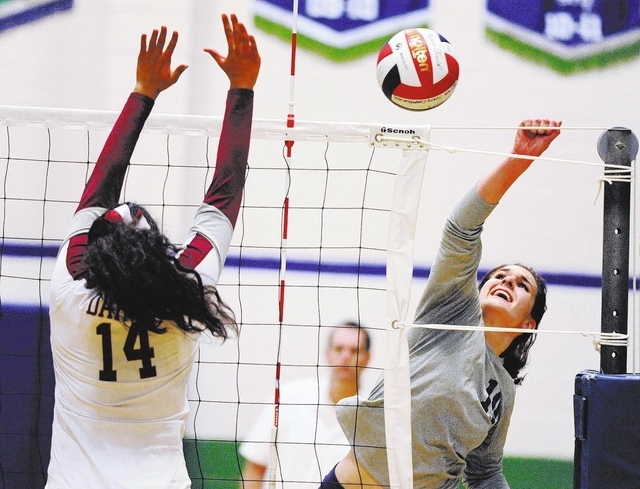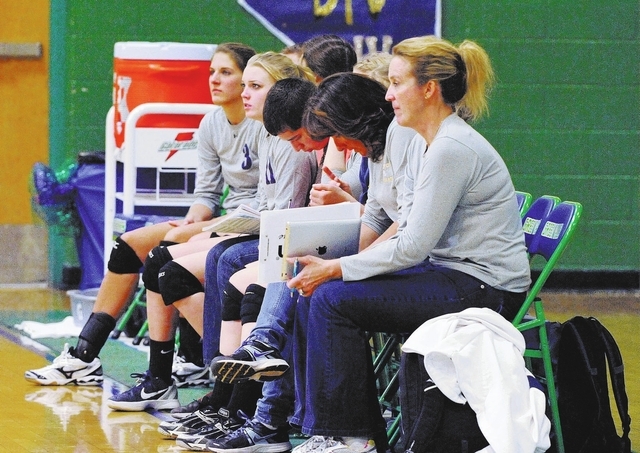 The Division 1-A girls volleyball state tournament Friday did not go as Boulder City High and its fans had hoped, but head coach Cherise Hinman still had plenty of reason to be proud of her team.
"This is a team that vowed to return to the state tournament after not making it there in 2012," Hinman said. "They reached that goal and they won the league title for a fifth straight year. They were unbeaten in league play and reached the region final. There is plenty to celebrate about our season."
The Lady Eagles, which have advanced to the playoffs for 17 consecutive seasons, saw their 2013 season end with a 25-20, 25-18, 25-13 state semifinal loss to Northern Nevada's Dayton High School at Green Valley High.
"Despite not winning the state title, it honestly was one of the funnest seasons I ever had in my career," senior hitter Whitney Barlow said. "The girls played their hardest and I am proud of the entire team. We had to play teams that are full of club players and we can't match up with that.
"But we had an undefeated season in our league and that is huge for a small school like Boulder City. We had players that excelled and made first and second teams on the postseason all-star teams. I wish we could have won the state title my senior year, but I will settle for the great memories of a great season."
After losing the first game and falling behind early in the second game, Boulder City appeared to be climbing back into the match when it closed to 15-13, but Dayton pulled away to secure a spot in the final. Dayton lost the state championship match to Faith Lutheran Saturday.
Boulder City was led by Barlow's 20 kills, junior Alyssa Ybarra's 15 digs and senior Kendall Miller's 18 assists.
Boulder City ended 22-11 overall and reached the state's final-four tournament for the fourth time in five years.
"Winning the league for the fifth straight year was well-deserved for this group of girls," Hinman said. "They worked hard all season. As far as the state tournament, it was exciting for the team to be there and have that experience.
"We were simply overpowered by more experienced players. The teams from the north have players who play the sport in the offseason in club ball. We only have a few who do that. It was apparent in our fluidity on the floor versus theirs.
"The game has changed much over the past 10-15 years. To compete, you have to have a team that is willing to put in the hours in the offseason with club ball. Next season will definitely be a rebuilding year even though I have several strong players returning."
Faith Lutheran, which defeated Boulder City twice this season including 25-12, 25-15, 25-23 in the Southern Region final, won the state championship with a 25-13, 25-18, 26-24 victory against Dayton.
The Crusaders (28-12) defeated Truckee 25-19, 25-20, 25-21 in their state semifinal. They won 45 straight sets against in-state competition dating back to Sept. 25 and won 20 of their final 21 matches.