Cross-country teams begin practice for fall season
August 22, 2013 - 1:05 am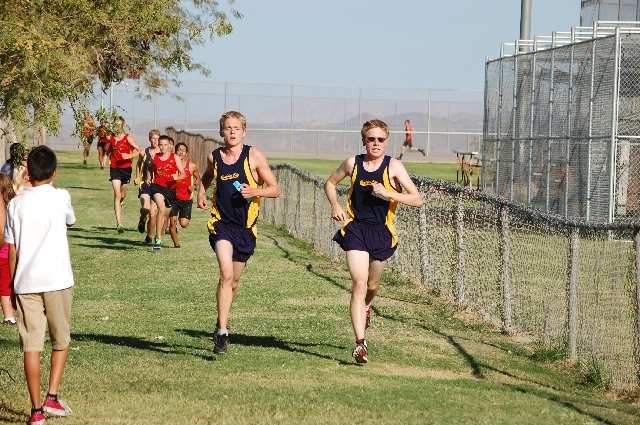 The sun has barely peeked over the mountains to the east, but at Broadbent Park, a group of athletes is stretching and preparing for their morning run.
They are the Boulder City High School boys and girls cross-country teams whose first day of official fall practice was Monday. Things start early each morning for the group.
"We like to get the run in before the day's hot sun settles in," senior Evan Klouse said. "This is a new season and everyone is excited. I'm glad practices have begun."
The first competition for both teams is the Larry Burgess/Las Vegas Invitational on Sept. 7 at Veterans Memorial Park.
The boys and girls cross-country teams are two of nine Boulder City fall athletic teams that began fall practices within the past week. They have been having intramural practices twice a week for several weeks at Broadbent Park.
Klouse and Chandler Harkins have been successful in the past two cross-country seasons. The team graduated Harrison Brown who was always part of the lead pack with them.
In 2011, the final year in Class 3A, the Eagles won the region championship and then finished in fourth place at the state meet in Reno. Last season, they finished sixth at state. Their last team state championship was in 2000.
Klouse was the leader of the 2011 team, with Harkins a close second. It reversed in 2012.
Last season, in the new Division 1-A, the Eagles placed third in the Southern Region Championships. Harkins placed third in the region, while Klouse was eighth as the Eagles advanced to state meet. There, Harkins was 13th and Klouse 26th.
"It will be hard replacing Harrison," Eagles coach Canaan D. Petersen said. "But Joren Selinger and Christian Shamo both have experience and will be integral along with the top two guys.
"Harkins specifically is looking tough to beat this season. He has improved tremendously in the two years I have coached him, and just last year in track he nearly broke the school record to get third place in the two-mile race at the state meet."
Harkins lost the state title in that event by one second, and the top two finishers either graduated or moved out of state.
Harkins attended a summer running camp and put in numerous extra hours in workouts. He is expected to be one of the top returners in Clark County cross-country and is ranked as one of the best in the state, Petersen said.
Harkins and his teammates will be attempting to become the first male state champion from Boulder City since Matt Lundgren won the championship in 2008.
"Last spring, I finished the season strong in track and I intend to keep up that momentum heading into this cross-country season," Harkins said. "Many runners on our team have been training hard all summer in anticipation for this upcoming season and we are looking strong as a solid team.
"This should be a fun season with the competition and I can't wait to see how our team stacks up with the rest in our league and division."
The girls team lost its top runner of several seasons as Jessica Tobler graduated from school, along with teammate Danielle Cummings.
"Losing Jessica and Danielle is tough, but our core of returners and one new girl should do well in the division again this year," Petersen said. "We had a winning season in dual meets last year and I am sure we will again this season."
Leading the Lady Eagles are seniors Niquel Nusseur and Madison Sargeant. Both are three-year runners.
Emma Torgeson will be one of the top returning girls. Last season, as a freshman, she steadily improved her times and then did the same during track season in the spring.
"Most of the runners have been showing up for intramurals and practices throughout the summer with me or with the senior leaders. So, it will be fun to see how the season turns out," Petersen said. "Both teams show a lot of promise."
Competing with Torgeson for the top spot will be Kennedy Bird, a two-year veteran of the sport, and newcomer Jessica Embro, a transfer from Georgia. Embro has competed in cross-country for several years.
The Lady Eagles have not had a state champion in cross-country since Julie Robles in 1987 and Madalyn Schmutz in 1986. The team placed seventh at least season's Southern Region Championships and have not won a state team title since 1999.
Boulder City will have eight meets this season with six at home; three at Hemenway Park and three at Veterans Memorial Park.
"We will be practicing at both locations throughout the season," Petersen said. "The kids have been working real hard."