Cross-country season hits heart of schedule
September 26, 2013 - 4:00 am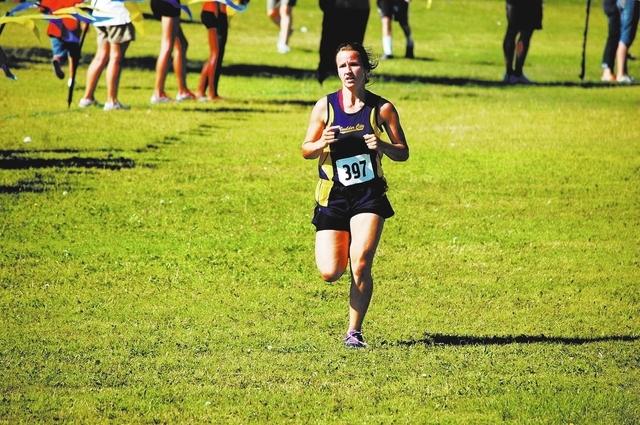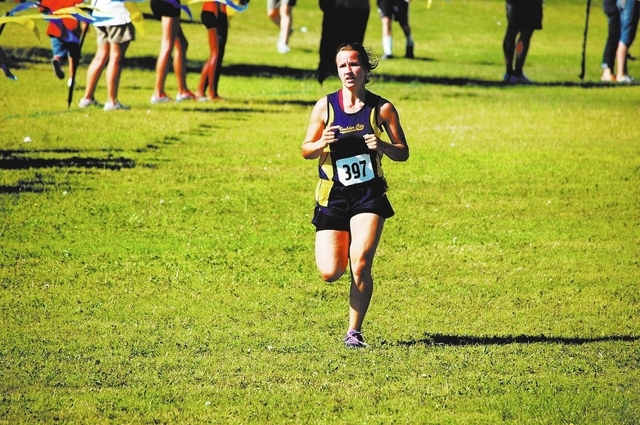 Beating Virgin Valley has always been a priority for the Boulder City boys and girls cross-country teams.
Entering the season, the boys' team had a long-standing rivalry with the Bulldogs; several races got real close and interesting before the Eagles prevailed.
Leading the way in the Sept. 11 win were junior Chandler Harkins and senior Evan Klouse.
"The boys' team has had their number the past couple of years," coach Canaan Petersen said. "Chandler and Evan both ran well … to lead the boys to the victory in our first home meet of the season.
"On the girls' side, Jessica Embro led us to a win against Virgin Valley. Beginning the season with a win against one of our main rivals is always a solid way to begin."
The match against Tech and Chaparral on Sept. 18 had a different outcome.
Both the boys and girls lost to Tech. Tech's boys are the top ranked team in the 1-A Southern Region by NevadaPreps.com, while the Roadrunners' girls are ranked No. 5.
"The meet against Tech and Chaparral was a big test to see how we were doing, but both Tech teams proved to be just too much for both teams to overcome," Petersen said. "Chandler kept with the leader, but finished second, and Evan finished fifth, but we didn't have the team points in the end."
The girls' team, led by Embro and teammates Niquel Nusseur and Emma Torgeson, also defeated Chaparral.
Both Boulder City teams improved their record to 2-1 heading into a Wednesday meet against Desert Pines at Hemenway Park. They get a rematch against Tech on its Henderson home course Tuesday.
In Saturday's Falcon Invitational at Foothill with more than 110 runners, Harkins improved his time from last year to finish in third place in the small-school division. Klouse was in 15th place. For the Lady Eagles, Embro was 11th and Nusseur was 32nd.
"This meet always lets us see how we compare to some of the larger schools in town and our teams performed well," Petersen said.
The Falcon Invitational is run differently from other meets in that the juniors and seniors run together in one race and the freshman and sophomores run together in a separate race.
"The team's that are expected to be at the top like (Tech) are performing well and we are competing well against them," Klouse said. "The next two meets for us will see how we compare to two other (region) teams and we will have another shot to run against (Tech) at their home course, which is one of the toughest in Clark County."
Boys soccer drops two
Yann Moncayo scored twice and Victor Andrades added one goal and two assists, but the Eagles lost 9-4 to visiting Foothill on Sept. 19. Marcus Walker also scored one goal for the Eagles.
The Eagles (2-3-1 overall, 0-2-0 in Sunrise League) were dominated by visiting Sunrise Mountain, 7-0. Leading 1-0 at halftime, the Miners (3-1-1, 2-0-1) broke lose in the second half.
Boulder City traveled to Desert Pines (4-0-1, 3-0) on Wednesday after deadline.
The Eagles host Valley (2-3) Friday in a nonleague game. The team then hosts rival Virgin Valley (4-3-2, 0-1-1) Tuesday. All games are at 3 p.m.
Girls soccer splits games
The Lady Eagles (2-3, 1-1) notched their first Sunrise League on Monday, winning at Sunrise Mountain, 2-1.
Mackenzie Pluta and Jana Williams both scored in the first half against the Miners (1-7, 0-3). The win was a nice bounce back from the 6-0 loss at Foothill (4-4) on Sept. 19 in a nonleague game.
The Lady Eagles hosted Desert Pines (2-4, 2-1) on Wednesday. Boulder City travels to Mesquite on Tuesday to play Virgin Valley (3-3-3, 1-1-0).
Girls tennis remains unbeaten
Boulder City defeated Virgin Valley 13-5 at Mesquite on Sept. 19 as Arianne Hess and Melissa O'Berto each went 3-0 in singles to lead the Lady Eagles. Sarah Gneiting and Alexis LeMaster were 3-0 in doubles play.
On Sept. 20, Boulder City defeated visiting Moapa Valley 16-2, led by Madeline Montgomery who went 3-0 in singles.
On Monday, the Lady Eagles (7-0) defeated Tech at home 16-2. Taylor Finn went 3-0 in singles, while the team of Natalia Fullmer and Adrianne Hess went 3-0 in doubles.
Boulder City traveled to Sunrise Mountain (0-7) on Wednesday. The Lady Eagles will host Desert Pines (2-5) on Friday, then will host Chaparral (2-4) on Tuesday. They will host Virgin Valley (6-1) on Wednesday.
All matches start at 3 p.m.
Boys' tennis struggles continue
The Eagles lost 12-0 on Sept. 19 at Virgin Valley, and lost 12-0 Friday against Moapa Valley. On Monday, the Eagles (2-5) lost 12-6 against Tech, andthey had a match Wednesday at Sunrise Mountain.
The team's upcoming schedule is the same as the girls' tennis team.
Girls golf schedule
Jordyn Syler, Kelli Hatfield and Mariah Harvey lead the Lady Eagles in a match today against Desert Oasis, at Boulder Creek Golf Course, at 3 p.m. They also played a Sunrise League match Wednesday at The National.
The Lady Eagles play Monday at Legacy, at 3 p.m.
Homecoming week
Homecoming week is Sept. 30 to Oct. 5 with the football game at 7 p.m. Oct. 4 against Virgin Valley.
The Homecoming Parade is at 6:30 p.m. Oct. 3. Float building for the parade begins Sept. 30, through Oct 2, from 5 p.m. to 8 p.m. in the school's auto shop. The Homecoming Dance is Oct. 5.
Reporter Pedro F. Fonteboa can be reached at fonteboavegas@yahoo.com.