Coaching own kids adds complexity to position
January 27, 2016 - 4:02 pm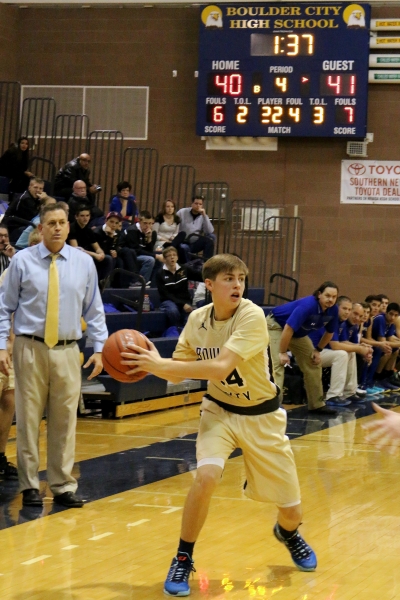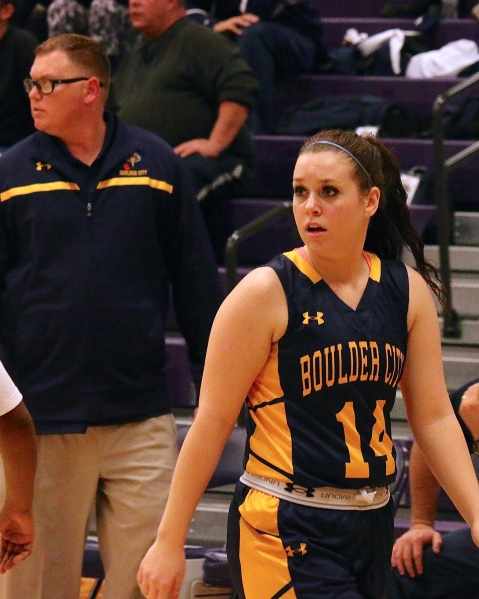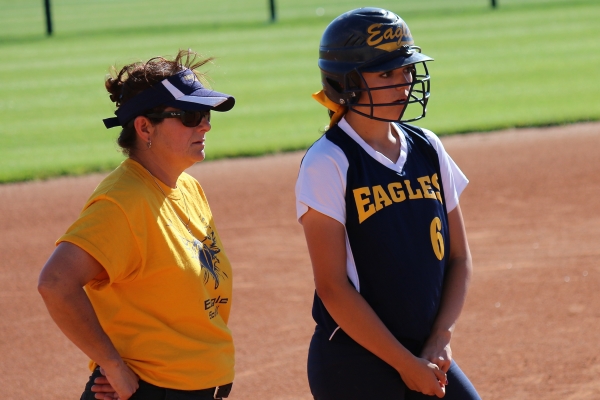 Taking a look at each of Boulder City's prominent sports programs, you'll find a trend for success: athletes who are coached by their parents.
With a limited talent pool to pull from for the programs to be successful, placing more emphasis on individual performances has become more important than ever. Fortunately, the local community has been stocked with local athletes groomed for such impacts after years of tutelage from their parents.
Spread out through all three sports seasons, fall, winter and spring, Boulder City High School has five parent-player coaching relations — Cherise Hinman and Maggie Roe (volleyball), Paul Dosch and Rylee Dosch (girl's basketball), John Balistere and Carson Balistere (boy's basketball), Bobby Reese and DJ Reese (baseball) and Angelica Moorhead and Jordan Moorhead (softball) — steering the most popular programs toward success.
Low participation
With a town population just north of 15,000, according to the last census conducted in 2010, Boulder City athletics are at a prime disadvantage compared to other Southern Nevada programs.
Deemed as one of the state's schools with the lowest participation rate for athletics by the Nevada Interscholastic Activities Association last summer during its annual conference realignment meeting, discussions simmered as to whether Boulder City along with a few other programs should drop into the state's Division III bracket of competition to be placed at a competitive advantage.
Helping offset this disadvantage are the children, who have been coached by their parents for years to be a better version of themselves — a player capable of being a game-changer.
How it started
As a child, sophomore Maggie Roe, Boulder City volleyball's outside hitter, had a choice to make. Following a routine day at school, she could either join her father on the football field for football practice or her mother in the gymnasium for volleyball practice. Wisely enough, Roe, then an elementary student, would choose the air-conditioned gym routinely, thus leading to her exposure and knowledge of the sport.
Attending practices, Roe would shag balls for her mother, head volleyball coach Cherise Hinman, who just completed her 18th season leading the Lady Eagles program. Boulder City players would normally take Roe, who was fond of the sport, and work with her before practice began. She even sat on the bench a few times during her youth, just soaking up the atmosphere.
"Volleyball's always been a part of her life," Hinman said. "She would play other sports growing up, basketball and softball, but always gravitated back to volleyball. We always balanced hard work and fun with the sport."
Under Hinman, Roe has not only been recognized for her achievements within the state, but nationally as she ranks among the top players at her position for the 2018 recruiting class.
An all-state selection for the Lady Eagles this past fall, Roe concluded her second season with a team-leading 337 kills while tallying 259 digs, 92 aces and 41 blocked shots. A generational type athlete for Boulder City, Roe credits the excessive coaching of her mother for making her the player she is today.
Learning to be team player
Sophomore shooting guard Carson Balistere had a similar upbringing to Roe. Constantly joined at the hip to his father, John Balistere, who heads the boys basketball program, Carson has been personally prepping himself to be the best player he can be for his dad since he was a child.
"I love playing for my dad," Carson Balistere said. "I've been attending his practices for so long that I know exactly what he expects from his players. I know what he wants to accomplish in a specific game situation from just watching him and what I need to do to get the job done. I've been practicing under him my whole life. Every day I try to execute perfectly."
Turning into a prominent player in his own right this season, Carson Balistere is one of the key players for the Eagles' rebuilding process. A floor general, he has quietly enjoyed success throughout his first varsity season, averaging just over eight points and three rebounds per game.
Handling pressure
While playing for a parent has its advantages with extra guidance and practice time, balancing the pressures of trying to be your best while following the coach's directives can be a challenge.
"Being the coach's kid can be really hard because they expect so much out of you," Roe said. "There is also a lot of pressure put on you because they want us to be leaders on the court or field. I have grown up with it my whole life because my dad is my track coach, too. I like it because it helps me become a stronger player and more of a leader on and off the court."
"There's never a dull moment playing for my dad," Carson Balistere said. "There's never any down time. I feel his expectation level for me is at its highest because he wants me to succeed. It's been that way my whole life."
Extra scrutiny
While nothing comes easy in life, especially in sports, the perception around the player-coach relationship could be a problem for the coaches and their children. While each player has to earn his or her spot on a roster, coaches becomes weary of the outside criticism that could affect their children.
"Nothing gives me more joy than coaching my son," John Balistere said. "But because he's my son, for better or worse, there's always been negative attention that followed him. When he made his middle school team as a sixth-grader, people claimed it was because he was the coach's kid. When he made junior varsity last season as a freshman, again they claimed it was because I was the varsity head coach. At some times I think it really takes away the accomplishments he's earned on his own, because he's around the game of basketball so much and he has that competitive drive to be great."
And it's not just the students who feel the pressure and stress that comes from that familial relationship.
"The hardest thing I've done as a coach is having to coach my daughter," Paul Dosch said. "It's a very hard process. As a coach/parent you have to work very hard on separating the two when it becomes game time. After a game whether we win or lose, Rylee knows that I love her. Even if I scold her during the game it's because I hold her to a higher standard and expect a lot from her."
As seen by the success of the fall and winter sports seasons, sophomores DJ Reese and Jordan Moorhead, who play baseball and softball, respectively, look continue to the trend this spring, as both are expected to be key components of their state championship-contending teams.
Contact Robert Vendettoli at BCRsports@gmail.com.
Maggie Roe defends the net for the Lady Eagles while her coach and mother, Cherise Hinman, looks on. LAURA HUBEL/BOULDER CITY REVIEW
Rylee Dosch is a member of the girls varsity basketball team at Boulder City High School that is coached by her father, Paul Dosch. LAURA HUBEL/BOULDER CITY REVIEW
Softball coach Angelica Moorhead watches the action on the field with her daughter Jordyn Moorhead. LAURA HUBEL/BOULDER CITY REVIEW
Carson Balistere looks to pass during a recent basketball game at Boulder City High School as his father, coach John Balistere, looks on. LAURA HUBEL/BOULDER CITY REVIEW