Coach thinks team will come back
October 3, 2013 - 6:33 am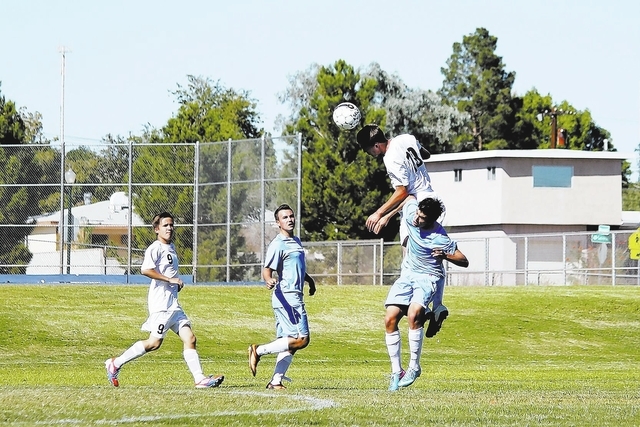 The train will return to the tracks.
At least that is the way Boulder City boys soccer coach Frank Pimentel sees it.
"Granted that this year will be a challenging season and a complete rebuilding year, but we can do it," said Pimentel, entering his third season as head coach. "I have a good core to work with here, and we will get the train back on its tracks."
The Eagles are off to a 2-5-1 start, including a 0-3-0 record in the Sunrise League. Despite graduating 13 seniors from last season's team, Pimentel thinks his team will still make the playoffs this season.
On Friday, the Eagles lost 6-0 to visiting Valley and were shutout for the fourth time this season. Two days earlier, they lost 6-0 to Desert Pines. They have been outscored 15-0 in three league games.
"We have been allowing too many goals," Pimentel said. "It's been a tough season thus far. Despite the recent scores, the team is molding into my liking. I think we are coming around and will have a better second half of the season and make a run to be a playoff team."
The boys will play their Homecoming game today against visiting Moapa Valley (1-6-1 and 0-3-0). They also have league games Monday at Tech, and Wednesday at home against Chaparral. All games are at 3 p.m.
At home Tuesday against Virgin Valley, the Bulldogs scored three first-half goals en route to a 5-1 win against the Eagles.
The Eagles did well last season after moving into the new Division 1-A Sunrise League along six other teams. They won their first-round playoff match against Faith Lutheran, 2-1, and posted a winning record of 9-8-1.
"But we expect more this season from our team that the results we have had," said senior forward Yann Moncayo, the Eagles' leading scorer this season with eight goals. "We have to keep playing hard and things will get better. I believe we will make the playoffs again."
The Lady Eagles' soccer team, off to a 2-4-0 start overall and 1-2-0 in league play, also is struggling after losing two of its top players.
Last season's MVP, Jane Nevarez, a junior, was chosen to play on a Las Vegas select team and had to choose between the club squad or playing for the Lady Eagles. Most high school players earn college scholarships in soccer through club performances, not high school performances.
So, the Lady Eagles lost Nevarez. They then lost senior Erin Warshefski to a torn ACL for the season.
"We have been depleted," girls' soccer coach Duncan Stark said. "We lost six to graduation, and we thought we would still be fine this season because of Jane's and Erin's ability, but losing those two has really played havoc with our lineup.
"We have had to move up players that we really wanted to leave on the junior varsity for an extra year and use them on the varsity. Our junior varsity team is now full of freshmen. I could not be any prouder of all the girls on all the teams because they are working so hard."
Stark isn't worried about his team's record at this point.
"We are playing better each game and have overcome a lot already," Stark said. "These girls are determined to have a successful season. Making the playoffs this year is possible, and we will do everything to get there.
"The way the girls are playing this season will make it a success any way because of how good they will be in the future from this extra experience."
The Lady Eagles are on the road for homecoming week. They were beaten 2-0 by Virgin Valley in Mesquite on Tuesday. Today, they are in Overton to play Moapa Valley at 3 p.m.
The Lady Eagles return home Monday to play visiting Tech, at 3 p.m. On Wednesday, they play at Chaparral.
"We are slowly getting better and better each day," sophomore forward Jeanne Carmell said. "We are trying our best to become a better team, and make the playoffs. We are not giving up to anyone."