Coach: Flag football team has no weaknesses as it scores another shutout
January 20, 2016 - 3:56 pm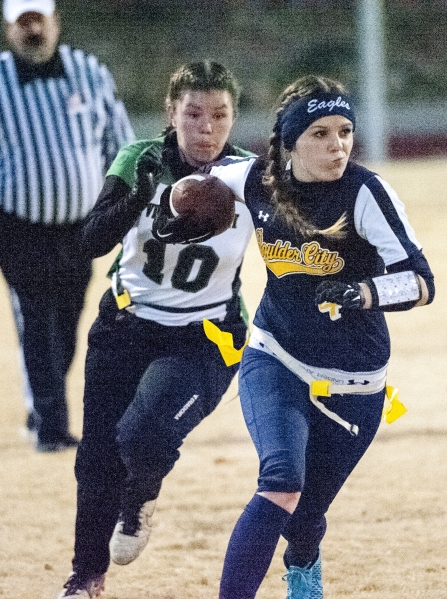 The 2015-2016 flag football season will always be one Boulder City High School's head coach Chris Morelli will scratch his head about and wonder the what if scenarios.
What if Boulder City ranked second by the Southern Nevada Flag Football Coaches poll hadn't been placed in the lower tier of competition? What if the hungry-for-respect Lady Eagles had a chance to compete with the large school again? What would the outcome have been for the defending state champions who have only lost one game in their program's existence?
"It's tough knowing that we have the best team in town," Morelli said. "I truly believe that. This year's roster is head and shoulders better than last season's roster that beat all those Division I programs and won a state championship with the schools. People still don't like to believe that our small town fields the best program and it's OK because that motivates the girls. It'd be nice to have an opportunity to play in the Division I bracket, but that's not how the divisions were made this season. It's unfortunate that this had to be the year they decided to break the conferences into two."
Advancing to 10-0 this past week with another shutout against a conference opponent, the Lady Eagles have now outscored their opponents 320-32 this season, including a 40-0 domination of Division I opponent Cimarron. With a never-quit mentality, the Lady Eagles simply just don't beat their competition, they manhandle them.
"I'd like to say it's all coaching and we prepare the girls to win by 40 every game, but that's simply not true," Morelli said. "Every game we come into I expect a close matchup because teams are always trying to knock us off, always coming at us with their best effort. The way the girls go out and execute soundly is all on them. This group amazes me every day with their play and love for the sport."
Having taken down 10-3 Virgin Valley this past Friday, the Lady Eagles are now a perfect 6-0 in conference, with no one appearing to match the skill level of Boulder City's talent-rich program.
"Top to bottom, (I) can't find a weakness on this team," Morelli added. "We have the best quarterback in town, someone who can win games with both her arm and feet. Five receivers that can catch anything she throws at them and then create yardage on their own after the catch and a defense that is playing out of their minds right now. I'm confident when I say I don't think I'll find another group as talented as the one we have this season."
Making plays happen Friday was senior dual-threat quarterback Jeanne Carmell, who accounted for all six of Boulder City's scores. Completing 17-of-28 against the Bulldogs, Carmell threw for 321 yards and four touchdowns, while rushing for another 49 yards on the ground and a pair of touchdowns on five carries.
All five receivers Morelli mentioned also caught anything Carmell threw at them, with each girl accumulating at least one catch.
Senior Makenzy Waldo led the Lady Eagles with six catches for 96 yards and a touchdown, while senior Paige Buettner added four catches for a game-high 102 yards and two scores. Junior Kenadee Bailey also scored a touchdown Friday against Virgin Valley, hauling in three passes for 54 yards, while senior Oshanna Remy caught three passes for 47 yards and senior Tarah Cox caught a lone pass for four yards.
Boulder City's defense was certainly out of their minds as well Friday, hauling in three interceptions, one each from Bailey, Waldo and Carmell.
Bailey, is tied for first in the state with seven interceptions, while Waldo is tied for 11th with four and Carmell is tied for 15th with three. Remy, although hauling in an interception Friday, is also tied for 15th with Carmell with three of her own.
Remy and Bailey lead the girls with eight tackles apiece against the Bulldogs, while Buettner added five tackles.
Heading into the second half of league play, Boulder City will travel to 3-7 Southeast Career Technical Academy on Friday, where another possible rout imminent.
Contact Robert Vendettoli at BCRsports@gmail.com.
^
Upcoming Games
Friday, at Southeast Career and Technical Academy, 3 p.m., varsity; 3:30 p.m., junior varsity
Tuesday, vs Moapa Valley, 3:30, junior varsity; 4:30, varsity