Clark's offense pressures Eagles in 26-22 loss
September 3, 2014 - 12:24 pm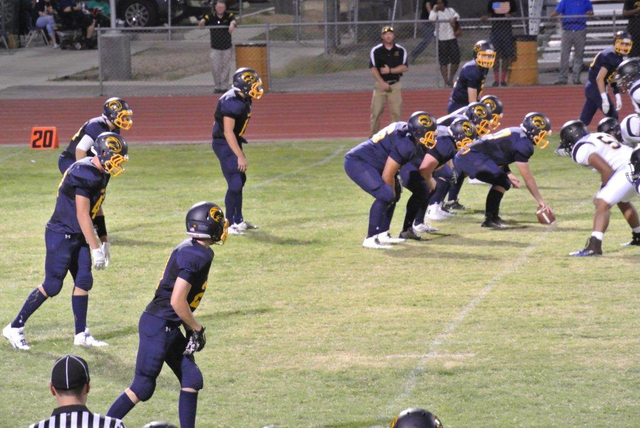 The Boulder City football team will attempt to bounce back from a close loss in its season opener and win its first game of the season Friday night at home against Pahrump Valley.
The Eagles played tough against visiting Clark last Friday and led most of the way, including a third-quarter 22-12 advantage, before dropping a 26-22 decision.
"The game against Pahrump is crucial because we must gain momentum before we start the league games in a few weeks," senior quarterback Trenton Carmell said. "I thought we were going to win and start the season off right, but they rallied, and we let it get away, but we should have won. Now, we have something to prove against Pahrump."
Friday's kickoff is at 7 p.m. Tickets are $5 for adults and $3 for children. Family season passes and all-sports passes are available at the gate.
Pahrump Valley comes in with a 1-0 record after a decisive 40-7 victory against Bonanza.
Boulder City's defense will have to contend with Jeremiah England, who caught one touchdown pass and rushed for two more. England had a 17-yard touchdown reception in the second quarter and rushed for 25- and 18-yard touchdowns during the third quarter to put the Trojans up 28-0.
Trojans teammate Keenan Harris added 111 rushing yards on seven carries, including a 53-yard touchdown run, and quarterback TJ Milk, who threw for 66 yards on 5-of-9 passing.
"We will have to do better on defense in our next game," said Carmell, who played cornerback before leaving the game dehydrated early in the fourth quarter and did not return. "I was disappointed that I could not finish and that we lost. Everyone gave a great effort and we didn't get the win, and I know a lot of us were very upset about that."
Against Clark, Boulder City jumped to the early lead when Carmell connected with receiver Zack Murphy on a slant pass that covered 67 yards. Murphy slipped between defenders and caught the pass on the left side, and then raced past three Chargers defenders for the touchdown. Carmell followed with sweep around right end for the 2-point conversion and an 8-0 lead with 2:53 to play in the opening quarter.
Clark answered with its own drive to cover 58 yards and reach the Eagles' 10-yard line. An interception by Eagles' linebacker Brooks Roe ended the threat.
But an Eagles' fumble on its first play of the ensuing possession set up Clark with the short field. Three plays later it led to a quick score by Ty'Rek Wells, cutting the Eagles' lead to 8-6. The Chargers' 2-point conversion to tie the game was batted down by linebacker Nelson Van Diest.
Clark had a long drive and took a 12-8 lead with 7:10 remaining in the second quarter.
A Dylan Viera interception set up the Eagles' next possession, and a Carmell-led drive rallied Boulder City for a 15-12 halftime lead. The big plays being a 20-yard pass from Carmell to Murphy and a 9-yard touchdown run Carmell.
The Eagles' defense preserved the halftime lead with a four-play goal line stand.
The Eagles went ahead 22-12 behind two big runs by Roe and the final run for the score by Carmell. Andrew Sands kicked the extra point and the Eagles looked good with a 22-12 advantage in the third quarter.
But Clark's offense pressured the Eagles' defense behind running back Milan Dixon, who gained 124 yards on 14 carries, and managed to retake the lead and hold it.
The decisive score came on Chargers' quarterback Nick Kinnard's 8-yard touchdown pass to Andre Turner midway through the fourth quarter for Clark's 26-22 lead.
Although most Boulder City players play both on offense and defense, it was Roe, Jacob Jurgschat, Sands, Jack Rozycki, Van Diest, Murphy and Justin Rockenfeller who led the defense.
The Eagles, in their seventh season under head coach Alex Kazel, were 4-5 during the regular season last fall and 2-3 in the Sunrise League. They reached the playoffs as the No. 4 seed from their league.
The Eagles begin their Sunrise League schedule on the road Sept. 19 at Del Sol, the new school dropping from Division I to I-A. The Eagles are then home to play formidable Desert Pines in their home league-opener Sept. 27.