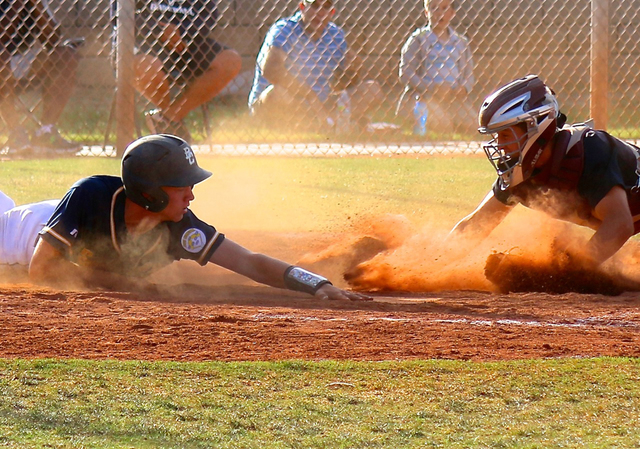 After an emotional 2015 Nevada Interscholastic Activities Association Southern Regional tournament, the Boulder City baseball team is heading to the state championships.
The excitement of going to state after the Eagles' 6-3 win over Spring Valley on Friday was immediately stifled with a tough 8-5 loss to Faith Lutheran in the Southern Regional Championship final on Saturday.
"We got what we deserved today," head coach Bobby Reese said after the regional championship. "We didn't play very well. But the good thing is we did qualify for state. We should celebrate that. We should be excited about that and then we need to put things together and play our best baseball next week and see what happens."
Boulder City had five errors against Faith Lutheran on both May 7 and Saturday. But for a short amount of time, the Eagles had their first lead over Faith Lutheran in two years Saturday during the second inning when they were ahead 2-1.
Saturday's game was an emotional one for Boulder City, and it could be seen on and off the field. Reese said the team was not playing the way it was capable of playing, and he wanted to see who the leaders were and who was going to step up.
Senior Austin Shepard was one of them.
"It's not that I'm disappointed (with the loss), I just think that we can play better as a team, and it's frustrating to everybody, not just the seniors or the coaches," Shepard said. "It's scary how good we can be and when we basically throw it away, it sucks."
Preston VanDiest pitched a complete game, throwing 92 pitches, 50 for strikes, for his best pitching performance of the year, according to pitching coach Ron Hubel.
Nolan Desantis, a pinch hitter, had two RBIs. Austin Wishard, Seth Kermode and Mike Morelli each had one.
Now, Boulder City is focusing on the NIAA Division I-A state tournament. The Eagles face Churchill County at 1 p.m. today at Las Vegas High School.
In order for the Eagles to win the championship, Shepard believes they need to come together as a team.
"Come together, play together and pick each other up, and realize that it can't be done by just one swing of the bat," Shepard said. "It's got to be a whole team collective."
In the past, the team has come together when needed, earning the success it has had so far this season. There is no rhyme or reason to it, but the boys know just what to do to make it happen.
"We end up scrounging runs together and coming together," Shepard said. "It just happens. I don't know how we do it, it just happens."
Before the loss to Faith Lutheran on Saturday, Boulder City defeated Spring Valley 6-3 on Friday.
Peyton Koopman pitched a solid six innings, throwing 110 pitches, 60 for strikes and two strikeouts. Steve Wagner closed out the last inning with 13 pitches, 10 strikes and one strikeout.
VanDiest and Kermode each had two RBIs, while Wagner and Shepard each had one.
On May 7, the Eagles faced Faith Lutheran for the first time, in a tough loss 11-2.
Wishard and Kermode both brought in one RBI. Nick Giunta pitched for one inning before Zack Murphy replaced him. However, it was closer Jake Hubel that allowed the fewest hits (2), throwing 27 pitches, 20 for strikes in only two innings.
On May 6, Boulder City hosted Spring Valley and earned a come-from-behind 4-2 win. The Eagles were losing 2-1 until Boulder City scored three runs in the fourth inning to take the lead.
Wagner pitched for six innings, throwing 91 pitches, 54 for strikes and five strikeouts. Giunta closed out the game with 18 pitches, nine for strikes.
Kermode had two RBIs and Desantis had one.
For Boulder City, the hard part has just begun. They will continue to face strong teams in their quest for the state title, and if they want to succeed, Reese believes they need to do a better job at the plate against good pitching, as well as clean up their defense.
Shepard said they need to stop swinging at balls that are at their heads or hitting the dirt. They need to focus.
"You can't hold anything back," Shepard said. "They're going to make errors just like us and we just have to keep the ball in play."
Shepard said his biggest fear is that the team won't be ready. After two tough losses to Faith Lutheran, the Eagles need to be prepared to play better against them should the Crusaders defeat Elko in their 10 a.m. game today and they win in the game against Churchill. If both the Eagles and Crusaders win, they will play each other at 4 p.m. today.
"Only four teams are playing … in the state, our division, and we're one of them," Reese said. "So that's pretty important to remember, and pretty important to focus on. (It) gives this group of kids a great opportunity. And if we can put things together, and stars can line up our way, you never know. It might be a fun run."
Contact Rochelle Richards at BCRsports@gmail.com.