Camaraderie bolsters Eagles' playing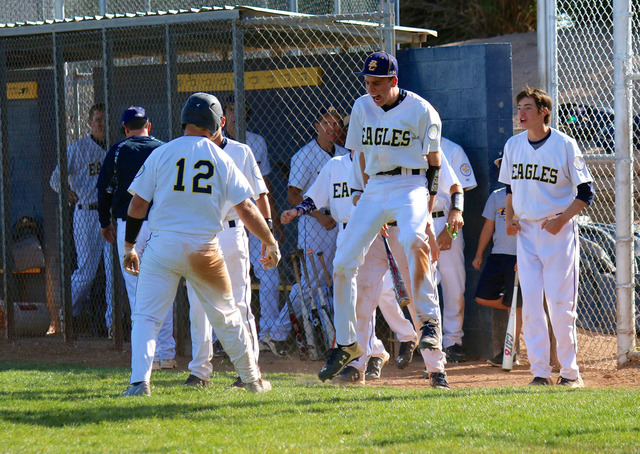 The tension at Tuesday's baseball game against Chaparral was so thick you could cut it with a knife.
It wasn't a rival game, but it was competitive, and everyone knew it.
This was the third meeting for the teams. In 2013, Boulder City beat the Cowboys to advance to state. Last year, Chaparral returned the favor, edging out the Eagles for its trip to state.
This time, Boulder City reigned victorious, 10-0. However, the win isn't exactly what the team had in mind.
"We won, but we need to play a lot better," head coach Bobby Reese said. "We had two errors; they had nine errors. They gave us a lot of runs; that's why we had 10. We need to be happy that we won, but we need to be disappointed with how we played."
Despite the disappointment, the Eagles had some shining moments. Pitcher Steve Wagner, a junior, threw his second complete game, throwing 44 strikes for four strikeouts.
But the biggest shining moments didn't come from plays on the field. They came from the actions of the Boulder City team. The Eagles have a genuine sense of camaraderie on the field that is strong no matter what the scoreboard says.
Wagner said he believes their camaraderie sets them apart from other teams.
"It's not just a team; it's a family," Wagner said. "Especially when things are going our way, and even when they're not, we still bring each other up because we're teammates — we're family."
When Wagner hit Chaparral's Tyler Crone, his teammates joined him on the mound to reassure him. And when it happened a second time, they didn't judge him; they gave him a pat on the butt and some words of encouragement.
It's those actions that help the Eagles win.
"Don't do it for yourself to win, do it for your teammates. Do it for your family," Wagner said. "If you make a nice play, pick up everyone else around you, not just yourself. That really helps us."
At the plate, Preston VanDiest scored two runs, while Austin Wishard scored one run with two RBIs. Wagner also recorded two RBIs. A good portion of Boulder City's runs were from walks.
Before Chaparral, the Eagles played five games in California during the Anaheim tournament. It was a good bonding experience for the team, but also gave them the chance to see how they measured up to bigger and better teams, Reese said.
Despite going 1 for 4, coach Reese said he thinks the trip was a success.
"It wasn't rough at all. It's exactly what we go there for," Reese said. "We go there to see bigger schools, better teams. Doesn't do us any good to win a game like we did today, against someone who had nine errors. We saw the pitching that we needed to see which hopefully prepared us for today. We didn't quite get the result I was looking for but it's still something that we can grow from."
Boulder City finishes the week with a trip to Moapa Valley on Thursday before hosting Las Vegas High School on Friday.
Moapa is a league game, and the boys are looking to remain undefeated in league play. After its win over Chaparral, Boulder City is 11-7 overall, and 6-0 in the league.
Friday's home game against Las Vegas begins at 7 p.m. at Whalen Field.
Contact Rochelle Richards at BCRsports@gmail.com.