Boys team positioned to advance to playoffs
February 4, 2015 - 1:32 pm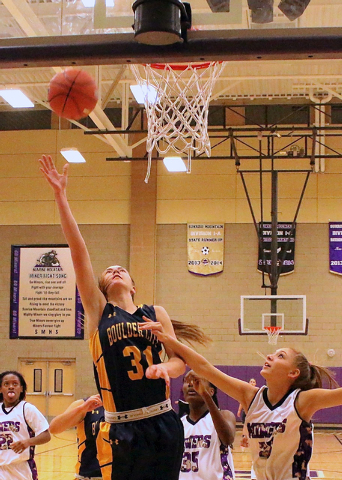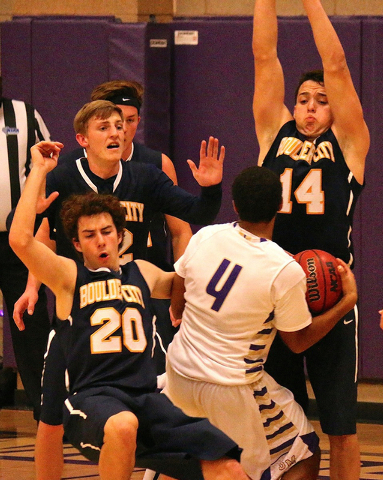 Boulder City boys basketball coach John Balistere is happy with his team's play in their past few games. It is defensive-minded team that has positioned itself to grab a playoff spot as the season winds down.
"The kids have worked hard, and we have won several league games in recent weeks and the kids haven't given up on making the playoffs," Balistere said.
Sunrise League wins this past week over Southeast Career Technical Academy, Sunrise Mountain and Moapa Valley, improved the Eagles to 10-12 overall and 5-6 in the league.
They played at Moapa Valley (4-14, 1-9) on Monday.
The Eagles have made the playoffs in six consecutive seasons.
Tyler Newby, the team's leading scorer with a 13.8 points per game average, scored 10 points Jan. 29 as the Eagles remained alive for that playoff spot with a 41-35 road win at Sunrise Mountain.
Boulder City rallied from a 14-11 halftime deficit with 30 second-half points to beat the Miners.
Boulder City defeated Moapa Valley 47-43 in Overton on Monday as Tyler Newby scored 15 points and Peyton Koopman scored 7 points. Trenton Carmell grabbed nine rebounds.
"The kids have been playing with great intensity lately," Balistere said. "We picked up another crucial road win."
The defense has been leading the team by getting stops that lead to offensive transitions. The top players have been Carmell, Brooks Roe, Koopman and Zach Murphy, Balistere said.
"I also have to mention that Quentin Turner has been providing great energy off the bench each time he goes into a game," Balistere said.
The Eagles held a 14-point lead at the start of the fourth quarter and needed their defense to hold off the Pirates.
The Eagles played last night at Desert Pines in a game too late to publish the results in this issue.
The Eagles have climbed from sixth place to fifth place and are two games behind Virgin Valley (10-11, 6-4) for the fourth and final playoff berth from the Sunrise League.
"Well, we had to have the Moapa Valley game and then win our game at Virgin Valley, and we have to see if we can steal one from Chaparral." Balistere said.
The Eagles lost a nonleague game Friday at Faith Lutheran, 53-36. Newby scored 16 points.
Girls Basketball
The Lady Eagles remain in first place in the Sunrise League after a pair of wins this week.
Boulder City defeated Sunrise Mountain 54-38 Jan. 29 as forward Megan Morton scored 23 points and grabbed 11 rebounds. Guard Katlyn Daly scored 12 points, pulled down seven rebounds and made four assists. The Lady Eagles used a 20-8 fourth-quarter spurt to pull away.
Boulder City defeated Moapa Valley 43-30 in Overton on Monday as Megan Morton and Daly each scored 13 points.
Boulder City is 18-6 overall and 12-0 in the Sunrise League.
They also played a league game at home Wednesday against Desert Pines that was played too late to report in this issue.
"Megan has been playing really well offensively for us lately. We have a few league games left and we just have to get after it," coach Paul Dosch said. "We are excited to try to finish our first team goal of winning the regular season championship."
They also lost at Faith Lutheran 61-37 Friday in a nonleague game. Morton led the Eagles with 21 points and 10 rebounds.